Why is it Necessary for Celebrities to Undergo Hair Transplant?
The world of entertainment, sports, business, and entrepreneurship has introduced us to many people that we look up to. Be it for their appearance, talent, or mixture of both. The celebrity status brings forth many responsibilities on the shoulders of the people carrying this term with them.
While we tend to look at celebrities and their "perfect" lifestyle, we often forget that they are also normal human beings like us. So, to think that they might have undergone medical procedures to enhance their hair growth or consulted an aesthetician to improve the appearance of their face isn't too far-fetched. That is what makes them different from normal people.
Since celebrities are constantly in front of the limelight, they need to keep up with their appearance, even though it sounds quite shallow. From leading actors like Salman Khan to an indispensable part of the Indian cricket team, Virender Sehwag, several celebrities have undergone hair transplant surgery to restore hair growth and natural hairline.
And, not just male celebrities, even several female celebrities have undergone multiple hair restorative procedures to improve their appearance.
Table of Contents
Feel free to skip ahead if one topic catches your eye:
1. Celebrities and Hair Transplant
Hollywood and Bollywood celebrity hair transplants are way more common than you think, and that is completely okay. People believe that celebrities live this untouched and perfect life with no complications, which is farther from the truth.
The life of a celebrity is extremely hectic. From the constant hustle to the stress that comes with being famous, all of these eventually impact the lives of these people. Especially in the entertainment industry, celebs tend to undergo changes to their appearance with makeup, chemical hair sprays, hectic schedules that eventually lead to issues with hair fall and the complications that follow.
Also, most celebrities spend most of their day under harsh lights, something that further puts them at risk of hair damage. So, there are ample celebrities with hair transplants who have appreciated the change to their appearance and have even been open about the procedures, trying to normalize the need to undergo treatments whenever required.
Medlinks is hands down the best hair transplant centre in India, as reviewed by some of our esteemed clients, including Virender Sehwag, Rahul Makin and Varun Verma.
| Also Read: Celebrity Hair Transplant Doctors In India |
2. Why is Hair Transplant Popular Among Celebrities?
Before we discuss Indian celebrities and hair transplants, we first discuss the procedure of hair transplants.
Hair transplant is a popular hair restorative procedure that involves the extraction of healthy hair follicles from the donor site on the scalp, preferably the back of the scalp. Then the transplant is done to the recipient site where there are signs of baldness or other risks. The procedure should be done by the best hair transplant in India for expected results.
Also, when it comes to discussing why celebrities' hair fall, the reasons are pretty diverse. From the kind of erratic lifestyle, they lead to the kind of dietary rules they follow; there are many contributing factors to the damaged hair.
Some of the primary reasons include:
Constant exposure to chemical products that help with hair growth and skin conditions. Hair sprays, chemical treatments, heated styling tools, the hair goes through a lot.
The high-intensity lighting that the celebrities are put under is also the reason for their hair fall and damage in the long run.
The constant stress of work and the pressure of fame is a leading cause behind the issues of hair fall
So, witnessing actors with hair transplants is way more common. Some celebrities are vocal about undergoing the procedure and seeking help when needed, while others tend to keep the entire process hidden from the public.
Amidst all the types of available hair transplant procedures, the one type that most people prefer indulging in is the FUE or the Follicular Unit Extraction Hair Transplant. In this type of hair transplant, the surgeon starts by extracting each hair follicle from the donor site using micro puncturing tools instead of making an incision, which is done in a FUT hair transplant.
Medlinks also has a patented hair transplant procedure called the Perfect-i procedure, a modern type of hair transplant procedure that involves instant implantation of the extracted follicles to retain better viability of the follicles for improved and satisfactory results.
The perfect-i procedure also leverages the feather touch technique of graft implantation with zero crush and damage to the hair follicles.
3. Celebrities who got Successful Hair Transplant at Medlinks
Medlinks is a leading and the best hair transplant centre in India with years of reliability among national and international patients. Their list of clientele includes common and ordinary citizens to renowned celebrities like Virender Sehwag, RJ Rahul Makin, Gulshan Grover, etc.
Take RJ Rahul Makin's journey, for example.
His entire hair transplant journey was primarily subdivided into five steps, involving the initial consultation about the procedure, discussing his expectations after the transplant, and then planning the procedure and the actual transplantation surgery.
Rahul's transplantation was done via the Perfect-i procedure followed by successful follow-up consultations. The last step in the treatment procedure was getting Hair Regrowth Treatment after three months of the transplantation.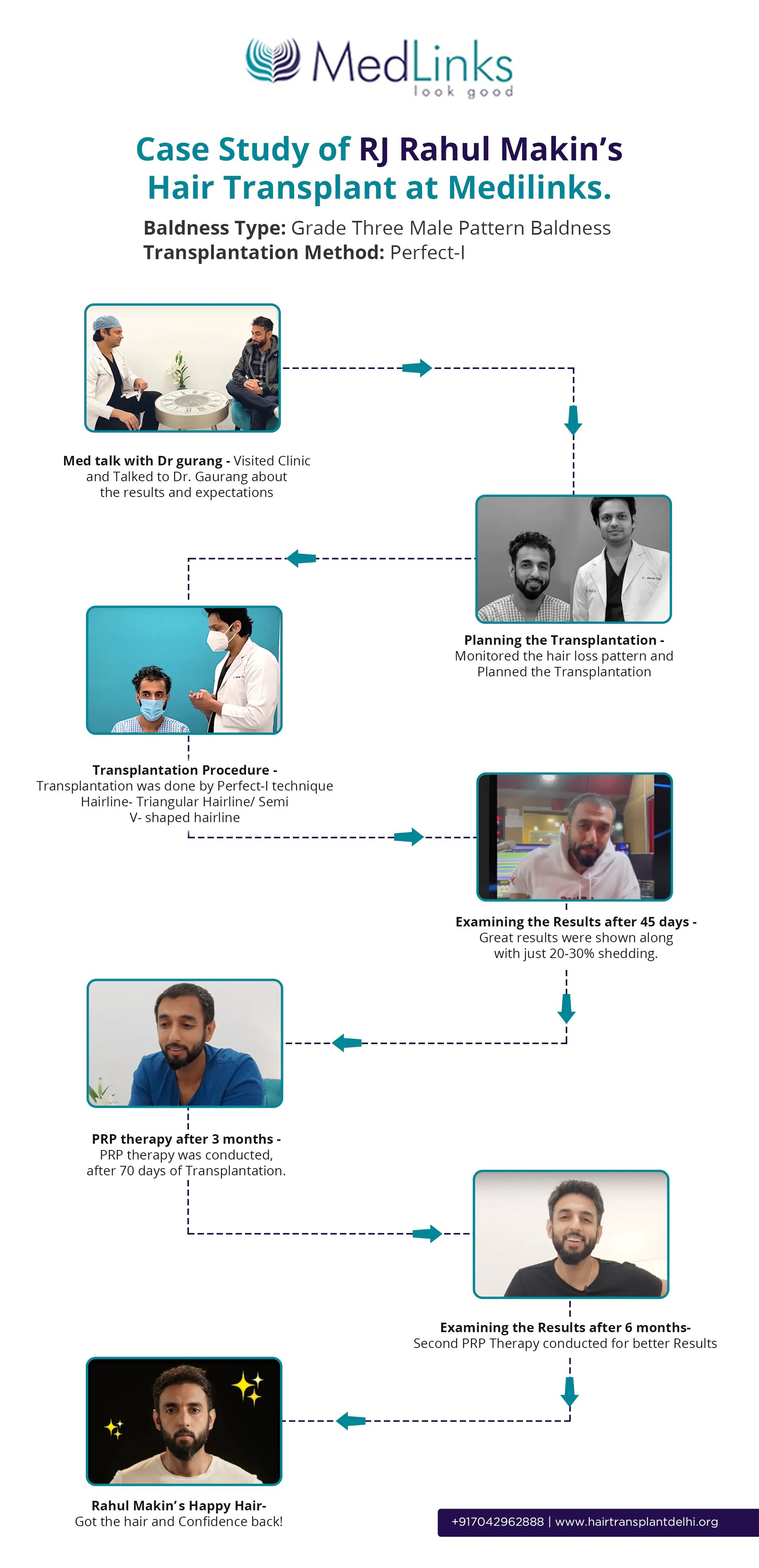 You can watch more about the entire process here.
Medlinks also takes pride in having other popular celebrities in their clientele, including Virender Sehwag and Gulshan Grover.
Also Read: Where Do Celebrities get Hair Transplant in India
4. Best Hair Transplant Clinic in India
It doesn't matter whether it is a Bollywood actor hair transplant or an ordinary citizen; getting the procedure done at a reliable and renowned spot is crucial. This ensures satisfactory results and a better appearance of the hairline and hair regrowth in the future.
Amidst so many other centres of excellence, Medlinks has stood out with its years of dedicated service and higher success rates. If you want to get result-oriented success after a transplant, this is the place to be in. Led by Dr Gaurang Krishna, the best hair transplant surgeon in India, Medlinks is a centre where you get satisfactory results with high-tech equipment.
Located in the heart of Delhi, the clinic is spread across an area of 15,000 sq. ft with a dedicated floor just to cater to the needs of hair transplant patients. The area is protected with UV sterilisation, and the operating rooms are bacteria and fungus free to avoid postoperative complications.
People from across the world believe in Medlinks and the claims they make because their claims are result-driven. They are known for having appreciable hair transplant surgery cost in India, making the procedures accessible to every person in need.
Takeaway
When you look through hair transplant celebrities before and after pictures, you will realize how potent the procedure is. Not only does it help you restore a fundamental part of your body, but it also reinstates the lost confidence that you have been struggling to find back.
At Medlinks, every procedure is done using cutting-edge technology to provide each patient with the highest level of satisfaction and desirable treatment standards.
Related Blogs