Where do celebrities get hair transplants in India?
It goes untold to how important looks, personality, and fitness are. And for celebrities who stay in the limelight and are sources of inspiration, it becomes imperative to look presentable and appealing.
Hair is one of those appealing aspects that can give electrifying attention to one's personality. In both men and women, hair loss or thinning conditions can take away the charm and confidence in one's attitude.
Hair transplants have helped transform the appearance of many celebrities and famous personalities while giving them an attitude to look confident and engaging to their fans.
For questions like where do celebrities get hair transplants; Medlinks in Delhi, India, is the top choice and recommendation for hair transplant by many celebrities because of its high-quality and top-notch technology inculcation.
Table of Contents
Feel free to skip ahead if one topic catches your eye:
This article explores the different reasons celebrities choose Medlinks hair transplant clinic in Delhi for its leading-edge hair transplant experience.
List Of Celebrities Who Got Their Hair Transplant Done At Medlinks
Virendra Sehwag

Gulshan Grover

RJ Rahul Makin
1. Why celebrities get their hair transplants at Medlinks?
Medlinks has created great success stories by ensuring life-changing hair transplants for celebrities. Medlinks gained popularity and high recognition because of the overall treatment experience, personalised treatment plants, and hair transplant outcomes.
As it is said, "Word of mouth spreads like fire," here is why Medlinks is considered a top hair transplant destination by many celebrities.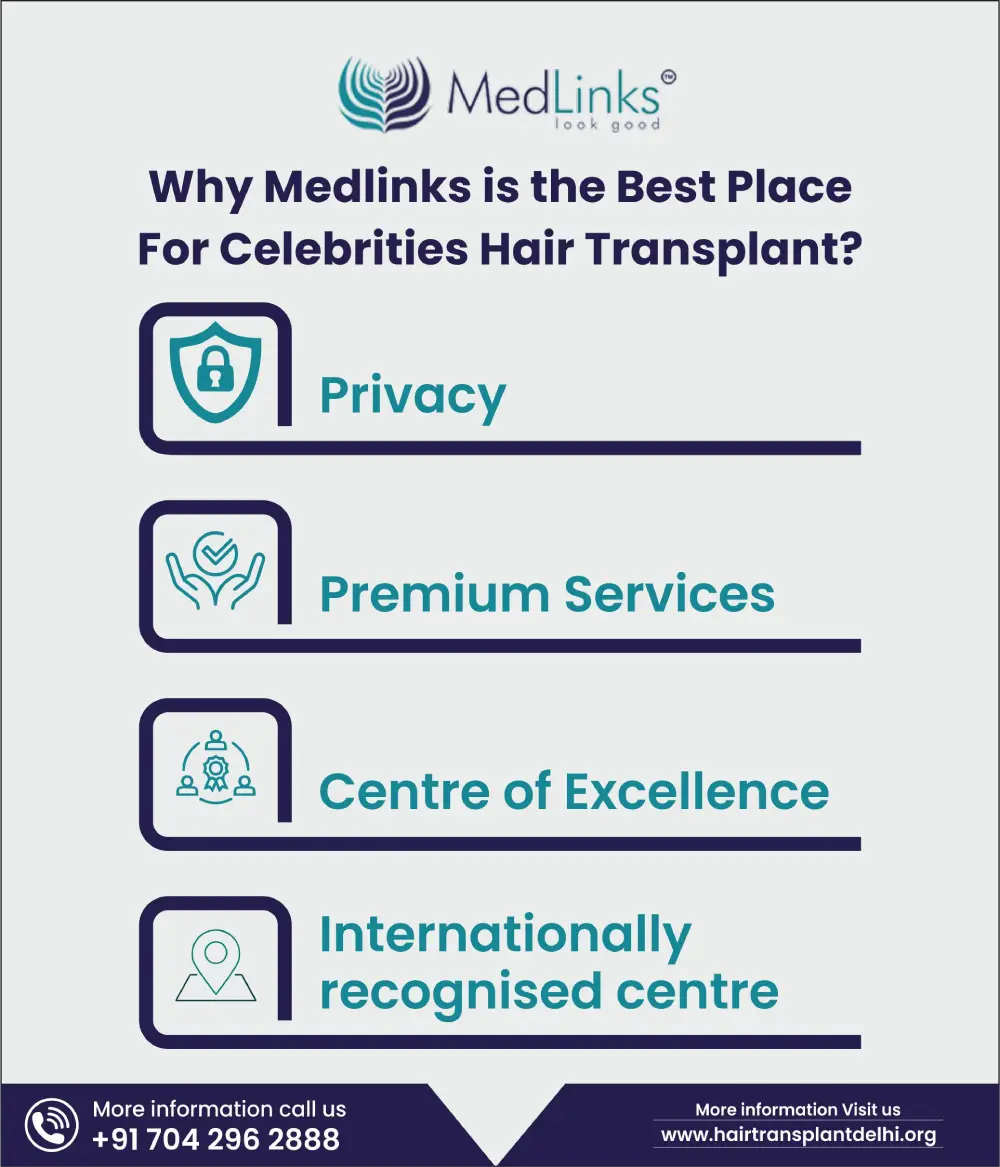 A doctor can make a difference
Dr Gaurang Krishna and his team are one of the finest plastic and cosmetic surgeons and are globally-acclaimed. They are dedicated to providing world-class hair transplant treatments with novel technologies like perfect-i and sapphire perfect-i.
A surgeon's impeccable surgical skills and aesthetic knowledge can help endure natural and appealing hairlines with desirable results. And surgeons at Medlinks have rich expertise and are "masters of their skill," making them the most recognised and remarkable hair transplant surgeons in Delhi and India.
Also Read: Celebrity Hair Transplant Doctors In India
Medlinks, a centre of excellence
Medlinks leverages best-in-class technology, top-notch equipment, comfortable ambience, and personalised treatment rooms. They also have extravagant procedural suits and waiting areas.
They are in sync with the latest innovations and technologies for hair transplants. With high-end microscopic devices, optical zoom microscopes for extraction and graft handling equipment are maintained under sterile settings. All in all, Medlinks prioritises high-end technology, standardised protocols, and high-quality treatments for precise outcomes.
Guaranteed privacy and premium services
Medlinks is one of its kind dedicated hair transplant clinic assured to provide premium hair transplant treatment and care. Premium services include personal space for personalised treatment, excellent staff service and assistance. This is one of the prime reasons for its popularity among celebrities across the globe.
Medlinks, a National and Internationally recognised centre
Medlinks culminates in science and technology. It has been one of the most renowned names in dermatology and hair transplant domains. Our surgeons have won many national and international accolades and appreciation for their excellence and contribution to hair restoration procedures.
It takes immense pride to let you know that eminent names like Boney Kapoor (Film Producer), Sheikh Suhail Mohammad Al Zarooni (Businessman and Collector), Shahnaz Hussain (Ayurvedic Beauty Products industry), Virendra Sehwag (cricketer and commentator), Gulshan Grover (actor), Rahul Makin (radio jockey), Rina Dhaka (fashion designer), Ghibran (Musician and Composer), and many other prominent names have appreciated Medlinks. This has always motivated them to serve better.
Touching the cost factor
It is a known fact that hair transplants can get expensive or heavy on pockets. The cost of hair transplant in delhi at Medlinks can range from Rs.70 per graft to Rs.200 per graft, depending on the technology and technique. However, high-quality hair transplants with much desirable or aspiring hair fuller outcomes and unparalleled expertise are worth the cost.
Also Read: Hair Transplant Cost in India
2. Frequently Asked Questions
A hair transplant is generally a safe procedure. However, it may involve minor and unusual risks, such as bleeding, infections, itching, inflammation, or an allergic reaction to anaesthesia.
The hair transplant results may take nearly 6 to 9 months to be noticed clearly. The hair in the transplanted zones regrows to show permanent and long-lasting effects.
Advances in hair transplant techniques have significantly improved natural-looking hairlines in the hair thinning zones. However, the placement of hair grafts and more natural outcomes depend on the skill and expertise of the surgeon.
3. Conclusion
Medlinks is a globally recognised name, highly popular for celebrity hair transplants. It is a home for the topmost hair transplant surgeons who have created remarkable milestones with their prudent skills and aesthetic outcomes.
Medlinks is accredited with the Best Hair Transplant and aesthetic centre award by the Times of India Healthcare Awards, 2017, and consistently backed the Best Hair Transplant Clinic in Delhi. Medlinks uses impeccable perfect-i technology and the "feather-touch" technique for better outcomes and reduced graft damage.
With AIIMS-certified doctors on board and highly sanitised rooms, Medlinks has successfully treated many celebrities and thousands of patients from over 20 countries and looks forward to serving more and better.
Related Blogs