List of Top 5 Celebrity Hair Transplant Surgeons in India
The constant urbanization, advancing medical technologies, and premium access to healthcare facilities have fine-tuned India as a leading center for all types of medical treatments. From chronic diseases to cosmetic procedures, there is a range of specialized surgeons that the country takes pride in.
One of the fastest evolving fields of treatment in the cosmetic field is hair restorative procedures. So, it is not surprising that there is a sudden peaked growth in the availability of hair transplant surgeons in India. However, choosing the best of them is crucial for getting satisfying results from the procedure.
Here, we will be discussing the top 5 celebrity hair transplant surgeons in India that some of the eminent personalities swear by.
Table of Contents
Feel free to skip ahead if one topic catches your eye
Dr. Gaurang Krishna is a leading hair transplant surgeon in delhi and senior consultant dermatologist. He is also the co-founder and director of Medlinks and one of the few aesthetic cosmetologists with international accreditations. Dr. Krishna acquired his MBBS degree from TN Medical College, Mumbai, and later completed his Masters from All India Institute Of Medical Sciences, New Delhi.
Not only did he outshine during his academic career, but Dr. Krishna was also awarded the 'Best Resident in Dermatology' at AIIMS following his successful completion of the post-graduation degree.
After completing his MD, Dr. Krishna had an inclination and liking towards trichology that pushed him to specialize in the field of Hair Transplantation. Following his specialization degree in 2011, he is regarded as one of the pioneer hair transplant surgeons in India with over a decade of experience.
Dr. Krishna has successfully completed over 3000 hair transplant surgeries to this date, which includes a range of celebrity clients as well. Within two years of his professional career as a hair transplant specialist, he was awarded the Best Hair Transplant Surgeon title in Delhi/NCR by PrimeTime Media.
Ever since the beginning of his career as a hair transplant surgeon, Dr. Krishna has strived to improve the facet of hair transplant procedures, by continuously learning new techniques and refined versions of the procedures of FUE - the Perfect-I technique. This is a unique and minimally invasive technique that Medlinks is accredited for.
Aside from his experience in surgical hair restorative procedures, Dr. Krishna also specializes in non-surgical procedures, including Stem cell transplant and Hair Regrowth Treatment. He is also a regular speaker in a range of national and international forums, sharing his knowledge about hair restorative surgeries and the procedures involving Robotic Hair Transplant. His work has been recognized by a range of the leading magazines in India.
Besides being one of the best hair transplant surgeons in India, Dr. Gaurang Krishna is also a philanthropist who is associated with various NGOs and government organizations that work with the deprived sections of people in society. He also has a few national and international awards under his wing, including WCD Rising Star Award, ISD fellowship award, National Dermatology Quiz winner, etc.
Dr. Gaurav Krishna has a notable clientele, including famous Indian cricketer, Virender Sehwag. You can check his testimony and learn more about his experience here.
Some of the other notable celebrities that Dr. Gaurang Krishna has operated on include Bollywood actor Gulshan Grover, Vipin Sharma, and Paritosh Sand and Bollywood Cinematographer Shailesh Awasthi. Even popular radio jockey, RJ Makin from 92.7 Big FM has undergone hair transplant treatment at Medlinks, under the guidance of Dr. Krishna.
Also Read: Where do celebrities get hair transplants in India?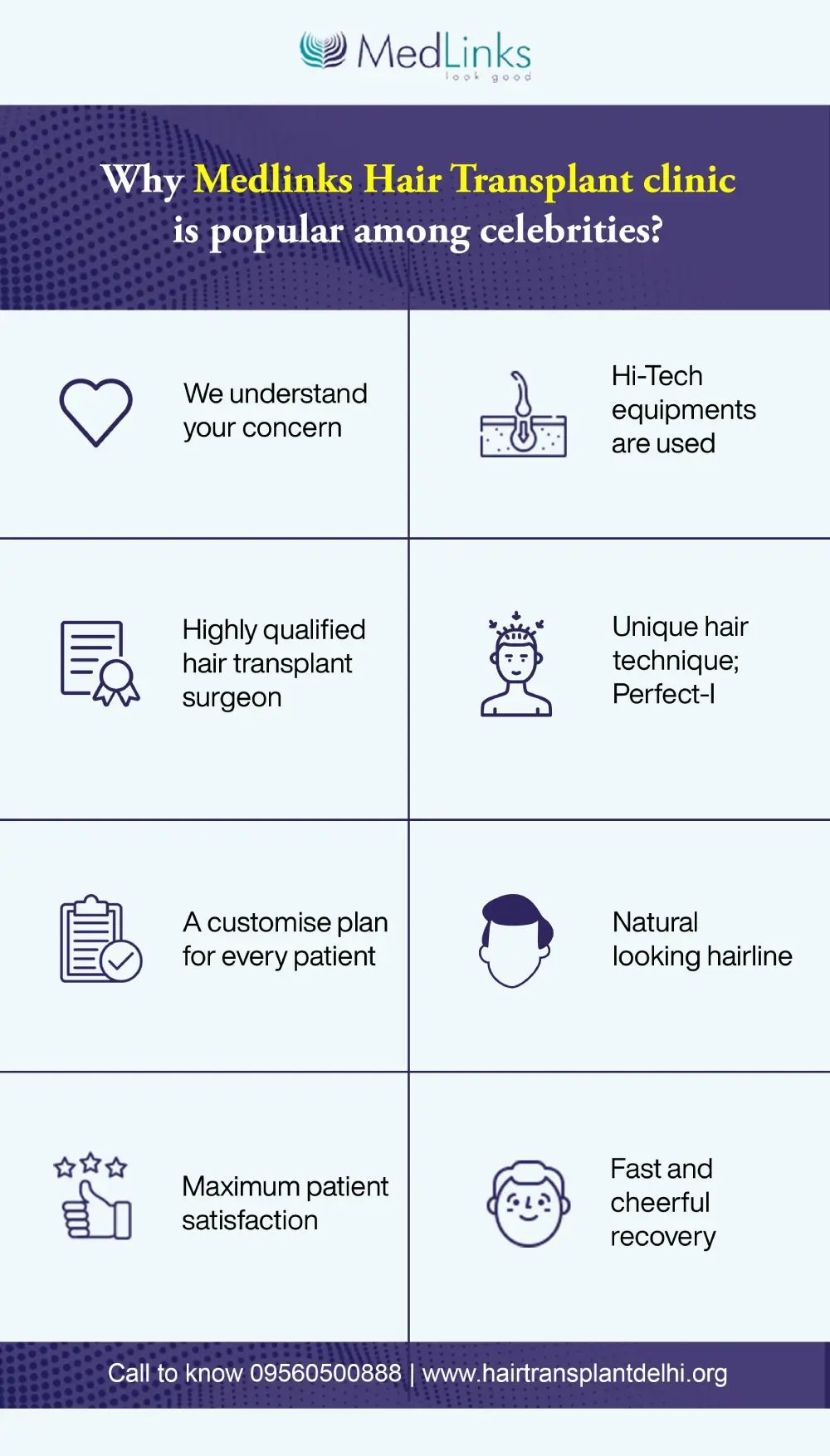 Dr. Manoj Khanna is one of the most noted and qualified cosmetic surgeons in India, with special emphasis in the Delhi region. He is the Chairman and Managing Director of Enhance Clinics. He completed his initial medical education including his graduation, post-graduation, and super specialization from Kolkata, India.
Following that, Dr. Khanna completed his fellowship in Cosmetic Surgery from the United States. He was also the first in Eastern India to pass the D.N.B examination in Plastic Surgery in 1996. His list of achievements in the field of Aesthetic surgery is unsurmountable. He has been trained under a range of renowned cosmetic surgery centers across the world.
Dr. Khanna has completed over 4500 hair transplant surgeries using his patented "Kolkata Slit" technology that is a primary technique under the Follicular Unit Transplantation. During his professional experience of 10 years, Dr. Manoj Khanna has acquired a range of awards and accolades under his name. His clientele includes a range of celebrities including film stars, cricketers, and TV cricket commentators.
Dr. Manoj Khanna's name is very prominent in the world of celebrities, as he has interacted with leading Indian cricketers including Sourav Ganguly and V.V.S Laxman. Aside from that, Dr. Khanna is also acquainted with a few Bollywood actors including Mimoh Chakraborty, Rituparna Sengupta, and other notable personalities like Dilip Vengsarker and Roger Binny.
Founder of Eugenix Hair Sciences, Dr. Pradeep Sethi is another renowned celebrity hair transplant specialist that you can consider consulting for your treatment. With over 10 years of professional and hands-on experience, Dr. Sethi has cemented his name as a pioneer in the field of cosmetology and dermatology.
Dr. Sethi completed his MBBS from the most prestigious medical college in India, AIIMS, Delhi. He specializes in density creation, hairline design, female hair transplantation, extreme cases of baldness, and the procedure of corrective hair transplantation. With his years of experience in the medical field, Dr. Sethi is not just renowned and popular in India but is an internationally acclaimed surgeon.
He actively participates in international medical associations like ISHRS (USA) and has delivered speeches and talks on hair transplantation and other hair restorative surgeries in several national and international events and seminars.
With over 2500 successful hair transplantation surgeries under his belt, Dr. Pradeep Sethi is one of the most popular hair transplant surgeons in India. He was the first cosmetic surgeon who coined and implemented the concept of Direct Hair Transplantation (DHT), a procedure that is widely used in India today. He was also the first doctor who initiated the concept of teledermatology in North India.
4. Dr. Tejinder Bhatti (Darling Buds)
If you are on the hunt for one of the top FUE hair transplant surgeons in India, Dr. Tejinder Bhatti is on the top of the list. He is known to improve his patient's appearance and self-confidence via the range of advanced FUE hair transplant techniques assisted by his aesthetic judgement from years of professional experience.
Dr. Bhatti is a leading advocate for FUE hair transplant procedures and is consistently working to provide his patients with optimal information surrounding varying hair restorative procedures. His contribution to Darling Buds clinic with the cutting-edge techniques and years of professional skills have bolstered the growth of the clinic by multiple folds.
Dr. Bhatti's professional experience as a hair transplant surgeon started back in 1992. He completed his graduation from AFMC, Pune in 1985 and later completed his Masters in Surgery and Super specialization in Plastic Surgery in 1997. He has also pursued his training under some of the best and renowned hair transplantation centers located in Detroit, Kentucky, London, and Denver.
Dr. Tejinder Bhatti has operated on a number of Bollywood celebrities including notable figures like Mahesh Thakur, Mehul Nisar, Mangal Dhillon, Vaquar Shaikh, Paresh Ganatra, Mukesh Bhatt, Shahbaz Khan, Deep Raj Rana, Mehul, Nisar, Rahul Mahajan, Raju Shrivastava, Ismail Darbar, Imran Khan, to name a few. He has also treated a range of Punjabi celebrities.
If you are on the lookout for the best hair transplant surgery in Hyderabad, Dr. Madhu is a leading hair transplant surgeon who has introduced a range of advanced hair restoration techniques in India. He has over a decade of professional experience as a dermatologist and hair restorative surgeon and is known for treating his patients with the latest and advanced techniques across the world.
Dr. Madhu is the first hair transplant surgeon in India to be awarded the honor of the highest certification available in the world in hair restoration surgery by the American Board of Hair Restoration Surgery. Besides the thousands of hair transplant procedures that he has done, he is also known for his expertise in the artistic design of hairlines to mimic the natural hairline of the patient to make the procedure extremely inconspicuous.
He uses modified stereo microscopes for improved precision for hair transplant procedures. His slivering technique for the hair transplant surgery is done under a mantis microscope for reduced scarring and improved rate of recovery.
Dr. Madhu is also a pioneer in the field of hair transplantation and is known for the "Triple Phytic" closure method. His surgical methods are minimally invasive and reduce the risks of bleeding and pain that several patients are often worried about. His modified procedure of hair transplant surgery is also extremely adaptive and one of the fastest treatment options in India.
Take Away
Every hair transplant surgeon mentioned in the list above has worked throughout the years to achieve the name and recognition that they have today. If you are struggling with consistent hair loss, receding hairline, or other hair fall related issues, you can consult any of these celebrity hair transplant surgeons in India for satisfying results.
At Medlinks, you will get the best consultation and hair transplant treatment that is tailored to your needs. The procedures are conducted by hair transplant surgeons In Delhi who have professional and hands-on experience in perfecting the results and restoring the appearance of natural hairlines.
Frequently Asked Questions
There are over hundreds of hair transplant clinics established in India, in which celebrities choose the best among all. Celebrities get their hair transplant done in one of the most popular and replicated hair transplant clinics in India, the Medlinks.
The Top 5 hair transplant surgeon in India are
Dr Gaurang Krishna (Medlinks)
Dr Manoj Khanna(enhance clinic)
Dr Pradeep Sethi (Euginex hair sciences)
Dr Tejinder Bhatti (Darling Buds)
Dr Madhu (Hairhospi.com)
Most Indian celebrities have undergone hair transplant treatment, among which the popular former cricketer Virendra Sehwag, Bollywood actor Gulshan Grover, Vipin Sharma, and Paritosh Sand have been treated by our best surgeon Dr Krishna in Medlinks.
Also, celebrities like Sourav Ganguly, V.V.S Laxman, Roger bunny, the late Raju Shrivastav, Mukesh Bhatt, and others are treated with hair transplant surgery.
Celebrities choose the best hair transplant surgeon and clinics in India to get themselves a perfect and desired hair transplant. In order to acquire long-lasting and satisfactory outcomes of the procedure which can overturn the prior appearance of themselves.
Related Blogs