Hair Regrowth Treatment for Hair Loss: Myth or Reality? Benefits, Cost & Side Effects
Learn from the Best Clinic in Delhi NCR: MedLinks
Hair loss is a common result of aging, but often it can be premature, patchy, or in some cases severe due to illness, hormonal changes, and other medical factors. Are you suffering from hair loss and Is it making you self-conscious? If you are seeking a treatment solution, look no further than the best Hair Regrowth Treatment for hair loss.
Hair Regrowth Treatment is considered as one of the most effective and natural ways to stimulate hair growth. The process uses the patient's own growth factors for stimulating hair growth.
Hair Regrowth Treatment for hair works by isolating the component of the blood which helps the body to heal and form clots. This is followed by reinjecting the components into the scalp boosting the growth of hair follicles. This way the body's natural and concentrated growth factors are used to heal itself. This non-surgical procedure is safe and gives reliable results.
Contents
1. What Is Hair Regrowth Treatment?
2.Hair Loss Treatment
3. Cost of Hair Regrowth Hair Loss Treatment in Delhi NCR
4. Side Effects of Hair Regrowth Treatment for Hair Loss
1. What Is Hair Regrowth Treatment?
Hair Regrowth treatment is a non-invasive therapy that utilizes the body's built-in healing abilities to stimulate hair regrowth.
The treatment involves taking a small quantity of blood from a patient. By using a medical-grade centrifuge, the separation process is carried out to form the Hair Regrowth Treatment which contains concentrated growth factors. This plasma is then injected in a grid pattern into the scalp. The process initiates tissue repair and regeneration and encourages hair growth.
The treatment takes around one hour. Results are visible after 3 weeks but optimal collagen regeneration for the skin on the scalp takes up to 3 months. A minimum of 3-4 sessions are required for best results and a bi-annual maintenance appointment is recommended every six months.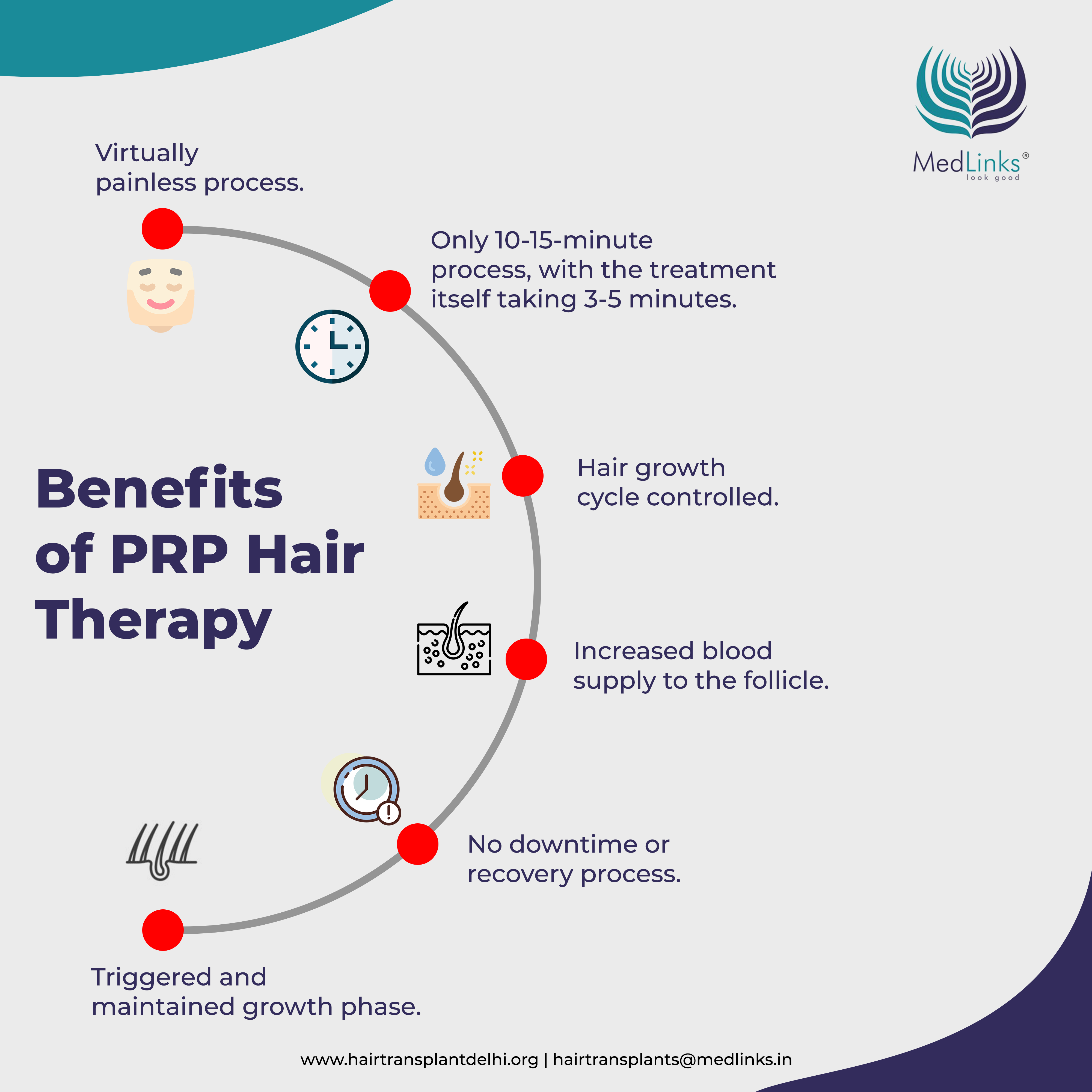 2. Benefits of Hair Regrowth Treatment Hair Loss Treatment
Hair Regrowth Treatment is a particularly effective hair loss treatment for "androgenic alopecia" which is a common type of hair loss in both men and women.
The Hair Regrowth Treatment contains growth factors, bioactive proteins, nutrients, vitamins, hormones and electrolytes which speed up tissue repair and regeneration. This produces excellent results by refreshing the follicles, encouraging positive hair growth.
The treatment increases hair density, increases blood and nutrient flow, increases the growth duration of the hair follicles and reduces hair loss to normal levels and improvements are seen within 90 days.
It is a safe treatment with no risk of infectious disease transmission as it utilizes the patient's own blood. There is no downtime and you can go back to your day to day activities straight after treatment.
Hair Regrowth Treatment has antimicrobial properties, thus reduces the risk of developing other infections after the treatment.
Overall the process provides incredible results by encouraging the rejuvenation of follicles and extending the growth cycle of the hair.
3. Cost of Hair Regrowth Treatment Hair Loss Treatment in Delhi NCR
The cost of Hair Regrowth Treatment for hair loss in Delhi varies across clinics. The Hair Regrowth Treatment process costs around 5000-15,000 rupees per session depending upon the clinic's reputation, doctor's experience, and skills as well as techniques used.
Typically, one treatment per month is recommended for the first four months, and then two maintenance treatments are recommended every 4–6 months.
4. Side Effects of Hair Regrowth Treatment for Hair Loss
Side effects of Hair Regrowth Treatment are minimal, and due to its use of your own blood into your scalp, you aren't at risk for getting a communicable disease.
There may also be some slight bruising, scarring, sensitivity or swelling around the injection sites. Bruising risk is very less as the needles used are tiny. These side effects are short-lasting and can be minimized by taking proper aftercare precautions.
To minimize the effects of bruising or swelling an ice pack or some topical cream (as suggested by your doctor) can be used.
If you are suffering from any hair loss problems such as early stages of hair loss, thinning or hair, growing bald patch but have functioning hair follicles, then you are the right candidate for Hair Regrowth Treatment. If you any blood or skin disease that would interfere with Hair Regrowth Treatment or increase the risk of infection you need to avoid the surgery.
At MedLinks Clinic, our doctors will assess the cause and stage of your hair loss and recommend the most suitable treatment to address the problem. We have successfully treated patients with hair loss conditions ranging from restoring natural hair growth to repairing damaged follicles with our latest treatments available.

Related Blogs