How to Speed Up Hair Growth 4 Months After Hair Restoration?
If you are grappling with hair loss or bald spots, hair restoration is a transformative procedure. After undergoing hair transplantation, your focus will shift towards achieving optimal hair growth. By the four-month mark, you will see positive results from a hair transplantation surgery.
Most doctors opine that the recovery phase after the surgery is critical for any patient. The duration of this phase varies from one patient to another. But on average, you can expect to recuperate fully between seven to ten days after the surgery.
During the recovery phase, you must try to adhere to the instructions of your surgeon. This includes having a balanced diet and not exercising strenuously. Two weeks after the surgery, you can resume your normal lifestyle.
A common query among hair transplant patients is how to boost hair growth. Note that it will take almost four months for your hair to regrow fully. Moreover, the effectiveness of hair regrowth also depends on how well you've followed the surgeon's advice.
With proper care and maintenance, you can boost your hair growth when nearing the four-month mark. Here are some ways to boost up hair growth after the duration of four months.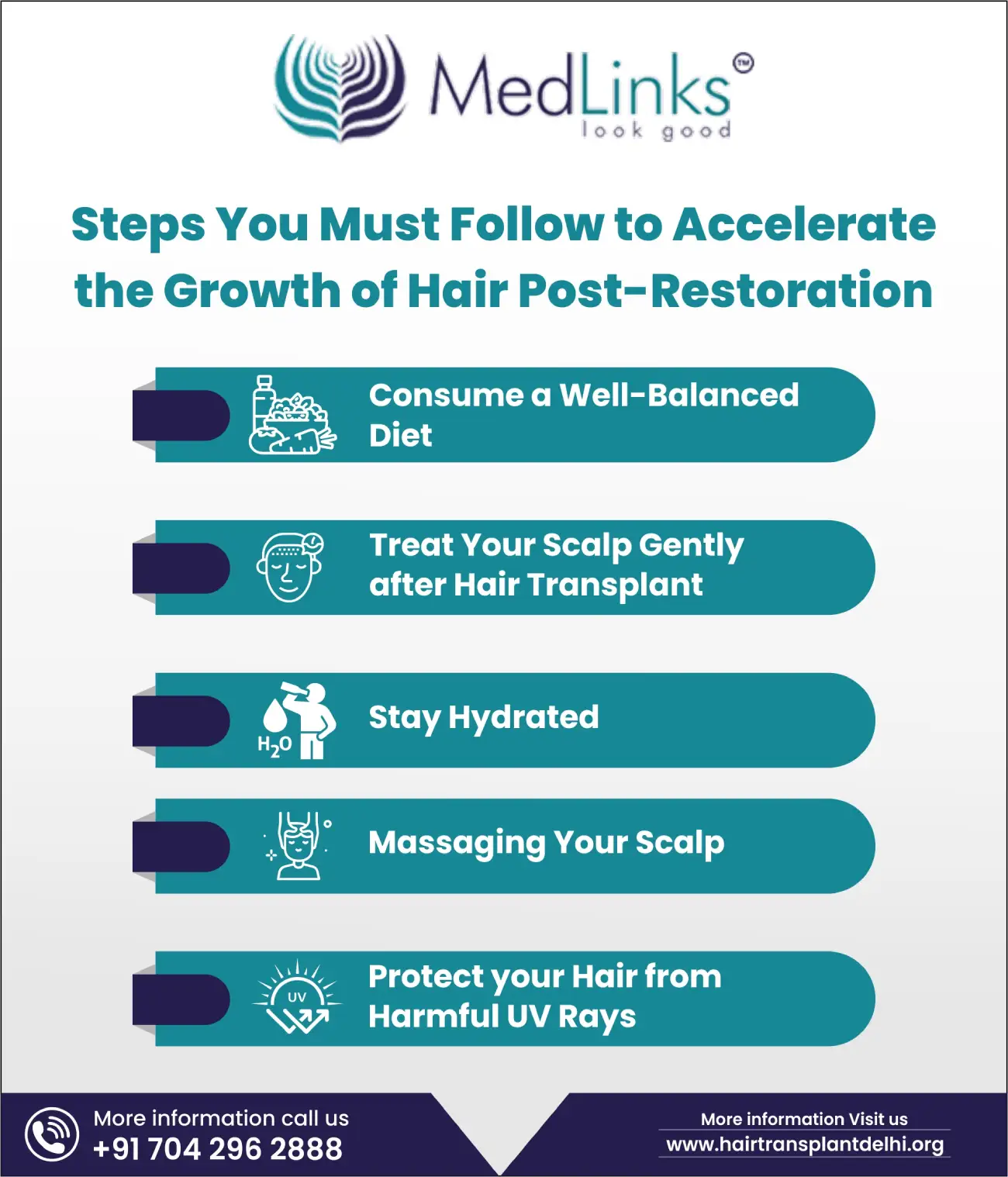 Consume a Well-Balanced Diet
Note that a balanced diet plays an integral role in nourishing your body and boosting hair growth. Furthermore, after the surgery, you must always eat enough vitamins and minerals to ensure that the scalp heals properly.
Make sure that your meals include a wide range of nutrient-dense food items like fruits, lean proteins, whole grains, etc. Some essential nutrients that boost hair growth are biotin, vitamins A, E, C, etc. Your surgeon will also recommend you consume foods containing omega-3 fatty acids.
If you are finding it challenging to eat a balanced diet, consider consulting a nutritionist. They will design you a personalised diet plan tailored to your specific needs and goals.
Treat Your Scalp Gently after Hair Transplant
Four months after the hair transplant surgery, you can expect your hair to grow at a rate of 10 to 20%. But this growth rate depends on how careful you are with the aftercare instructions. For instance, one of the most important aftercare instructions is not to treat your scalp roughly after the transplant.
Try to consume medications as prescribed by your doctor.
You must refrain from applying too much pressure on the operated area of the scalp. After two weeks, you can wash your hair with a gentle shampoo. Avoid rubbing the scalp harshly. It is always a good idea to consult your surgeon before shampooing the scalp and the operated area.
Stay Hydrated
Proper hydration after the surgery is crucial for overall body functions. Water nourishes the newly transplanted hair follicles and ensures optimal growth. After the surgery, you must drink enough fluids to keep your hair hydrated. Hydration can help create an optimal environment for hair growth.
Massaging Your Scalp – Things to Know
Before massaging your scalp, you must consult your doctor. If your doctor gives the green signal, you can enjoy a gentle scalp massage. The best way to boost hair regrowth with scalp massage is by using a few drops of essential oils.
Try massaging the scalp in circular motions to boost hair growth. Based on your condition, the surgeon may recommend certain topical hair treatments to boost its growth. A scalp massage boosts blood flow and reduces stress levels.
Protect your Hair from Harmful UV Rays After a Hair Transplant
UV rays can hinder the hair growth process after the transplant. Dermatologists advise securing your scalp from direct sunlight exposure for at least two weeks. Prolonged exposure to the harmful UV rays can weaken your hair. It can lead to breakage and slower growth of hair.
Usually, most doctors recommend using a hat to shield your scalp from the UV rays. You can also use a UV-protective hair spray for optimal safety. It is a simple precaution which can shield your hair from damaging UV radiation.
These are some of the most effective strategies with which you can boost your hair growth after four months. Throughout the recovery journey, you must communicate with your dermatologist for effective tips to augment hair growth.
FAQs:
Which Technology is Used in the Perfect-i Hair Transplant Surgery?
In the Perfect-i hair transplant, the feather touch technique is used. Moreover, there is no use of implanters in this surgical procedure. It ensures the implantation of healthy hair grafts.
How Much Hair Grows After Four Months?
After four months, hair grows at a rate of 10 to 20%. But this growth rate is highly dependent on how you have adhered to your post-surgical instructions. You can see full regrowth of hair one year after the surgery.
What to Expect Four Months After the Surgery?
Four months after the surgery, you will see early stages of growth in your scalp. Try consulting with your dermatologist to learn more about the growth rate of the implanted hair follicles.
Related Blogs