How to Speed Up Hair Growth One Month After Hair Restoration?
The healing period after undergoing hair transplantation is crucial. Undertaking the right steps will help you achieve the best results. Those initial weeks are vital when you can expect newly implanted hair grafts to start shedding. After they shed, the new hair grows eventually between 4 and 12 months. So, patients should always follow the surgeon's advice during this phase.
Life After Hair Transplant: What to Expect After One Month?
The first month after the treatment shows dramatic changes in the hairline. Bleeding, oozing, and swelling are common signs, so please ensure you have pillow protectors. These signs indicate the grafts soon heal, resulting in scabs and crusts across the hairline. These grafts will grow but eventually fall out without showing noticeable results.
But this phase is natural. In clinical terms, it is popular as hair loss that starts after 2 or 3 weeks after the surgery. Both your graft area and donor area look different after one month. Due to shock hair loss, the scalp may look worse. However, some patients have experienced better results with hairlines appearing natural and neat after one month.
In short, the result varies from one person to another. Lingering signs of the therapy might be visible in individuals with fairer skin complexion.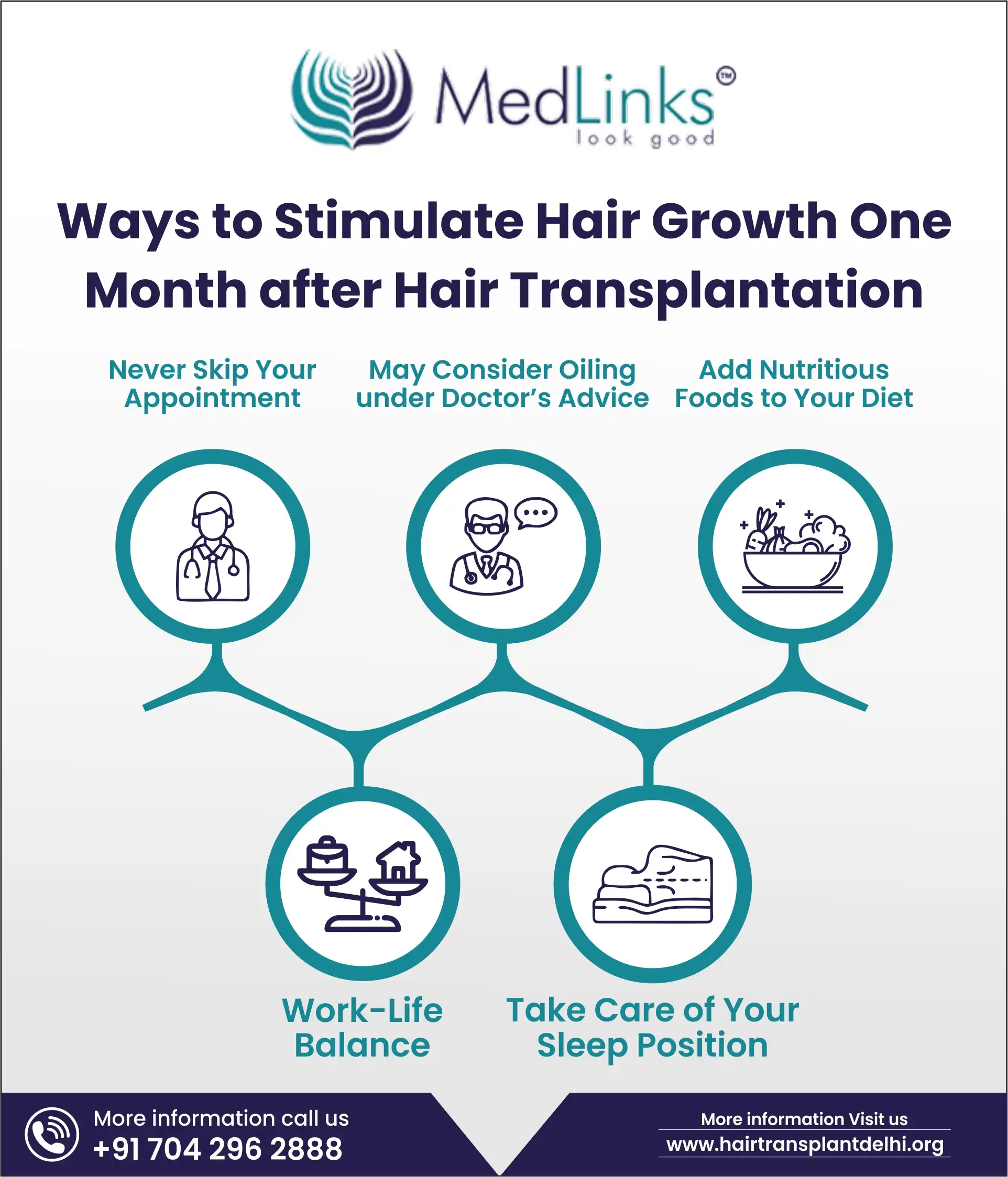 Ways To Stimulate Hair Growth One Month After Hair Transplantation
Reputable surgeons recommend following their guidelines to speed up hair growth one month after a hair transplant. Here's a compiled list of dos and don'ts that accelerate hair growth after the surgery:
Spraying keeps your scalp in the right order. Besides accelerating hair growth, it protects incisions against infections, thereby preventing scabbing. Scabs may appear on your scalp after three days of the surgery.
Once bleeding and fluids stop, they appear and form crusts after the transplant. Spraying your scalp will help ease the condition. The best way to practise spraying is using your right hand to spray the right side and your left hand for the left part of your head.
Never Skip Your Appointment
Your surgeon may schedule an appointment after one month to review your condition. Skipping an appointment means making several mistakes that restrict you from meeting your hair goals. In an appointment, you can ask your queries or questions to the doctor about hair transplant.
May Consider Oiling under Doctor's Advice
You can start oiling your hair with almond or coconut oil two weeks after the hair transplant. If itchiness occurs during this time, oiling may relieve the condition. Pour an amount of oil into the recipient area and massage in a circular motion.
Add Nutritious Foods to Your Diet
Consuming protein-rich foods like chicken, eggs, and broccoli after hair transplantation promotes hair follicle growth. Some staple ingredients also speed up hair growth. Red meat offers iron, while cauliflower is a rich source of biotin, and fishes have omega-3 fatty acids. All these nutrients boost hair growth after a hair transplant.
This sedentary lifestyle contributes to many emotional and mental issues that may take a toll on your body. Under stress, the human body prioritises the supply of energy and nutrients to the prime organs, so hair growth slows down. Practising yoga may help you manage stress during this phase, thereby optimising hair growth.
Take Care of Your Sleep Position
Patients must be conscious about their sleeping position during the initial three days after the surgery. They should not lie or sleep on their faces as it may cause swelling. Also, it is advisable to sleep with the head elevated to 30 degrees for a minimum of three days.
But what should you do after one month? If you have undergone the treatment for a month now, it is better not to sleep on your stomach because it may increase swelling.
Hair transplantation does not offer immediate results. You must take the right steps to achieve your results. And only a reliable surgeon can guide you and help you accomplish your goals.
FAQs:
Can You Use Styling Products One Month After Hair Transplant?
No. The thought of flaunting dense hair may tempt you to use styling products. But it is only four weeks of the treatment, and in this stage, using a styling product may affect hair growth drastically.
Can You Touch the Transplanted Hair after 1 Month?
It is better not to touch the transplanted hair during the first eight days. However, after one month, you may touch it, but the intensity with which you touch it depends on the healing process.
Related Blogs