How to Speed Up Hair Growth Two Months After Hair Restoration?
After the surgeon completes the hair transplant process, Fibrin (produced by your body) secures the grafts in the right position. It takes only 14 days for grafts to settle in the new location completely. So, after two months, you might expect to see visible results.
But sixty days are not enough for the complete regrowth of hair. So, how can you speed up hair growth sixty days after the treatment? Let's get a clear understanding of the methods from the following part of this post:
Life after Hair Restoration: What Happens After Two Months?
If patients suffering from pattern baldness undergo surgery, they may expect a new hairline after two months. However, hair growth will not be completely visible. Someone experiencing female or male-patterned baldness will have an M-shaped hairline.
For such a hairline, one may not observe much hair growth after two months of the surgery. Expect the swelling, redness, and scabbing to fade away completely. In short, there will be hair growth, but it does not create a real density. So, how can you speed up hair growth after hair transplantation?
Best Methods to Accelerate Hair Growth Two Months after Hair Transplantation
After two months of the treatment, your transplanted hair gets into the shedding phase. This phase continues for 3-3.5 months. Since you may not see much difference in hair loss conditions, you need to continue with your medication to achieve the best results. Here's what you may do to speed up hair growth two months after the transplant.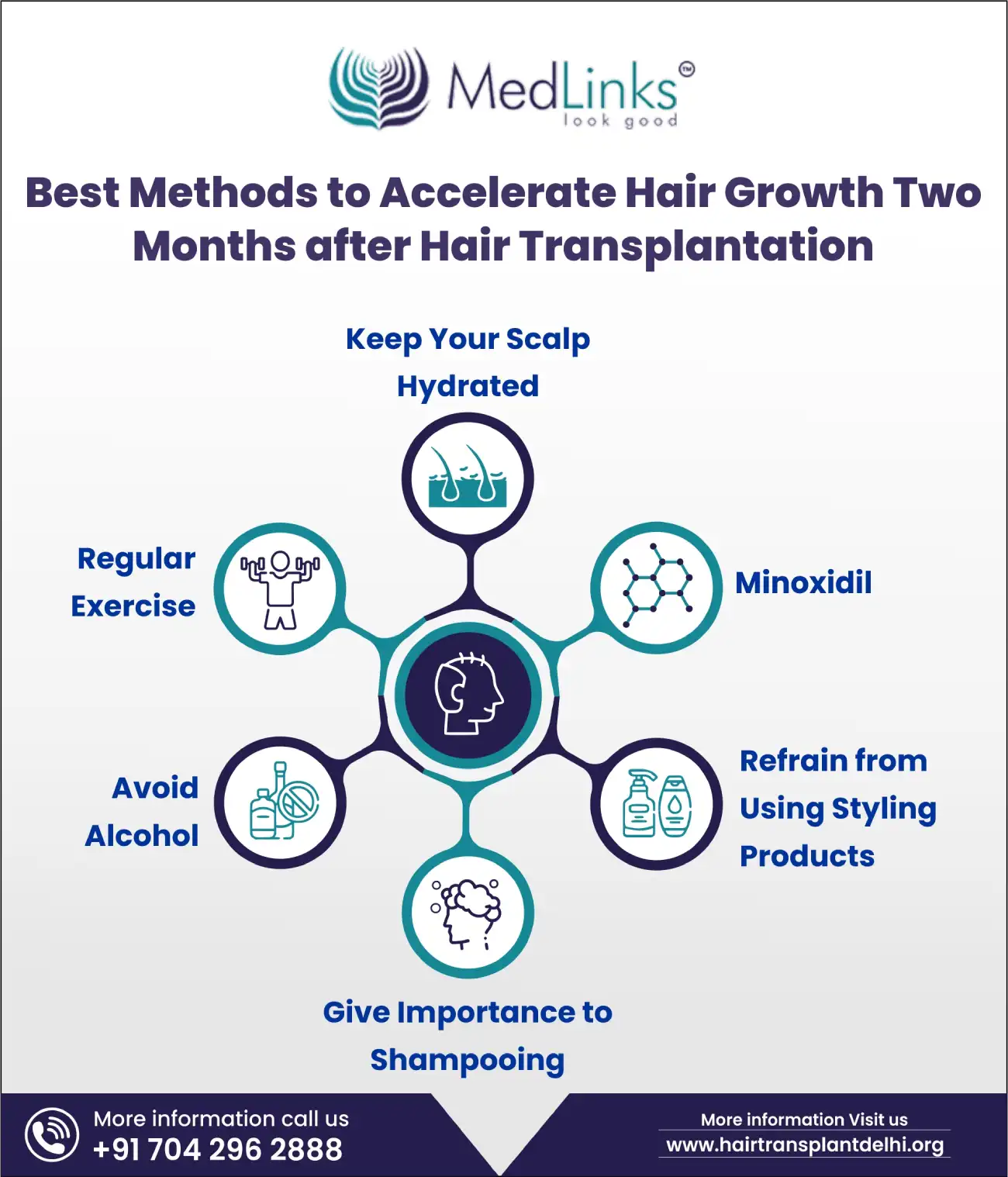 Water is the prime ingredient that contributes to hair growth. On the other hand, dehydration will only inhibit hair regrowth. Did you know water accounts for around 25% of the weight of one strand of your hair? Consuming 2 litres of water every day strengthens hair and promotes faster growth.
The method by which it accelerates hair growth remains unidentified. But surveys suggest that minoxidil can reverse hair loss due to pattern baldness. So, after the hair transplant, using minoxidil can help you by doing these things:
Improving blood flow around your follicles
Nullifying follicle shrinkage
Stimulating the follicles transition to a growth phase
Extending the development period of every follicle
Refrain from Using Styling Products
These days, creams, gels, waxes, mousses, hairsprays, dry shampoos, and leave-in conditioners rule the hair styling world. But after you undergo hair transplantation, you must keep these products on hold strictly.
Of course, a mild shampoo that's free from aggressive chemicals is an essential part of your hair care regimen. But using styling products during the initial healing months after a hair transplant is a sheer mistake. It may slow down hair growth.
Give Importance to Shampooing
Shampooing is a significant part of your hair care routine after the surgery. When done daily, shampooing can keep the area clean. After two months of hair transplant, you may apply shampoo to your hair more than once a week (twice or thrice).
Excessive alcohol consumption can hinder hair regrowth after hair transplantation. It reduces digestive enzymes released by the pancreas that prevents your body from breaking down and absorbing nutrients in food. Lack of nutrients, thus, leads to hair shedding.
You can perform light exercises 7-14 days after the hair transplant. After 14 days, you may perform heavy exercise that promotes healthy hair growth. With the increased blood circulation, more oxygen and nutrients get into the scalp.
A hair transplant may offer a permanent solution that reverses hair loss. However, you can expect to see hair regrowth results eventually, which may take over a year.
FAQs
Can Minoxidil or Finasteride Stimulate Hair Growth?
Yes, Minoxidil or Finasteride can accelerate hair growth. But one should always take recommendations from the surgeon before taking them.
Do Grafts Remain Secure After 2 Months?
The newly transplanted hair grafts remain secure in the new location on your scalp within 10 to 14 days following the surgery. During the initial days after the transplant, the new grafts are vulnerable in the location and may be knocked out and lost.
What Foods Should You Consume Two Months After Hair Transplant?
Foods like broccoli, brown rice, spinach, black beans, lettuce, pepper, almond, and zucchini are excellent options. You must consume protein-based foods like meat, fish, and eggs too.