Hair Transplant Gone Wrong? 9 Expert's Advice on What to Do Next
Hair transplant procedures have become more simplified and provide efficient results. It is considered a safe procedure that offers a high success rate in most patients. However, in certain situations, as with any typical medical procedure, the surgery may not provide the desired results.
Such situations are often easy to rectify, and experienced professionals can quickly get to the root of the problem to resolve it. If you are experiencing such a mishap with your hair transplant procedure, learn the top ten expert advice on what you should do next in this article.
What Exactly Can Go Wrong with a Hair Transplant Surgery?
Although hair transplant surgery is mostly a safe procedure and the complications with it are quite rare, there are certain things that could go wrong. So, you should always choose an expert surgeon with licence and certification to carry out procedures to get the best outcomes. Below are some of the things that can go wrong with a hair transplant surgery.
Surgery-Related Complications
Surgery-related complications include fainting, excessive bleeding, tachycardia, etc. These often arise when the procedure is done by an inexperienced doctor.
Infections
Although quite rare, infections may develop in the transplanted region if proper aftercare procedures are not followed. You must maintain scalp hygiene after the surgery if you don't want to develop infections in the scalp and hair follicles.
Overharvesting
Overharvesting can leave a part of the scalp bald when too many grafts are taken out from the donor region. It mostly happens when the doctor doesn't realize how many grafts would be needed for the targeted region.
Undesired Results
The shape of the hairline should look as natural as possible. When the measurements are taken wrong, your hairline may look disoriented, giving you an unnatural look. Poor hair transplant techniques are mostly to blame for such blunders.
Poor Growth of Hair
In some situations, your hair may not grow naturally even after several months. This is mostly due to not following aftercare instructions and poor diet.
9 Expert Advice on What to Do Next When Your Hair Transplant Has Gone Wrong
Hair transplant surgeries that are not done right will require remedial procedures that can fix the issues. However, you need to consult an expert to correct the issue as it will depend on what the problem is and planning the appropriate steps to not repeat any further complications. Here are some solutions that experts advise if a hair transplant surgery goes wrong.
Revision Surgery for Hair Transplant
Revision surgery can help you with uneven hairline and remove scarring from the previous surgery. A portion of the transplanted hair follicles are frequently removed at the start of the revision surgery. The regions that need to be treated will be carefully filled up with donor follicles that have been taken from the back or sides of the head.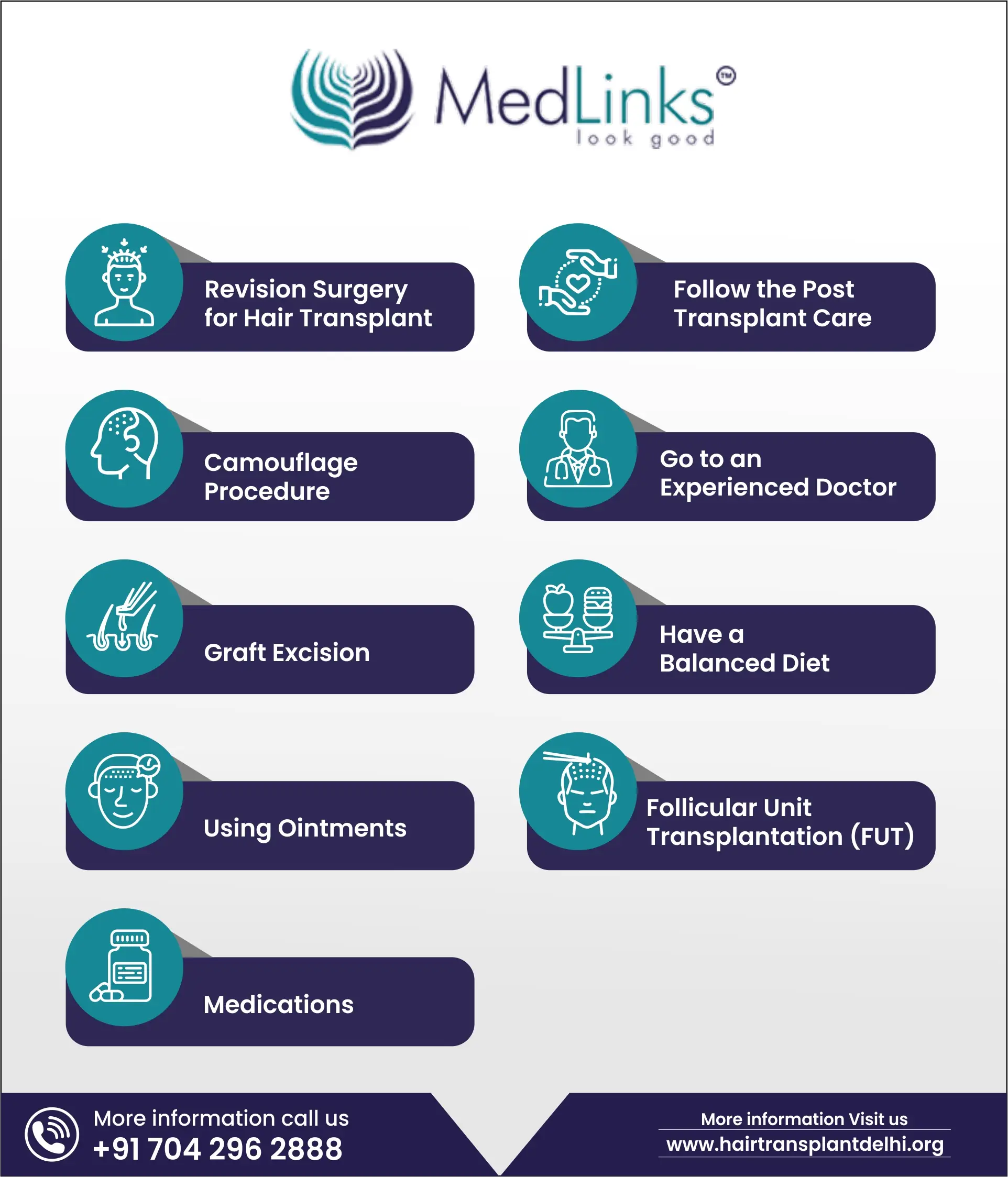 Camouflage Procedure
If you are left with thinning hair or gapping even after a hair transplant surgery, you can try the camouflage procedure. Using this method, just the hair grafts that were not good are removed and are then substituted with ones that seem more natural. To fill in any gaps left by the previous method, the 2 to 3 hair follicular units are positioned both directly in front of the bigger grafts and in between them. It is an effective procedure if you have enough grafts to replace the old ones.
Graft Excision
Graft Excision, sometimes referred to as the extraction procedure, entails the use of FUE to remove huge artificial hair grafts, dissecting them into smaller individual follicles, and then re-implanting them at the proper angle. To do this, the recipient region is first punctured to remove the bigger grafts. Then, sutures are used to seal the holes left behind after the removal of the grafts. The plugs are carefully divided into individual follicular units under stereo microscopes.
Using Ointments
Dead skin accumulation on the scalp after surgery is quite normal and can be treated easily with a prescription ointment. However, in very rare cases, some patients may experience scalp necrosis. It occurs when more recipient grafts are used, and the scalp becomes de-vascularized as a consequence of extensive recipient skin splitting. Surgery is the only solution in such cases.
Medications
Another rare complication of hair transplant surgery is the development of a scalp infection. If you experience such a situation, it is best to call a certified doctor who will prescribe the appropriate medicines to treat the problem. In addition, they may drain out any pus from the scalp to prevent the spread of infection.
Follow the Post Transplant Care
Doctors suggest post-transplant care procedures which must be followed strictly to get the best results. If you are initially finding your transplant isn't as good as you thought it to be, talk to your doctor about whether a post-care could make it right. In most cases, hair transplant surgeries do not show immediate results and take time. So, following the aftercare instructions is necessary to improve results. These could include the use of shampoos, medicines, and other methods that could help.
Go to an Experienced Doctor
A trained and experienced surgeon will help you rectify hair transplant surgery that went wrong. You should always verify the surgeon's licensing and qualifications when looking for the right doctor. In addition, you should avoid clinics that provide inexpensive operations done by untrained surgeons, as this could further complicate the condition. Always examine the facility's licensing and certification and choose a renowned hair clinic with cutting-edge technology.
Have a Balanced Diet
Shock loss after a hair transplant can make you feel less confident, and you have to live with it until new hair grows back. This isn't essentially due to a wrong hair transplant surgery. It is quite common, and the hair grows back after a certain period. However, with a balanced diet and taking the medications suggested by your doctor, you can help reduce the time and make your hair grow faster after the surgery.
Follicular Unit Transplantation (FUT)
When an inexperienced surgeon performs the hair transplant surgery, they may miscalculate how much hair needs to be harvested from the donor area. So, they may overharvest, which can leave the donor area with bald patches and scars. Overharvesting can give you good hair growth in the target region, but it could leave parts of the head bald. Follicular unit transplantation (FUT) can be a solution to this problem. The procedure involves using a strip of donor follicles from the scalp. It is considered more effective than other hair transplant procedures.
Conclusion
Hair transplant procedures are safe and do not cause any complications if done by a certified and experienced professional. However, on rare occasions, it may lead to some bad results, which can be rectified easily in most cases.
If you want to avoid a bad transplant or rectify your current hair transplant results, the professionals at MedLinks will get you the right help. The experts at the clinic will suggest appropriate remedies to give you the desired results.
Related Blogs