How to Stop Receding Hairline?
Dealing with hair loss is difficult. Losing your hair can feel like losing your youth or sense of self because it is a big part of who you are. Many people can accept hair loss and thinning or receding hairlines in the head. Men are more likely than women to experience a receding hairline. However, both genders might experience it. It is one of the early indicators of male pattern baldness and has many potential causes.
Table of Contents
Feel free to skip ahead if one topic catches your eye:
1. Factors Causing Receding Hairline:
A receding hairline and worsening hair loss are common effects of conditions like aging and hereditary factors. The other factors causing hair receding are:
Excessive hair styling (especially with heat).
Choosing restrictive hairstyles like cornrows and braids, coloring hair with chemicals like bleach and peroxide, consuming a diet high in saturated fat.
Smoking cigarettes, processed meals, preservatives, and sugar.
Inflammatory conditions of the scalp, such as lupus or frontal fibrosing alopecia.
Hair loss is typically diagnosed by looking at the pattern of hair loss, your personal medical history, and your family's medical history. A dermatologist or general practitioner (GP) might advise on possible treatments or check to see how much your hair follicles have reduced.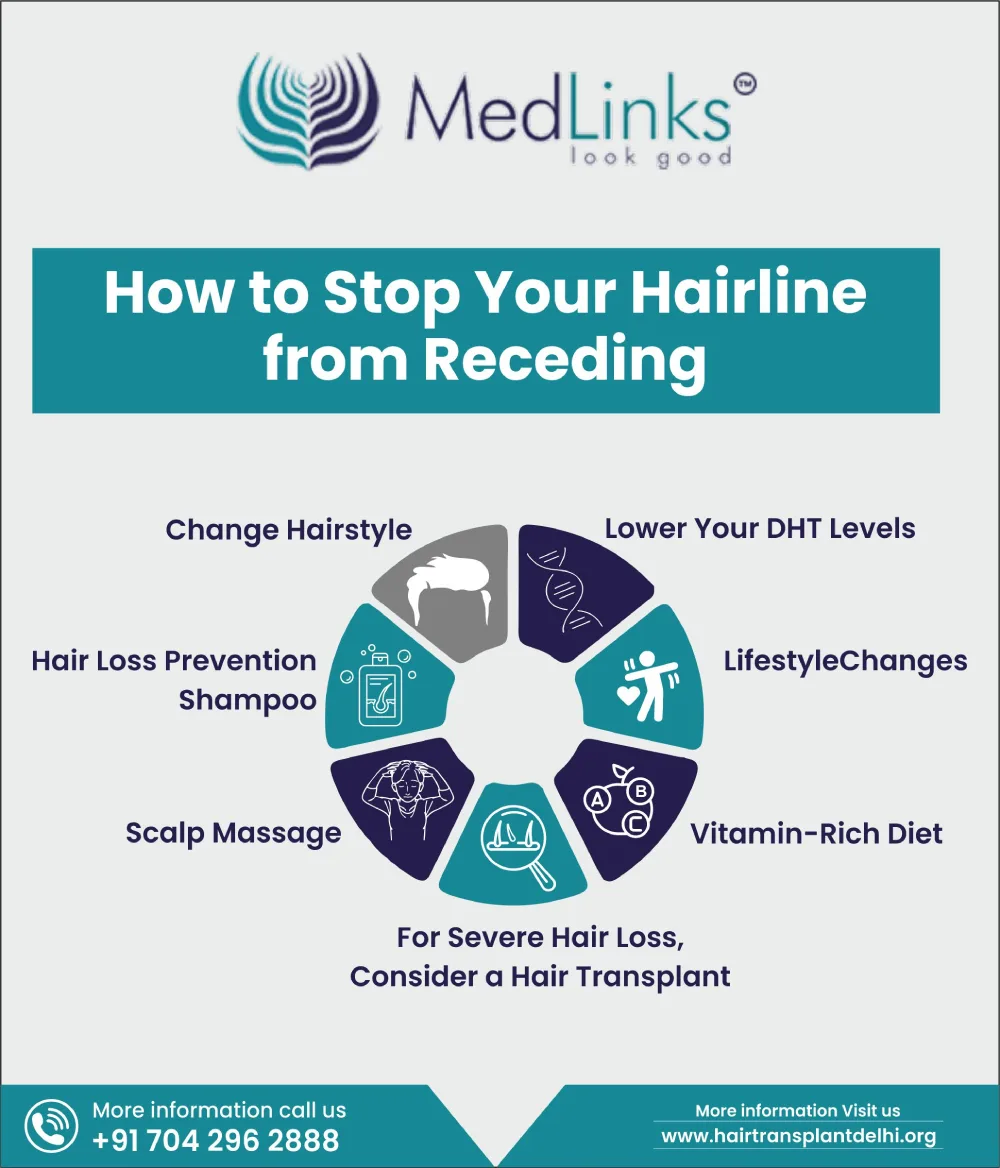 2. Crucial Tips To Stop Receding Hairlines Are?
While health tips and treatments can keep your hair looking fuller for longer, there is no cure for a receding hairline. Many promising methods are available today for managing a receding hairline, and some long-term therapy approaches are effective for many people. Some of the common remedies to stop and prevent Receding hairline are:
#1. Having a balanced diet
A diet rich in antioxidants may make your hair appear fuller and healthier. Ingredients that counteract oxidative stress, like blueberries, spinach, kidney beans, and walnuts, reduce hair aging, and include antioxidants. The natural antioxidant content in vitamins A, B12, E, and E, iron, zinc, nuts, seeds, and green vegetables may enhance the appearance and feel of your hair.
#2. Medications
Minoxidil is the most popular over-the-counter (OTC) treatment for a receding hairline (Rogaine). This is an off-label application of Rogaine. Topical minoxidil has been demonstrated to be more effective than a placebo. A prescription drug called finasteride (Propecia) reduces the hormone levels that can cause your hairline to recede.
#3. Herbal Treatments
Topical herbal medicines may support healthier, fuller hair if you have a receding hairline. Traditional holistic medicine like Chinese hibiscus, ginseng, Gotu kola, gooseberry, and aloe vera have been used as hair loss remedies. Another herbal therapy shown to reduce or stop hair loss is saw palmettoTrusted.These sources can be used as a conditioning treatment for your scalp by combining several herbs with a carrier oil.
#4. Hair Transplant
Hair is transplanted from the rear of the head to the front of the head, near the hairline, during a hair transplant procedure. These surgically inserted hair grafts may make your hairline appear full. Talk to your doctor to find out if you're a suitable candidate for a hair transplant in delhi.
#5. Hair Regrowth Treatment
Hair Regrowth Treatment- A tiny amount of blood is drawn from your arms during this treatment, and the Hair Regrowth Treatment is separated by spinning the blood in a centrifuge. The appropriate growth area on the scalp is then injected with the plasma. The hair follicle is revitalized and repaired, thus encouraging growth.
#6. Switching to a gentler shampoo
Some shampoos are customized to stimulate the hair follicles while being gentle on your hair. Some shampoos may be harder on the hair and contain chemicals that remove sebum (oil) from the scalp, yet other shampoos could promote and encourage hair growth.
#7. Beneficial oils
Some essential oils might also encourage the growth of hair. It has been discovered that lavender oil, rosemary oil, and peppermint oil are all effective remedies for receding hairlines. Before using essential oils on the scalp, they must always be combined with a carrier oil, such as almond, coconut, or jojoba oil.
#8. Head massage
A regular scalp massage may promote the growth of thicker, healthier hair. The reason scalp massage stimulates hair follicles may be due to increased blood flow at the location of your hairline. Try giving your scalp a physical massage for at least 4 minutes daily.
#9. Change Hairstyle
A simple, inexpensive technique to stop hair loss is changing how you style your hair. A receding hairline can be caused by several things, including overbrushing, hard handling, and wearing particular tight haircuts.
#10. Lower amounts of DHT
Your body produces a DHT hormone, dihydrotestosterone. Hair loss may worsen as DHT levels grow. Including particular foods in your diet can lower the amounts of DHT in your body. Research suggests that soy (edamame), turmeric, especially curcumin, and green tea (and its epigallocatechin gallate concentration) may all help you reduce DHT.
#11. Reduce your worry and stress
Particular types of hair loss have been associated with stress. It could seem easier said than done to reduce stress and anxiety. Research shows you can reduce stress levels by exercising regularly, spending time outside, using relaxation techniques, and practicing meditation.
#12. Watch Preliminary symptoms
Dandruff is frequently a key indicator of balding; however, a severe case of dandruff or excessive dryness in the scalp can also cause hair loss. This means that treating dandruff comes before treating hair loss. Use these three main guidelines: Weekly hair oiling, anti-dandruff shampoo and conditioner, and finally, a cream or hair mask to treat your dry scalp are all recommended. Use a product like a hair fall cream or an anti-dandruff hair cream.
3. Takeaway
Even though the look of a receding hairline can be disheartening, it has no health danger. Most people can control their hairline, and several treatments can make the hair appear thicker or encourage it to regrow. You can slow down the receding of your hairline even though there are no proven ways to stop it. You can see a noticeable decrease in hair loss with the proper diet and therapies. If these natural treatments are ineffective, one must discuss them with a healthcare professional to determine the best solution. Considering the situation and other effectiveness of treatment, your doctor might suggest a Hair transplant or other clinical treatment to reduce hair loss.
Related Blogs