How FUT Hair Transplant Can Help Curing Hair Loss Issue?
Hair loss is a common issue that affects the self-esteem and confidence of numerous individuals worldwide. While there are several hair transplant surgeries available, FUT has emerged as an effective hair transplant procedure.
FUT, also known as Follicular Unit Transplant, is a popular hair restoration method. In FUT, your surgeon will transplant hair strands into a group of one to four hairs called follicular units. Note that these units also feature oil glands or the sebaceous glands.
FUT is also known as the strip harvesting method. It involves removing a strip of tissue from the donor area. This strip contains hair follicles that will be transplanted into the recipient area. One of the key highlights of the FUT hair transplant is that it allows you to regrow denser hair. Let's explore the role of FUT hair transplant in curing hair loss issues.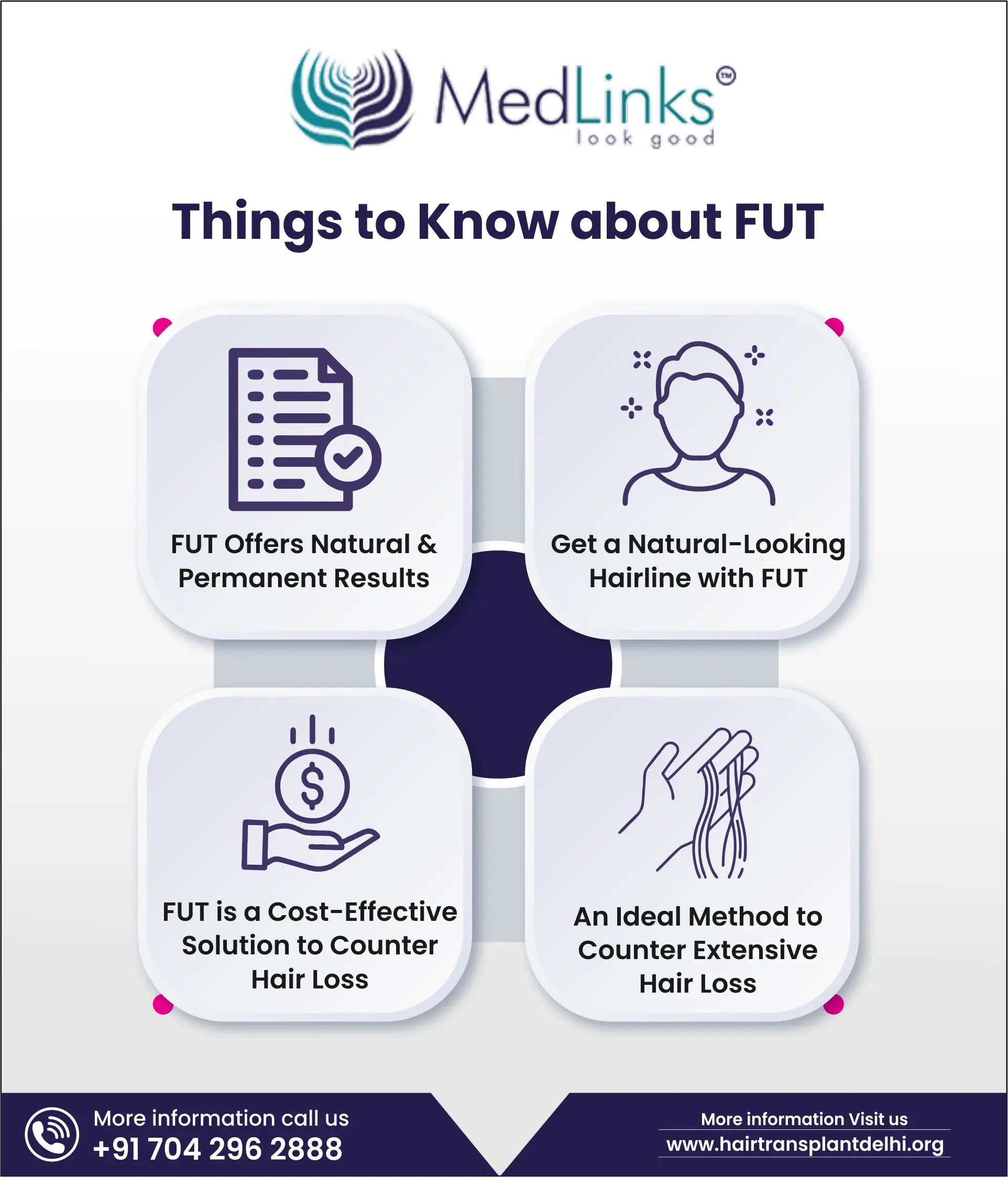 Things to Know about FUT
FUT is a surgical hair transplant procedure that can address hair loss concerns. The procedure involves removing a strip of tissue from your scalp's donor area. The strip is removed in a manner that it contains healthy hair follicles.
These healthy hair follicles are typically resistant to the effects of dihydrotestosterone (DHT). It is the hormone responsible for hair loss causing male pattern baldness, also known as androgenetic alopecia.
The healthy donor hair follicles that are not susceptible to the effects of DHT are selected by the skilled surgeons. These DHT-resistant hair follicles are present on the sides and back of your scalp. During the FUT surgery, your surgeon will dissect the removed strip to derive individual grafts. Permanent hair restoration would be achieved after undergoing FUT surgery. It also helps in decreasing the progression of your hair loss.
FUT Offers Natural and Permanent Results
The success rate of a FUT procedure lies between 95% to 98%. In other words, it is one of the best hair transplant procedures to get denser and natural hair. In this method, the surgeon takes the transplanted hair from your own scalp.
So, there is a perfect match in terms of colour, texture and growth pattern. Once these transplanted hair follicles start to grow, you can resume your regular routine. For instance, you can style and care for them based on your preferences.
Get a Natural-Looking Hairline with FUT
Compared to other hair transplant methods, FUT allows for the accurate placement of hair grafts. Your surgeon will carefully design the recipient area based on your facial features and hair density. You must undergo a FUT surgery as it mimics the natural angle, direction and density of hair growth.
Simply put, your newly transplanted hair will blend seamlessly with the existing hair. If you are looking for a highly accurate hair transplant procedure, FUT is the best option.
FUT is a Cost-Effective Solution to Counter Hair Loss
Compared to other hair restoration techniques, FUT is considered as a cost-effective method. Therefore, if you have financial constraints, undergoing a FUT procedure is the best option. In FUT, your surgeon can derive a large number of grafts in a single session.
So, it reduces the requirement for multiple sessions. Furthermore, the results of FUT are permanent, which eliminates the need for ongoing medications. You will be able to save a substantial amount in the long run.
An Ideal Method to Counter Extensive Hair Loss
If you have alopecia areata, opting for the FUT procedure is the best option. Moreover, it is also suitable in case you need a large number of grafts. It involves the removal of a strip of tissue. Therefore, the surgeon can extract a large number of grafts in a single session.
It is beneficial for those who are in advanced hair loss stages. Usually, the FUT procedure can yield 3000 to 3500 grafts in a single session. These grafts are sufficient to cure severe baldness in patients with alopecia areata.
If you are looking for long-term hair growth, FUT is the best option. It is a highly effective surgical procedure in which the surgeon leverages your DHT-resistant hair follicles. Ensure that you consult a qualified and experienced hair transplant surgeon to undergo this hair transplant procedure.
FAQs:
Why is Perfect-i the Best Hair Transplant Technique?
Note that FUT and the Perfect-i hair transplant are entirely different. The main advantage of undergoing a Perfect-i hair transplant is the instant implantation of the hair follicles. Moreover, in this process, your surgeon won't use implanters.
Is 3000 Grafts Substantial for Curing Baldness?
Your doctor is the best person to advise on the total number of grafts required for curing baldness. If you have extensive baldness, your surgeon may ask you to undergo the FUT procedure. In a single session, your surgeon may derive more than 3000 grafts.
Does FUT Have a Higher Graft Survival Rate?
Note that the hair grafts transplanted with the FUT procedure have a higher graft survival rate. It also offers permanent results compared to other methods.
Does the FUT Procedure Involve Scarring?
Nowadays, there is no need to worry about linear scarring after a FUT procedure. Thanks to the advent of trichophytic closures, no one can recognise your transplanted hair separately.
Related Blogs