What to Expect With ARTAS Robotic Hair Transplant?
Learn from the Best Clinic in Delhi NCR: MedLinks
Hair transplant surgery is a popular segment of the cosmetic surgery market, with India witnessing an increased number of procedures, evolved techniques and professional players. Recently, some exciting innovative technologies are transforming the hair transplant segment. ARTAS robotics technique is the robotic revolution bringing speed, precision and accuracy for hair transplant surgery.
ARTAS is a type of robotic hair transplant procedure designed to accelerate the entire procedure. The procedure is mainly used for supporting FUE (Follicular Unit Extraction) transplant procedures. Robotic systems assist doctors in selecting the most suitable hair follicles and extract hair follicles then implant it. By using precision robotics, the system improves the rate of hair growth, increases the overall accuracy and efficiency of the technique, and eliminates possible human errors.
"Robotics hair transplant technique is a clinically proven, FDA cleared procedure that provides permanent and natural-looking results without leaving any scars."~ MedLinks
Table of Contents
1. What is ARTAS Robotic Hair Transplant?
2. Benefits of ARTAS Robotic Hair Transplant
3. ARTAS Robot Vs Traditional Hair Transplantations
4. Cost of ARTAS Hair Transplant in Delhi NCR
1. What is ARTAS Robotic Hair Transplant?
ARTAS Robotic FUE is the physician-assisted system i.e. an automated procedure for guiding doctors during follicular unit extraction.
This semi-robotic procedure works by analyzing and identifying hair grafts. It uses algorithms to segregate the hair grafts with consistency, precision, and efficiency. Using precision robotics it separates the follicular units from the scalp and also reduces the risk of having hair follicles removed outside the donor area. In the next step, it accurately identifies and develops optimal donor sites. Overall the process improves the natural appearance in both the donor site and the implantation area.
Quick and precise treatment reduces the time taken for the procedure by almost 40-50%. Most patients can see the results in only one session but depending upon the target (bald) area, additional sessions may be recommended.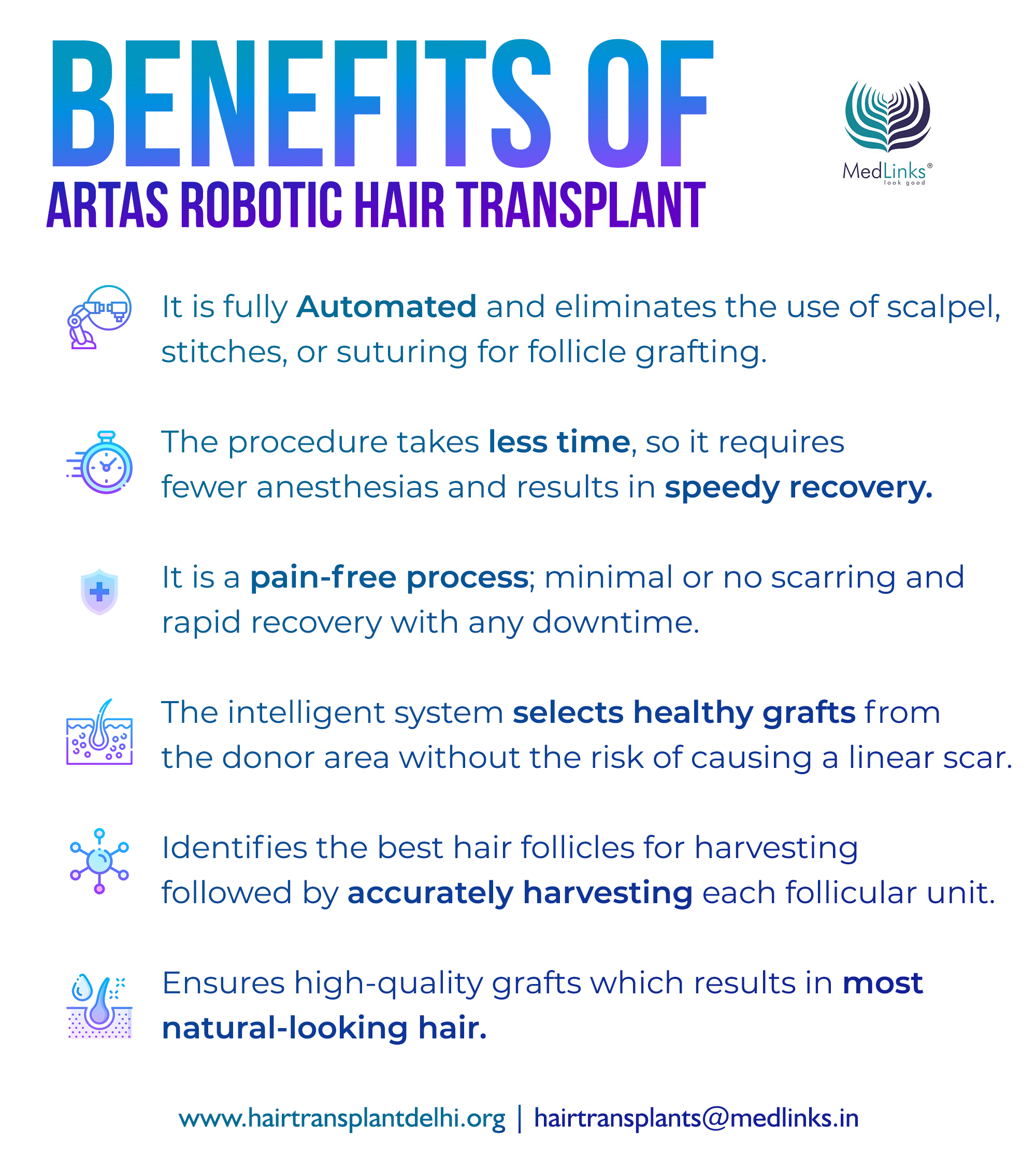 2. Benefits of ARTAS Robotic Hair Transplant
The key advantage is that using image-guided robotics and an intuitive touchscreen interface, the ARTAS revolutionary technique eliminates human error and fatigue associated with manual handling methods.
1. It is fully automated and eliminates the use of scalpel, stitches, or suturing for follicle grafting.
2. The procedure takes less time, so it requires less anesthesia and results in speedy recovery.
3. It is a pain-free process; minimal or no scarring and rapid recovery with no downtime.
4. The intelligent system selects healthy grafts from the donor area without the risk of causing a linear scar.
5. Advanced digital imaging analyzes each follicular unit; Identify the best hair follicles for harvesting followed by accurately harvesting each follicular unit.
6. Most importantly, the process yields more hair than traditional transplants; ensures high-quality grafts which results in most natural-looking hair.
3. ARTAS Robot Vs Traditional Hair Transplantations
The conventional FUE technique uses manual extraction of each follicular unit that requires surgeons to dissect hundreds and thousands of hair follicles from the patient's donor area. Once the grafts are extracted, they need to be quickly re-planted into the scalp for maximum chances of graft survival.
ARTAS Robotic System is transforming the conventional FUE technique with its precision and speed. The system uses precision robotics to harvest thousands of healthy individual hair follicles from the scalp. This fully automatic process eliminates human error and complications associated with older transplant methods.
In a shorter span, these follicles are expertly transplanted into the area of thinning hair. With less damage to follicles, this process promises more aesthetic and lasting results.
4. Cost of ARTAS Robotic Hair Transplant in Delhi NCR
ARTAS Robotic Hair Transplant is a high-end technique and the cost for the treatment is also high. However, considering its advantages over any other conventional technique, cost should not be a limiting factor.
MedLinks offers the best combination of world-class facilities and experienced doctors who are known to deliver natural-looking and best hair transplant results at an affordable cost in Delhi NCR.
We educate the clients by explaining the benefits of ARTAS robotic procedure over a conventional one by showing before and after photographs which helps them decide if this is the right procedure for them. Because of these reasons, Medlinks is one of the topmost destinations for hair transplants in India.
Related Blogs