Why Perfect-I Is The Best Hair Transplant Procedure?
By the age of 35, nearly 65 percent of men across the world have some form of baldness or significant hair loss, and that number jumps to as high as an estimated 85 percent by the age of 50. Not only men but also women make up nearly 40 percent of hair loss sufferers across the world. With troubling statistics like that, it is easy to comprehend why more and more people are opting for hair transplantation surgeries.
Now comes the worrying part - there are several different treatment options, which claim to be effective. These false options would provide you with false hope and drain your bank. However, there is good news! Over the last decade, advanced hair transplant procedures and techniques such as Follicular unit extraction (FUE) and Perfect-I Hair transplant have come to the forefront to provide long-lasting, real results.
Table of Contents
Feel free to skip ahead if one topic catches your eye:
1. What is a Perfect-I Hair transplant?
Perfect I hair transplant can be defined as an advanced FUE (Follicular Unit Extraction) procedure that effectively restores hair growth to the scalp areas having absent or limited growth. This surgical procedure provides a significant change in the levels of hair fullness, volume, and density.
If you have been considering hair restoration, this transformative advancement in hair restoration may be an excellent choice for you. Less invasive than traditional hair transplants, it requires no stitches and you are not left with linear scars.
2. 5 things that Make Perfect-I "The best Hair Transplant Procedure"
Perfect I hair transplant offers innumerable advantages, including but not limited to:
No possibility of visible scarring: Unlike the Follicular unit transplant (FUT) procedure, there are no linear scars after the hair restoration procedure.
Promising results: Perfect I hair transplant offers unmatched results that stay almost a lifetime. You can expect a full head of hair with natural-looking texture and appearance.
Fast procedure: Perfect I hair transplant is a short procedure that can be completed within a few hours. In addition to this, the healing and recovery times are fast, and you can expect to make a return home on the same day of surgery. Moreover, you can resume work within 3-5 days.
Lower graft death owing to storage conditions: Since no hair follicles are stored during the procedure, there is zero percent damage. The surgeon takes great care to ensure that the follicles of hair are not crushed at the bulge or the root area that ensures graft quality and survival.
Reduced possibility of hair shedding after transplantation: Perfect I hair transplant is a safe and effective procedure that is characterized by the reduced possibility of hair loss after the transplant.
3. Who needs it the most?
The ideal candidates for a Perfect I hair transplant procedure are:
Men and women who have lost hair because of burns or trauma.
Men whose baldness pattern has stabilized.
Men who have been losing hair for a long period of time.
Men and women who are interested in adding hair to gain a more youthful appearance.
Men and women who have realistic expectations.
Men who have been losing hairline because of male pattern baldness.
4. How is it done?
In this relatively painless and minimally invasive surgical procedure, the surgeon collects hair follicles from the rear portion of your scalp, beard, or any other area. Once this has been done, the surgeon will strategically implant the follicles on the balding area with the assistance of the Feather Touch Implant Technique. Hair follicular units are collected one-by-one by the surgeon using automated instruments and equipment. Thereafter, hair follicles are implanted on an immediate basis to the balding area within a period of 3-5 minutes.
It is highly recommended that you conform fully to the following tips and precautions before the Perfect I hair transplant.
Two Weeks before surgery
You should confirm your appointment with your surgeon about undergoing different lab tests.
You should disclose the use of any medications, including beta-blockers or blood thinners, to the surgeon.
You should avoid cutting or shaving hair in the recipient area and focus on keeping the length of the donor area (sides and back) normal.
One week before surgery
You should stop the consumption of Vitamins or multivitamins.
You must prevent the use of anti-inflammatory medications (NSAIDs).
You should disclose the use of prescription medicines such as heart and blood pressure medications to the surgeon.
You should stop smoking and drinking.
Day of surgery
You should thoroughly wash your scalp with a natural shampoo while avoiding the use of any sprays, gels, or other forms of hair styling products.
You must wear comfortable and loose clothing. Avoid clothing that requires to be pulled on over the head as it may damage grafts after the surgery.
Avoid wearing any perfumes, deodorants, and cologne.
Have a light and simple breakfast. Avoid any caffeine beverage.
Ask a friend, relative, or colleague to take you back home after the hair transplant surgery.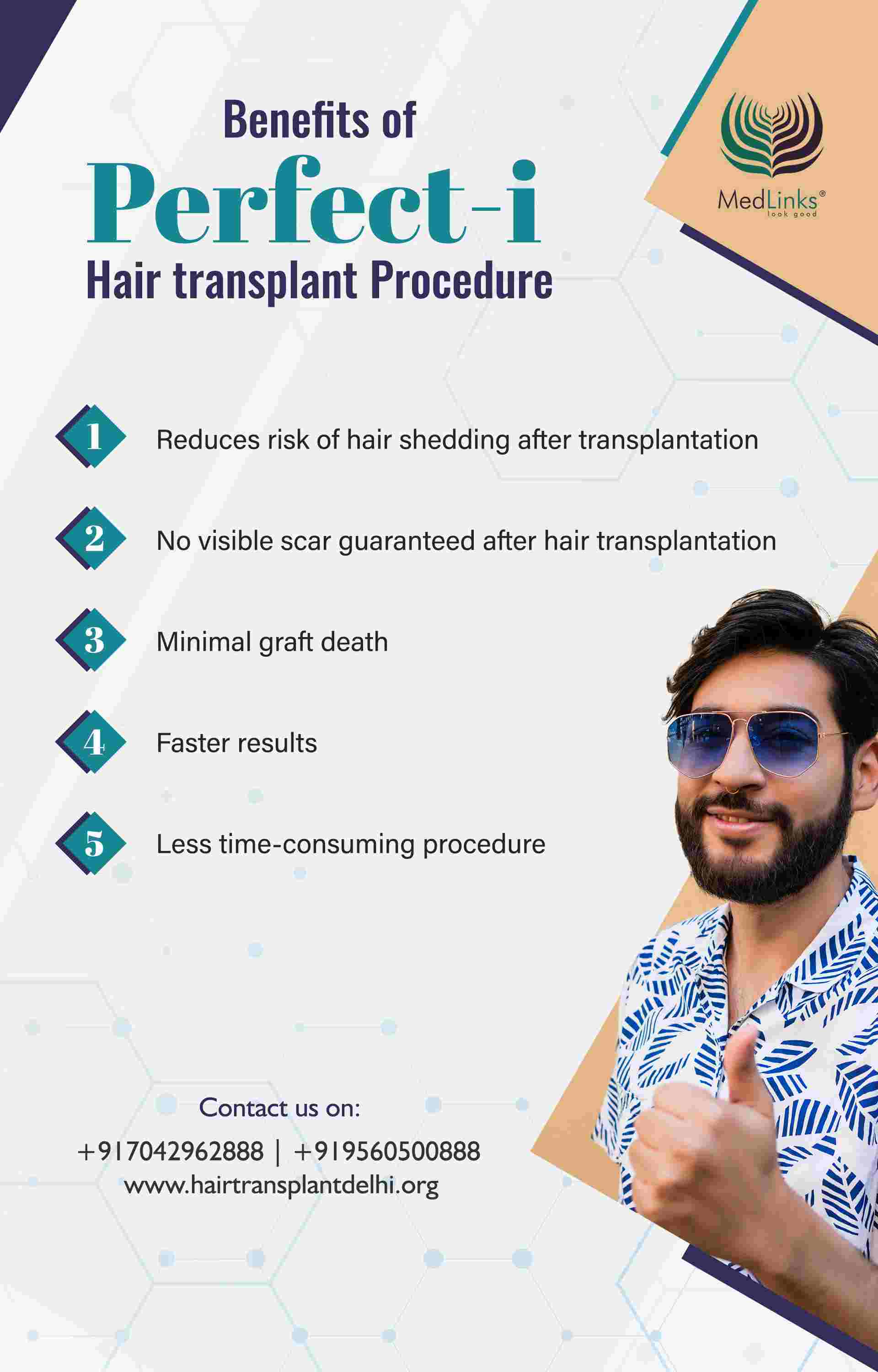 5. Donor Area for Perfect-I Hair transplant
The donor area for Perfect I hair transplant can be the scalp, beard, or any other body part. The surgeon will take this decision after a physical examination for confirming the best areas for hair graft harvesting.
6. Difference Between Perfect-I, FUE, And FUT
FUT (Follicular Unit Transplant)
The FUT procedure involves taking a skin strip with follicles of hair from the donor site, which is usually the back of the scalp where the hair is fuller naturally and less prone to hair loss. The surgeon then separates and prepares small groups of tissue, including hair follicles for transplantation. Tiny and individual holes are made by the surgeon in the recipient site where the patient is experiencing baldness or hair thinning. Once this has been done, the prepared grafts are then placed strategically by the surgeon into the recipient site.
For more than two decades, Follicular Unit Transplant has been around, and it was considered by plastic or dermatological surgeons as the revolutionary technique for hair transplantation. However, this technique has its downsides. It can take many hours, depending on the count of hair grafts used, and there is no way for patients to avoid the horizontal scar that happens across the scalp. Surgeons can use this hair restoration procedure to get the transplantation of approximately 4,000 grafts in a single day.
FUE (Follicular Unit Extraction)
This method of hair transplantation was originally developed as a better alternative to FUT. Like FUT, the Follicular Unit Extraction procedure involves safe and comprehensive harvesting of hair follicles from the donor site at the back of the scalp and then transplanting the follicles to create a natural-looking and fuller hairline.
One of the biggest differences between FUE and FUT procedures is the fact that FUE doesn't involve the removal of a tissue strip from the scalp's back region but instead emphasizing collecting individual hair follicles from the scalp directly and then placing them in the recipient site through small incisions.
The FUE procedure can be used to transplant around 2000 grafts in a single day without any linear scar. It is characterized by low downtime and less post-procedure discomfort level.
Perfect I Hair Transplant
Perfect I hair transplant can be defined as an advanced way of FUE hair transplant surgeries. In this, the benefits of surgical restoration are optimized while reducing the drawbacks of traditional hair restoration procedures.
Perfect I hair transplant is a minimally invasive FUE technique that is characterized by reduced discomfort & downtime. It is about automating the process to minimize procedure time and enhancing the survival rate of transplanted hair follicles compared with traditional FUE. This surgical procedure is not characterized by a linear scar and the hair transplant results look more natural and appealing since there is little to no room for any kind of error during hair follicle harvesting and implantation. The best thing is that the Perfect I hair transplant cost is affordable and budget-friendly.
During this surgical procedure, local anesthesia is given to the patient to reduce any pain or discomfort. This hair restoration procedure is featured by fewer chances of hair shedding after hair transplantation and zero hair follicular damage is ensured by the new innovative technique of Feather Touch. Moreover, there are no visible scars after a Perfect I hair transplant. Not only this, this procedure is characterized by minimal graft death and faster results when compared with conventional Strip Hair Transplant or FUE hair transplant.
Your surgeon may prescribe pain medications, antibiotics, and anti-inflammatory medications after a Perfect I hair transplant.
7. What to expect after the Perfect-I Hair transplant?
You can expect a full hairline after the Perfect I hair transplant. The most significant benefit of the Perfect I hair transplant procedure is the aesthetic change that you will receive after the completion of your surgery. You will gain a more youthful appearance and increased inner confidence in both personal and professional interactions. There is no denying the fact that baldness or hair loss can be devastating for some, and a hair transplant will help you regain a more youthful and pleasant appearance. Moreover, it will improve your outlook on life and a sense of well-being. If this is not all, the transplanted hair will continue to grow for its entire lifecycle.
Here are some tips and precautions for you to follow after the surgery:
You should avoid wearing any jackets, pullover shirts, or hats for at least 4-8 weeks after the surgery.
You should avoid combing or brush down for about 3-5 weeks over the new grafts.
You should avoid washing your hair for a few days after the surgery. Only mild shampoos should be used for the first 4-6 weeks.
You should not engage in intense workouts for at least 4-6 weeks.
You should avoid smoking, alcohol, scheduled drugs, and non-prescribed over-the-counter medications.
If you are wondering which hair transplant clinic is the best for you, we at MedLinks recommend you to give us a call on how we can assist you.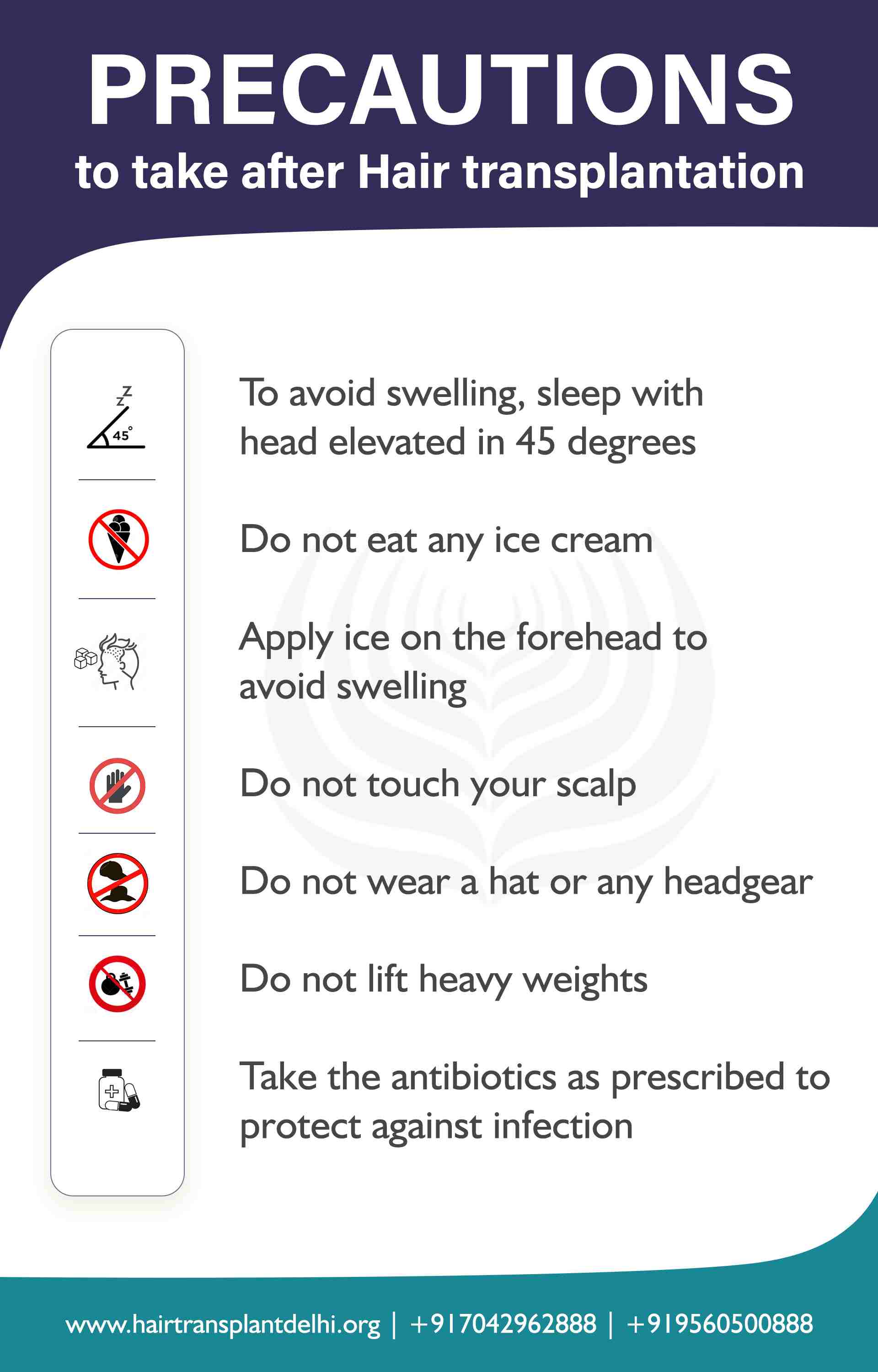 Takeaway
If you have any concern about the loss of hair or hair thinning, MedLinks encourages you to have a word with your doctor before you opt for a hair transplant surgery. It is essential to work with a reputed and experienced surgeon when it comes to surgical hair transplantation.
Which is the best hair transplant clinic in India? How to choose a hair transplant clinic? The team of surgeons at MedLinks has rich expertise in offering hair restoration solutions to you with exceptional results in a safe environment. Ultimately, your hairline, health, and comfort depend on you working in tandem with a surgeon of repute who clearly understands how to restore voluminous hair that looks natural.
At Medlinks, you will get the best hair transplant treatment and postoperative care with the latest techniques (Perfect-I) at affordable costs.