Which City is the Best for Hair Transplant in India?
Hair transplants have become extremely popular and demanding in India. There is a demanding increase in the number of hair transplant clinics across the country. Owing to environmental pollution, stress, and genetics, there are rising hair thinning or loss issues, with people looking for possible long-term hair restoration solutions with hair transplants.
Almost every major city in India has hair transplant clinics with high-end technology and techniques. But, in Delhi, Medlinks stands unique with its high standard mark in the field of hair transplant.
Medlinks, in Delhi, aims to give the best-in-class hair transplant services with top-notch innovations and revolutionary hair solutions. You are sure of a life-changing experience through Medlinks hair transplant clinics at Delhi NCR.
This article gives you a tour of what hair transplants in Delhi are all about, with a sneak peek at Medlinks Hair Transplant Clinic and its unique features.
Table of Contents
Feel free to skip ahead if one topic catches your eye:
1. Hair transplants in Delhi compared to other cities
Hair loss issues are common in men and women, with many factors like hormonal fluctuations, genetic factors, medications, stress, pollution, cancer, and cancer treatment drugs contributing to hair loss.
Excessive hair loss, thinning, or androgenetic alopecia issues can bring down the self-image and confidence of a person. However, with new hair restoration solutions, hair transplants in Delhi can address these issues. Hair transplants adopt the technique of extracting hair follicles from the donor sites and placing them in sync at the recipient sites.
With techniques like follicular unit transplantation (FUT) and follicular unit extraction (FUE), a hair strip or an individual hair follicle is extracted and transplanted to give natural hair outcomes.
But what makes Delhi the best city for hair transplants in India? Here are a few advantages hair transplants in clinics across Delhi offer you.
Low hair transplant cost
Delhi, being the national capital, sets an example with fewer hair transplant costs compared to other cities, making it the best city for hair transplant in India. Comparing the cost globally, they are lower than 20 to 25%. Here is a list of approximate hair transplant costs in various cities in India.
| | |
| --- | --- |
| Name of the City | Approximate Cost |
| Mumbai | Rs. 25,000 to Rs. 1,50,000 |
| Kolkata | Rs.30,000 to Rs. 2,20,000 |
| Chennai | Rs. 35,000 to Rs. 1,25,000 |
| Bangalore | Rs.37,000 to Rs. 1,65,000 |
| Hyderabad | Rs. 35,000 to Rs. 2,65,000 |
| Delhi | Rs.25,000 to Rs. 1,25,000 |
Note: The above costs are approximate values and are subject to change.
Quality service
Delhi is a cultural hub famous for its historical sights and food delicacies. It is one of the highlighted trending destinations for medical tourism with world-renowned hospitals and clinics. While Delhi is always known for its hospitality to national and international tourists, it has well-equipped clinics and a highly qualified and experienced team of doctors. Clinics and healthcare centres in Delhi provide high-quality, efficient services at the best price.
Hair transplant surgeries in Delhi inarguably include best-in-class equipment, top-most hair transplant surgeons, and world-class facilities with high-quality care.
Accessibility
The city is easily accessible, as it is the national capital. The city of Delhi lies in the heart of the country and is well-connected domestically and internationally through rail, road, and air. The travel costs and the cost of living in Delhi are also economical, making it the top city for medical tourism and healthcare facilities.
Medical facilities
Delhi is the best city for the highest standard of medical facilities. It has globally-acclaimed hospitals and clinics with top-class technology and innovations.
Delhi houses highly professional doctors and medical staff who use modern and latest techniques in hair transplant, including FUT and FUE methods. And so, hair transplants in Delhi is so far the best city for hair transplants in India.
Also Read: Which is the best hair transplant clinic in India?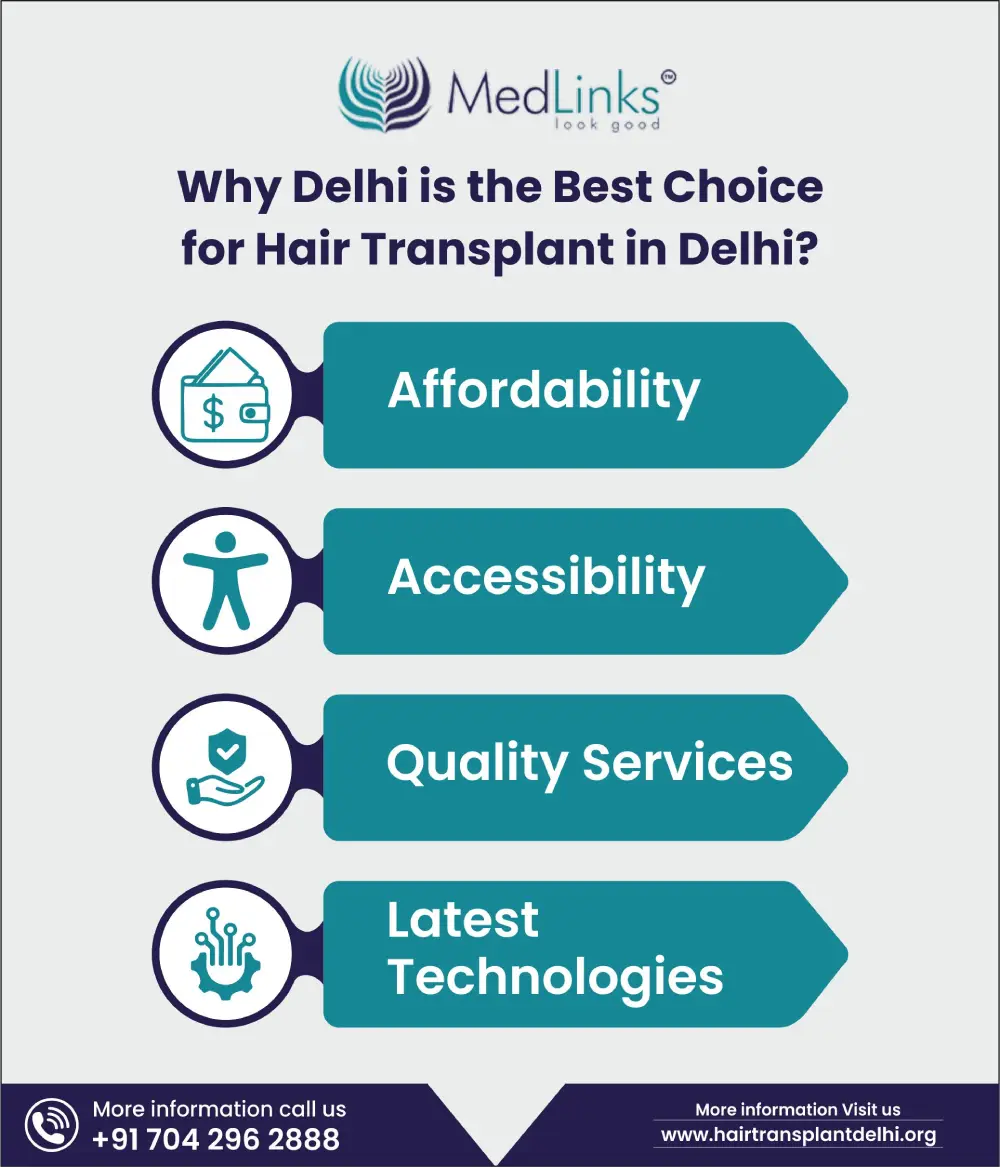 2. Unique Hair transplant in Delhi through Medlinks
If you are wondering how Medlinks is different from other clinics in the best hair transplant city in India, here are some of the top features to prove.
Uncompromising quality
In Delhi, Medlinks offers uncompromised quality hair transplants. Medlinks prioritises safety and a patient-centric approach where one can restore thinning hairlines, bald regions, and youth through novel and innovative hair transplant solutions.
Hair transplant experts
Our extremely qualified and experienced hair transplant experts provide personalised treatment with detailed analysis of hairline growth, hair loss concerns, and facial contours. With no prioritisation of "one size fits all", hair transplant experts at Medlinks are dedicated to giving a holistic personalised treatment approach to each patient.
Medlinks houses world-renowned, highly qualified hair transplant specialists. While it also takes care of including well-trained and skilled staff who work with the specialists to give the best treatment you desire.
Novel hair transplant technology
Medlinks has effective hair transplant solutions, such as perfect-i and sapphire perfect-i, which work to reduce hair follicular damage for better hair restoration outcomes.
With access to technology and scientific methodologies, Medlinks have designed a "feather touch" technique of hair graft handling and sapphire blade usage for more precise and patient-satisfying results. Medlinks ensures new technology integration where safety and quality is assured.
Cost-effective treatment
Medlinks is where quality is uncompromised at the best price. The price range varies depending on the type of treatment, technique, and hair loss gradation. However, the minimum price for a FUT technique could start at Rs. 70 per graft, and the sapphire perfect-i could come up to Rs. 200 per graft.
List of 10 Cities in India for Hair Transplant
Medical tourism is one of the fastest-emerging sectors in India. In the bygone days, it only attracted people from less-developed countries to travel to the major hubs in a developed or developing economy.
Owing to the demand and cost of world-class healthcare services, India has become one of the top-notch destinations for medical tourism. But the popularity behind India's hair transplant surgeries might be because of the increasing cost of hair transplants in other countries. Let's evaluate the top cities of India that offer the best solutions for hair transplants:
Which Cities in India Offer the Best Hair Transplantation Services?
Believe it or not, India's hair transplant cost is only around 20-25 per cent of the overall cost in a Western country. Listed below are the top ten Indian cities where you can experience sought-after hair transplantation treatment:
The capital of India, Delhi, attracts customers for world-class hair restoration facilities at affordable prices. The approximate cost of the treatment ranges from INR 80,000 to INR 1, 30,000.
At popular clinics in Delhi, reliable professionals practise state-of-the-art methodologies combined with sophisticated technologies to offer the right solution. The sterilised environment also minimises the risks of infection. All these factors make Delhi a top-class Indian city for hair transplantation.
Noida has captured people's attention as one of the most popular cities in India that practises hair transplantation techniques. Prominent clinics in this city use sought-after technologies to provide customers with the right treatment.
Whether it's patterned baldness or hair thinning, Noida can provide you with the best solution. Experience the best hair restoration therapy from a clinic that focuses on offering premium quality and affordable treatment.
Gurgaon houses highly skilled medical staff and surgeons who leverage modern techniques in hair transplantation, such as FUT and FUE.
Hair transplants in Gurgaon offer the most excellent solution for people suffering from pattern baldness or pattern of hair loss throughout the scalp. Also, individuals with keloid scars (fibrous and thick scars) resulting from surgery or injury can consult a Gurgaon cosmetic professional for hair transplantation.
Professionals at hair transplantation clinics in Bangalore offer permanent hair restoration treatment at affordable prices. Experts aim to offer the most current hair transplant solutions as per industry standards. Get quality treatment depending on your requirements. Whether you choose FUE or FUT, the surgeon can provide you with a comprehensive solution.
In FUE or follicular unit transplantation, the expert removes a portion of the donor area and stitches the area. Then, they divide the donor skin into small follicular units that contain hair follicles and implant it in the desired region.
Bangalore clinics also offer FUE, where surgeons remove the follicles from the donor area. It may cause minor scars that are partially visible. The speciality of the treatment is that it does not include stitching.
Although Goa is a tourist destination, it has recently gained immense prominence owing to medical tourism. And hair transplantation is the most popular process practised in Goa clinics. Professionals here offer customised services that suit customers' requirements.
The aesthetically pleasing infrastructure of the clinic deserves special mention here. Before conducting the treatment, experts offer an evaluation procedure to examine customers' scalp condition.
Hyderabad houses top-notch hair transplantation clinics where award-winning internationally trained surgeons practise the treatment. The prime objective of these clinics is to offer affordable hair transplant solutions while keeping stringent hygiene protocols that maximise patient safety.
Through advanced and innovative tools, the treatments are effective and relevant. According to the success rate, hair transplants in Hyderabad assure you over 95% of positive hair results.
Hair transplant clinics in Mumbai offer specialised treatment related to your hair issues. Most centres having qualified experts cater to clients from all walks of life. The clinics pay attention to the hair issues of the clients and suggest the best treatment to meet the clients' requirement.
Most successful clinics in the city offer treatment with a patient-centric approach. Knowledgeable and highly skilled surgeons offer a tailor-made solution that meets customers' demands and requirements.
In Faridabad, hair transplant clinics offer uncompromised quality services. They prioritise safety to restore thinning hairlines and bald regions. Qualified hair transplant professionals offer personalised treatment with a comprehensive analysis of hair loss concerns, hairline growth, etc.
Given that there is no one-size-fits-all solution, Faridabad clinics offer holistic and customised treatment to every patient.
Kolkata
Hair transplantation has acquired newer heights of prominence in Indian cities, including Kolkata. Enjoy pain-free, non-invasive, and hassle-free transplant solutions in the City of Joy.
With access to scientific methodologies, clinics in Kolkata offer a swift and seamless transplant technique. The clinics offer newer technologies with uncompromised quality of service at affordable prices. If you are planning to choose hair restoration in Kolkata, look for the clinic's reputation and professional expertise and experience.
Hair restoration treatment undergoes alterations with technological advancements. To address different stages and types of hair loss, Jaipur opens doors of opportunities for surgeons to implement advanced hair restoration methodologies.
Given that hair thinning and baldness have negative impacts on an individual's self-esteem, it can cause one to withdraw from social scenarios. With hair transplants, people can achieve natural results. The surgeon's skills and the quality of the procedure determine the results of the transplant. At Jaipur clinics, you can achieve guaranteed results.
Hair transplantation in India is widely becoming popular. The treatment uses advanced techniques such as the strip method or FUT and the follicular method or FUE. Qualified surgeons serve various types of clients depending on their needs. As one of the top-notch destinations for hair transplantation, the country attracts various tourists from far and wide.
Eyeing this golden opportunity, hair transplant clinics have already started setting up advanced facilities to meet the requirements of foreign customers. So, are you a foreign customer visiting India for medical tourism or someone residing inside the country? The top destination offers the safest hair transplantation procedures performed under expert guidance.
3. Frequently Asked Questions
In India, Medlinks have one of the renowned hair transplant experts Dr. Gaurang Krishna leading the team. Dr. Gaurang is a pioneer in perfect-i treatment and has successfully treated more than thousands of patients with comprehensive hair transplant solutions.
Hair transplants give permanent and long-lasting solutions for extreme hair loss issues or androgenetic alopecia. They are one of the successful treatments with more than 98% patient satisfaction rate.
Hair transplants are regarded as a safe procedure. However, in extremely rare cases, patients can encounter side effects, such as
Bleeding, Inflammation, Itchiness, or Infection of the scalp
Bruising near the eyes,
Crust formation on the transplanted or donor zones,
Numbness in the treated areas,
Hair follicle inflammation or swelling (folliculitis).
4. Conclusion
Aesthetic or cosmetic procedures are flooded with new products and techniques of hair restoration. Among them, hair transplants are the most common and long-lasting solution. Delhi is a place that commemorates science and technology, with the latest innovations hitting the city first.
Related Blogs