When can I wash my hair normally after a hair transplant?
Hair transplant is a delicate procedure, and just like the procedure, it's essential to follow post-operative care tips to get the best results. Whether you've got FUE or FUT hair transplant, adopting a healthy and effective aftercare regime is essential to speed up recovery and define the success of a transplant. Here, we will be covering some basic shampooing instructions for people who've got or planning to get a hair transplant. Also, note that these are some general rules; however, your cosmetic surgeon may customize and adjust the washing and aftercare instructions depending on your health and the nature of the hair transplant. We at Medlinks strive to offer the best hair transplant services to our patients and are committed to assisting them with comprehensive aftercare procedures.
Table of Contents
Feel free to skip ahead if one topic catches your eye:
1. When can I wash my hair normally after a hair transplant?
Hair transplant patients have many questions about both the procedure and aftercare instructions. One frequently asked question is when and how to wash hair after hair transplant surgery. The final outcome of the procedure depends not only on the expertise of your surgeon but how well you follow aftercare instructions given to you at the time of discharge.
To protect your newly implanted hair follicles during the first crucial days of recovery, you must avoid washing hair at least for the first 24 hours post-procedure. This time frame may be longer for some patients depending on the surgical procedure and surgeon's discretion. It is to avoid dislodging of newly implanted hair grafts. Washing your hair too early dislocates the grafts and puts you at a greater risk of catching infections. Your doctor may even advise you to take a sponge bath instead of a shower bath for a few initial days after getting a hair transplant surgery. Apart from avoiding hair washing for 24-72 hours, it's as important to avoid sweating and keep the bandage on to prevent any infections or injury to the scalp.
2. How to wash hair after a transplant?
Hair wash is one of the primary factors that define the final output of a hair transplant procedure. Therefore, every hair transplant patient is taught how to wash hair correctly at the hospital and clinic before discharge. The first hair wash post-op includes three main steps.
Moisturizing the scalp
Moisturizing the scalp before washing is the most crucial step. Therefore, cover the transplanted area of your scalp with a medicated lotion or oil prescribed by your doctor. Leave for 15-30 minutes and rinse with lukewarm warmth. This softens the scabs formed around transplanted grafts and donor areas. Softening scabs around the follicles help remove dried blood and aid faster healing.
Shampooing
Once you're allowed to wash your hair, pick a shampoo prescribed by your hair restoration team. These mild shampoos ensure that your hair is clean without irritating the scalp or transplant area. Fill a cup with lukewarm water, add a coin size of the shampoo and mix well together. Pour the mix over your hair, massage the scalp gently using your fingers, careful not to scrub the newly implanted follicles. Rinse clean with lukewarm water.
Pat dry and apply ointment
After washing, pat dry your hair using a paper towel. Don't rub, just pat gently. Paper towel works great here because it doesn't pull on the transplanted graft. After that, apply moisturizing ointment over the scalp, especially covering the transplanted and donor area to soothe and heal.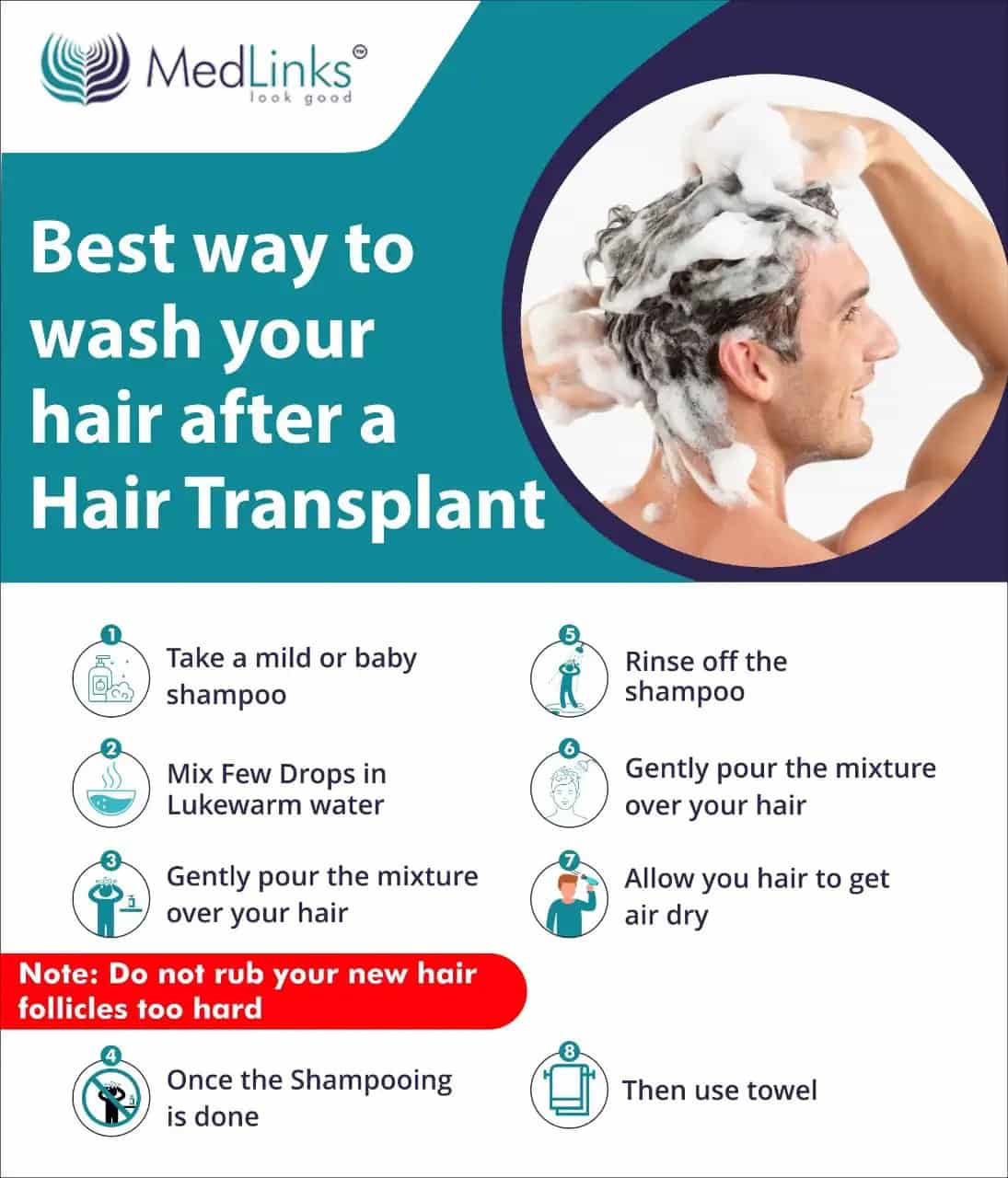 3. Things to consider after washing your hair
Instructions for initial days of hair washing: Medical experts recommend using the cup method of shampooing we discussed above for most hair restoration patients. Use delicate pressure to massage the scalp and ensure not to pull off any hair follicle. You will need to use this method at least for up to the third or fourth day of the surgery. By the end of the first week of the surgery, you should be able to get back to the regular hair wash routine.
Avoid picking at scabs: While washing your hair or caring for your scalp post-procedure, never pick up or scratch the scabs. They will fall out on their own once your scalp is healed. Picking scabs not only affects the final results of the transplant but increases complications and risks of infection.
FAQ's
1. Which shampoos should I use after a hair transplant?
It is best to use the shampoo prescribed by your hair restoration team. Those medicated shampoos are mild to your scalp and are formulated to prevent infections post-surgery. If you're purchasing a mild shampoo on your own, ensure that they're free of dyes, fragrance, and sulfates.
2. When can I rub my head after a hair transplant?
Ensure not to touch your scalp at least for 3 hours post-procedure. It's normal to have an itchy scalp for the initial few days of the transplant. After 72 hours, you can touch your scalp very gently but be careful not to scratch it. Instead, apply a soothing gel or conditioner rather than scratching it.
3. How soon can I wash my hair following a hair transplant procedure?
It is best to wait 24 hours after the hair transplant procedure before washing your hair. The durations may change, but the goal is to keep the grafts in place on your scalp and prevent them from moving. Most patients can wash their hair after 2 to 3 days.
4. What occurs if you sweat after having a hair transplant procedure?
It is recommended to avoid heavy sweating after a hair transplant procedure to protect the implanted grafts. They must carefully follow instructions to prevent any pulling or touching of grafts for the first 10 days after the hair transplant procedure.
5. Can I use the shower to wash my hair after the hair transplant procedure?
Shower spray may harm the transplanted follicles on the scalp. Avoid taking showers for the initial few days following the procedure, and instead, use normal baths or sponge baths for the wash. You should avoid taking a shower for a few more days if your showerhead doesn't really offer a gentle setting.
6. Which shampoo is recommended for hair washing after a hair transplant procedure?
When you are advised to wash your hair, you must apply the shampoo prescribed by your hair restoration specialists. Most patients will be given a gentle baby shampoo, while some may be given or advised another shampoo.
These mild shampoos can clean your hair while also keeping the surgery site clean without hurting the scalp or newly transplanted follicles.
7. How do I dry and comb my hair during the recovery time after a hair transplant?
For one to two weeks after washing your hair, avoid using a hair dryer; instead, gently rub it dry with a cloth. Comb your hair very gently, being careful to avoid touching the graft area. Haircuts and dyes can be applied two months after a hair transplant procedure, though this generally depends on the patient's recovery.
Take Away
Hair transplant is a delicate cosmetic procedure and involves not only extensive expertise of the surgeon but the clinic's commitment towards providing post-operative assistance. Medlinks (a unit of Trichoderm group) is one of the reputed hair transplant clinic in Delhi. Our surgeons are highly dedicated to providing you with the best hair transplant surgeries (FUT and FUE) using advanced, cutting-edge technology for the best results. Besides, we are happy to help our patients with follow-ups and aftercare regimes post-procedure.
Related Blogs