Top Tips on How to Sleep After Hair Transplant?
21 March, 2022
|
Hair Loss
|
Author : Shveta Virmani
One of the most worrying aspects of a hair transplant surgery has been how to manage sleep after a hair transplant. It is indeed important for your head to rest for at least 8-10 hours a day. With swelling and discomfort, managing sleep for some time can get difficult.
But, when many people ask when they can sleep normally after a hair transplant. It is necessary to note that it takes at least ten days to get back to normal sleeping positions and regular activities after a hair transplant surgery.
However, clean habits, proper sleeping positions based on the hair transplant methods, tips, and precautions can help fix sleeping patterns post-surgery. This article gives you insights into everything you need to know about how to sleep after hair transplant.
Table of Contents
Feel free to skip ahead if one topic catches your eye:
1. How to Sleep After Hair Transplant?
Owing to the advancements in hair care technology, Follicular Unit Extraction (FUE) and Follicular Unit Transplant (FUT) are two technologically advanced hair transplant procedures that have restored natural hair appearance in many. While both the techniques differ in the method of hair reconstruction, they also differ in their post-operational hair care routine. One of them is the sleeping positions after an FUE or FUT hair transplant technique.
Sleeping following an FUE procedure
You can observe prominent swelling for a minimum of 4 to 5 days after an FUE procedure. This may cause a lot of discomfort while sleeping. Following the points below to sleep better after an FUE hair transplant can help protect your newly implanted hair grafts.
Sleeping with your head in an elevated position is the ideal way to sleep after FUE surgery.
Always lie on the back and use soft pillows to sleep comfortably.
Sleeping in an inclined position of 45 degrees or sleeping upright for 5 days post-surgery can also help.
Make sure to avoid gluing or hitting the head on the wooden panels of the bed. Instead, cover them with pillows if they are hurting you.
Almost 6 to 7 days after hair transplant surgery, you can start sleeping in your regular positions.
Sleeping following a FUT procedure
Generally, FUT recovery takes a little more time compared to FUE recovery. Hair Care routine while sleeping in care of a FUT surgery include:
Keep your head in an elevated position, especially for the first three days after hair transplant surgery.
Sleeping in an inclined 45-degree position is essentially recommended.
Sometimes, recliners are more comfortable and easy to manage when sleeping after a FUT surgery.
If not using a recliner, avoid tossing or turning while sleeping. Sleeping on the sofa with your head held upright can help avoid such movements during sleep.
2. What pillows should you use to avoid swelling after surgery?
You will need to rest properly and refrain from any physical activity after a hair transplant surgery. Distress, physical strain can cause pain and discomfort. To get good sleep post-surgery, you will need to choose good soft pillows to ensure you get the proper sleep you need after surgery.
Experts recommend soft pillows with memory foam to help you sleep after a hair transplant.
Hard pillows exert pressure causing more pain and discomfort.
Pillows with memory foam can help reduce pressure over the head area. This also avoids too much sweating.
Neck pillows also can help give you a good comfortable sleep while preventing your head from falling forwards.
You will require more than one pillow to get the inclination of 45 degrees or sleep with the head in an elevated position.
Nevertheless, there are specially designed pillows made from a gel-like material that can be used to sleep for long hours after hair transplant surgery. They provide comfortable cushioning to the head, relieving pressure on the neck and neck muscles.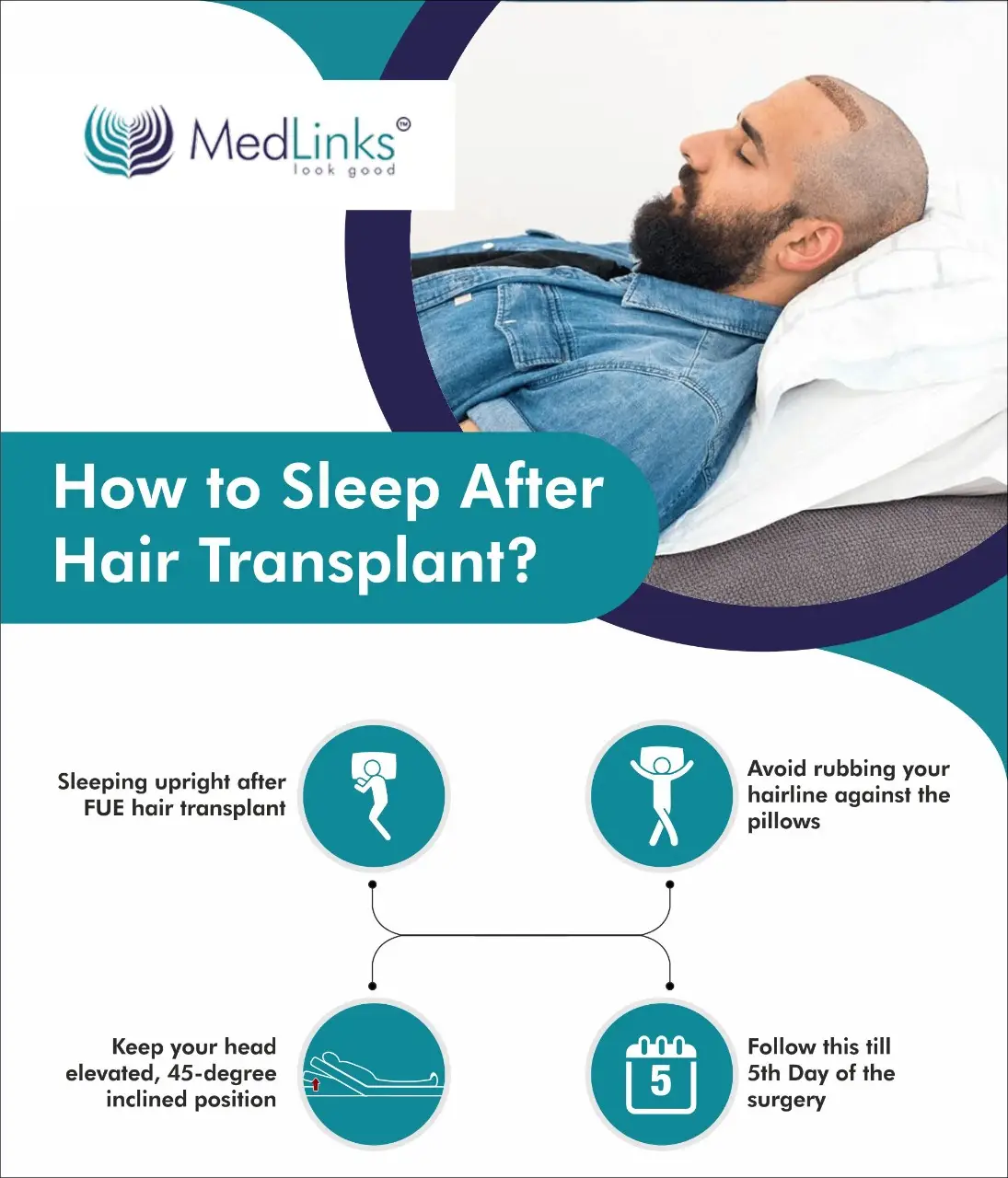 3. Tips to Consider while sleeping after hair transplants
Caring while sleeping after a hair transplant surgery can help quicken the healing process. Proper post-surgery care is necessary to ensure the new hair follicles do not get damaged with pain, swelling in the transplanted regions is subdued.
Cleaning your bed is a must to maintain hygiene and cleanliness. Clean and neat pillow covers, bed, bed liners can help prevent the risk of infections and allergens.
Itching and irritability are often experienced in the grafted and donor regions, especially during the night while sleeping. Try not to scratch your head in these regions.
Ensure to keep your head above the heart level. Use ample pillows for this.
Pillows placed under the knees while sleeping can also reduce pressure on the head and neck regions
Sleeping on the couch, sofa, or recliner with the head elevated and arms resting on the armrest are good positions while sleeping post-surgery.
Avoid movements like tossing or turning during sleep. This can cause a dislodging of hair transplants.
Do not sleep flat on your stomach after a hair transplant. It is advised to sleep on your back for at least 5 nights after surgery.
Use soft memory pillows to ease pressure on the head and prevent sweating and irritation.
Try avoiding contact of the transplanted regions with that of pillows or beds. Preventing the grafted areas from rubbing against the pillows and bed liners can prevent infections and sweating of these areas.
The adverse effect of wrong sleeping position after hair transplant
We have learned how to take care and sleep after a hair transplant surgery. Now, let's understand what would happen while sleeping in the wrong position after a hair transplant.
Sleeping in the wrong position can damage your grafted hair regions.
If you sleep on your stomach after surgery, the swelling on your face may increase as this is not the correct position to sleep in after a hair transplant.
Avoid sleeping sideways if the transplant is done in the temporal regions, otherwise, it can encourage infection, allergy, swelling, or sweating.
Take Away
If you are planning for a hair transplant surgery, knowing how to sleep after a hair transplant is quintessential. Improper sleeping habits and positions can risk scalp irritation and prolong recovery. The first few days of post-surgery care with the right position while sleeping can promote the new grafts to take a firm hold on the scalp and give you ample sleep.
And, if you are looking for a hair transplant in Delhi India, visit us at Medlinks. MedLinks uses cutting-edge technology resulting in the highest level of service and treatment standards. We ensure you get the best post-operative care for a quick and healthy recovery.
Related Blogs