Which is Better? -Keratin treatment V/S Hair spa
We all dream of healthy, smooth, and shiny hair and are ready to put in efforts to attain this. But what if we are unaware of what precisely the hair treatment comprises and what our hair specifically needs?
Table of Contents
Feel free to skip ahead if one topic catches your eye:
So, here we present the details of both keratin treatment and hair spa treatment at one of the best hair and skin centers in Dubai so that you will be well informed before you choose one for you.
1. What is the difference between hair spa and Keratin treatment?
Keratin treatment or Brazilian blowout helps to regain the lost amount of keratin in our hair. Keratin is a protein that is contained in our hair, and it is very much needed to keep them healthy and shiny. It protects our hair from external influences like pollution, heat, dust, etc., and helps to maintain its overall health and beauty. When keratin is lessened in our hair due to various chemicals applied like excessive shampooing, or hair styling, they become dry, frizzy, and lose their luster and shine.
Keratin treatment is long-lasting, around 6 months, and differs for every individual depending upon the type of hair, its length, and the amount of damage. To know more about it and for professional advice, consult our cosmetic doctor in Dubai.
A hair spa is a hair rejuvenating routine treatment that deep cleans and conditions the pores of your scalp but does not involve any replenishing of proteins. It will relax and replenish your scalp and hair with essential nutrition like moisture, oil, hair serum, etc., and stimulate the hair roots and follicles for better growth.
2. How is the keratin treatment done?
It involves the following steps:
Your provider will wash your hair
Then a chemical will be applied and brushed onto your hair on wet or blow-dried hair, depending upon the need and the type of your hair.
The chemical will be made to stay for around 30 minutes, and then flat ironing of the hair will be done to seal the treatment.
The complete treatment requires a few hours.
If you follow the post-treatment hair care instructions religiously, you will not need retreatment before 6 months.
3. What are the benefits of Keratin treatment?
There are many advantages of Keratin hair treatment:
It results in smooth, shiny hair and a reduction of split ends with overall good hair health.
It will also help to save your hair from heat damage.
It strengthens and fortifies your hair and prevents it from breaking off easily. Thus, increasing your hair growth, resulting in voluminous, beautiful hair.
It replenishes the lost keratin, so the results are long-lasting, and you need not repeat the treatment very frequently.
4. How is a hair spa done?
The various steps involved in a hair spa treatment are:-
Your scalp will be massaged with oil which will relax you and increase the blood flow in your scalp and hair roots.
Then steam will be given to your scalp, which will aid in replenishing the lost moisture and opening up your scalp pores.
Your provider will then gently wash and condition your hair with a hair serum which will replenish the lost nutrition in your scalp and hair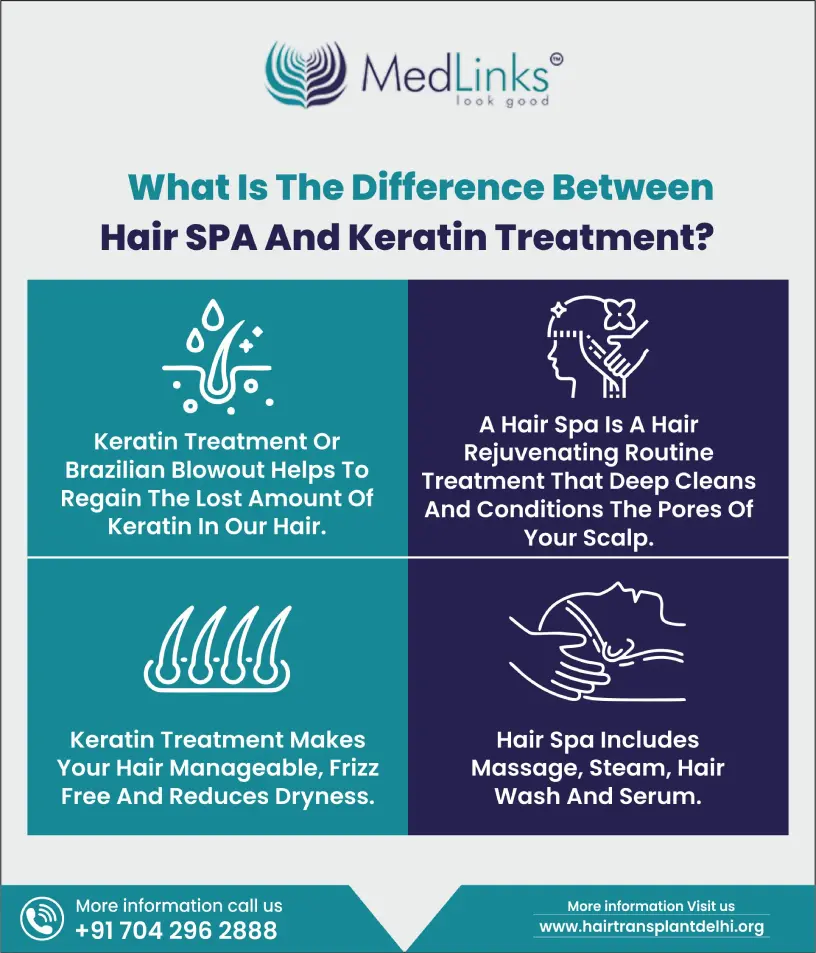 5. What does a hair spa do?
Hair spa also gives your hair a smoother, shiner, and healthy, beautiful look, but the results are more short-lived, around 15- 20 days, and you will need to regularly take the treatment to maintain the needed luster and health of your hair.
6. What are the effects of a hair spa?
It strengthens your scalp and hair roots and revitalizes and nourishes them.
It stimulates your scalp, increases blood flow, and thus promotes more hair growth.
A hair spa helps remove all dirt, contaminants, and pollutants from your scalp pores, thus dealing with dandruff, damaged hair, and hair fall problems.
Although a hair spa is a treat to your scalp and hair, it too has certain limitations
It is short term around 10-15 days, and you need to get it done at regular intervals.
A hair spa can cause your hair color to fade, so you need to be careful and ask your hair stylist to use certain oils, shampoos, etc., which are suitable for colored hair
7. Does a hair spa cause hair fall?
A hair spa does not cause hair fall. Instead, it helps to reduce hair fall by providing the required moisture and nourishment to your scalp, increasing the blood flow, rejuvenating your scalp, and stimulating the hair follicles to promote better hair growth to fill up the reduced volume of hair.
8. What is the cost of keratin treatment in Dubai?
The cost of Keratin hair treatments varies depending upon the length of hair and the amount of damage to them. It is more expensive than a hair spa. Still, if you measure the cost-to-benefits ratio, it is definitely much more and since it need not be repeated frequently, looking at it from a long-term perspective proves it very reasonable.
At Medlinks Hair Transplant Clinic in Delhi, you will experience one of the best keratin treatments by professionals with amazing outcomes. It is equipped with the latest cutting-edge technology, facilitating better results with the least side effects.
The highly qualified and skilled doctors and staff will help to attain the best results in a safe and comfortable environment and follow strict norms to maintain high-quality sterilization and infection control. All this is at an affordable and pocket-friendly cost.
Medlinks is a center of excellence for world-class hair treatments and one of the best hair transplant centers in Dubai with the highest success rates.
FAQs
This is the most crucial stage because it is required to stimulate the keratin placed in the initial step. A steam machine is used to provide heat treatment. If you have wavy or curly hair, you may start with a blow-dry.
You may actually compare the benefits of each one and choose the one that best suits your needs. Choose the keratin treatment if you believe that your hair requires an additional dose of nourishment and has to be saved. Set up a hair spa for yourself if you need a little maintenance and some pampering.
You are not allowed to wash or tie your hair for 48 hours following the treatment. Invest in good sulfate-free products as well; contact your salon professional on this. Additionally, use a conditioning hair mask. Make your own hair masks at home and use them often to keep your hair straight and shiny. Apply them at least two times a week.
The aim of a keratin hair spa is to achieve shinier, more manageable hair. Additionally, there are no chemical changes to the hair's texture. Smoothening and rebonding entail a procedure that uses chemicals that can change the texture of the hair. When compared to smoothening or rebonding, keratin therapy is a more natural solution.
Keratin hair spa treatments can last between two and three hours, depending on the number of steps and their durations. So, while you're at it, schedule a rest day so you can sleep while your hair is being pampered.
Related Blogs