What is the success rate of hair transplant?
In 1993, in Japan, an article by Okunda reported the first transplant of a single hair. And since then, the hair transplant technique has taken off the rocketing sky. While patients earlier grew hair and large plugs were used, giving outcomes similar to a "plug-like appearance" that mostly looked odd on many.
However, improving the aesthetic outcome and owing to the technological advancements in hair grafting, smaller grafts- mini grafts and micro-grafts are being used nowadays.
Just like the micro nano chip used in software technology, and where televisions have moved into the most appealing slim models, hair grafts with micro grafts and microscopic instruments are here to give pleasing, desirable hair-looks with high success rates.
This article covers everything you need to know about the hair transplant success rate in India and around the world.
Table of Contents
Feel free to skip ahead if one topic catches your eye:
1. What is the success rate of hair transplants?
Hair transplants have taken the front seat in becoming a well-established procedure that works effectively for hair loss conditions like:
Androgenetic alopecia (AGA)- A common type of hair loss in both men and women,
Loss of hair due to trauma,
Some types of inflammatory hair disorders.
Experts also believe hair transplants are much more successful procedures than over-the-counter hair restoration products for people with the conditions mentioned above.
When the first hair transplant was done in Japan in 1993, hair restoration involved using large hair plugs. The hair at the donor site was let to grow, and large hair units were extracted and transferred to the recipient site. These large plugs ensured hair restoration but could not give the required appearance.
Overcoming the procedural drawbacks of the 1990s, follicular units are now used. These modern hair replacement surgeries evolved over the years, providing amazing natural outcomes- better and improved hairline aesthetics, in-depth research on the possible causes and androgenetic alopecia, and ultra-modern technology have fostered surgeons to create desired, natural results.
Evolving trends in hair transplant have also enhanced graft survival rates to 90-95%- assuring quality and good-conditioned hair transfer. However, the final results and regrowth of transplanted hair can take a while. Following a surgery, the patient is likely to experience "shedding," where nearly 85-90% of the hair falls and gradually begins to re-grow. This entire process of fall-out and regrowth may take 12-18 months.
While technology and scientific progression contribute to the hair transplant outcomes, success rates are often analysed by the patient's satisfied outcome. results have always contributed to groundbreaking success rates.
Hair restoration treatments nowadays use body and facial hair along with scalp hair. A 2016 study survey showed patients with FUE, using a combination of donor's hair- from the body, beard, and head had a satisfaction rating of 8.3 out of 10.
In some cases, stand-alone hair transplant treatments and supporting treatments like Hair Regrowth Treatment are used. They can help yield better results with a more thick hair appearance.
The most recent update is stem-cell enriched injections alongside hair transplants. However, stem cell as a stand-alone treatment is presently under clinical trial and on the way to becoming a line of treatment in the future.
2. What is the success rate of hair transplants in India?
The major criterion for success rate assessment is patient satisfaction. And this, again is dependent on various influencing factors such as:
Type of hair transplant chosen,
Type, shape, and hair characteristics,
Choice of the clinic,
Surgeon's skill and experience,
Post-operational care,
Patient's associated conditions and treatments.
Not to forget, hair transplant is used not only in scalp hair treatment but also helps restore the hair of the eyebrows, eyelashes, beard, chest, and pubic hair. Hair transplant procedures can also help recover hair loss due to trauma or accident.
When we count the patient satisfaction rate or success rate of hair transplants in India, it is almost 98%, with around 10 to 80% of the hair regrowth occurring within three to four months of hair transplant. And particularly in Delhi, the success rate is anywhere between 95-98%.
3. What is the FUE hair transplant success rate?
Follicular Unit Extraction is one of the effective hair transplant procedures involving the removal of individual hair units from the donor site and implanting them one by one at the recipient site.
The procedure requires anaesthesia administration, trimming, or shaving of the transplant and donor areas. The procedure uses a micro punching technique to extract the follicles and needle insertions to insert the hair follicles.
At least 80 to 90% of the transplanted hair follicles regrow substantially. The best part of this procedure is- it can be effective even in smaller transplant sites like eyebrows, beards, chest, or pubic hair.
And when it comes to the success rate of FUE hair transplants in Delhi, it is around 90%. Without considering the FUE cost, choosing robotic FUE with advanced technologies and choosing the best doctor and clinic can increase the success rate furthermore.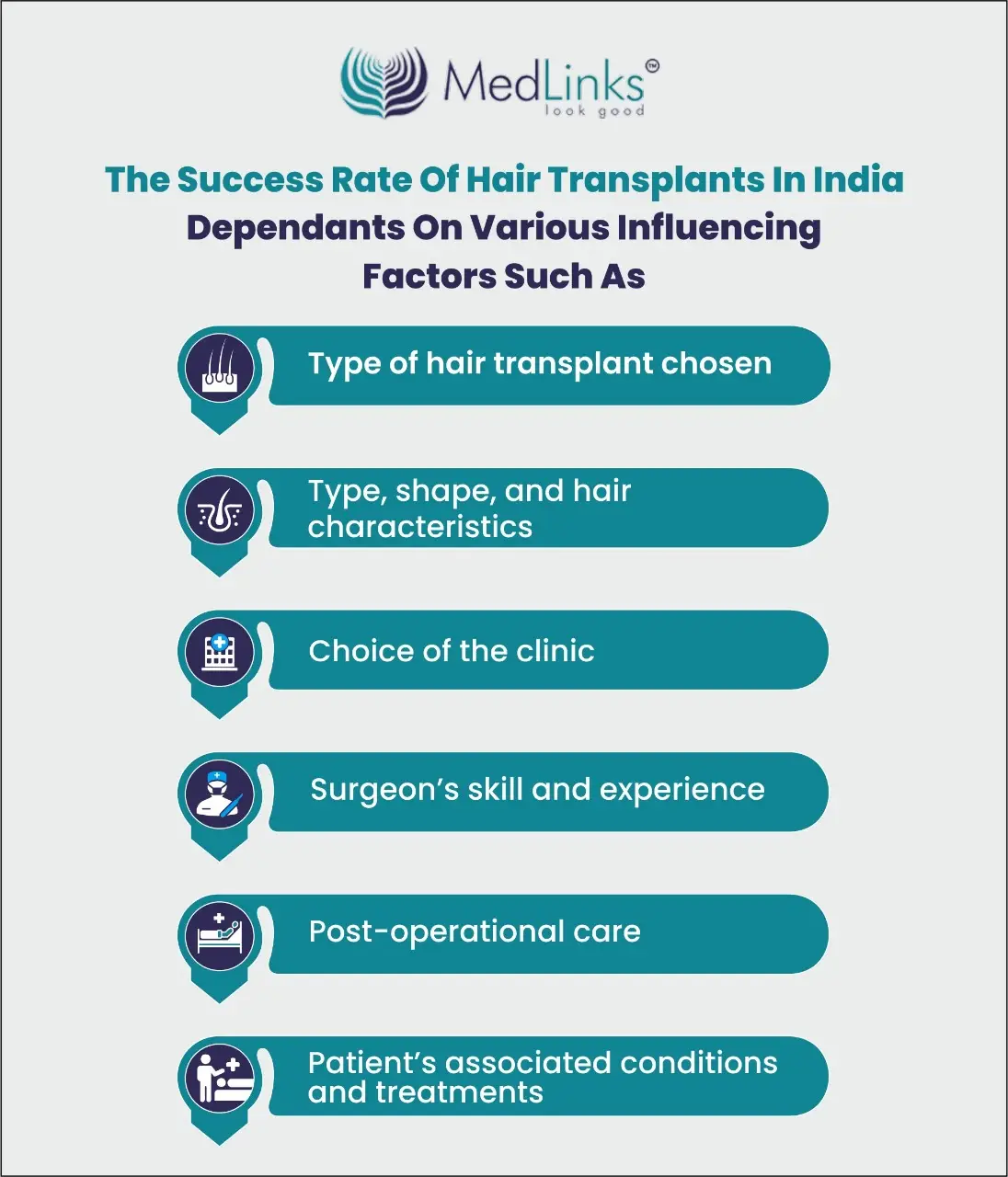 4. What is the female hair transplant success rate?
Hair restoration surgery is a good option for women having androgenetic alopecia. However, the pattern of baldness in women is different from men. Diffused hair and thinning of hair occur in most areas of the head, including the sides and back.
Unlike men, where the donor sites are stable, in female pattern baldness, the donor sites are unstable and are majorly affected by follicle-damaging dihydrotestosterone (DHT). However, female hair transplant can 2 to 5% of women with,
Non hormonal or traction alopecia,
Male pattern baldness (donor sites unaffected by DHT),
Alopecia marginalis (conditions like traction alopecia),
Hair loss due to trauma, burns, accidents, etc.
According to the clinical studies on female hair transplant success rate, nearly 85-95% of the implanted grafts regrow successfully in the transplanted zones.
5. What Percentage of Strip Hair Transplants (FUT) Are Successful?
Procedures like Follicular Unit Strip Surgery (FUSS) or Follicular Unit Transplant (FUT) are the preferred choice of treatment for vast or large restoration areas.
Here, the surgeon removes a strip of hair from the donor area and the skin and seals the incision. Then, using a microscope, the donor skin is separated into small follicular units of one to many follicles inserted into the recipient site.
The FUT hair transplant success rate greatly depends on the recipient site's hair thickness, the donor site, the surgeon's skill, and experience. The overall FUT hair transplant success rate can go up to 95 to 98%.
Faq's
1. Are hair transplants usually successful?
Yes, according to studies and specialists, hair transplant procedures are highly successful compared to over-the-counter hair restoration products and therapies.
2. What percentage of hair transplants are successful?
The average graft survival rate following a hair transplant is roughly 90 to 95%. The success rate of a hair transplant rated by the patient satisfaction quotient is nearly 98% in India, according to survey reports.
3. How long does a hair transplant last?
Hair transplant procedures are safe and effective and done as outpatient procedures. The hair transplant results are long-lasting and permanent, lasting for a lifetime.
4. Is hair transplant 100 percent successful?
Hair transplantation is a highly successful procedure. If the graft survival rate is 100%, the success rate of the hair transplant can be 100% as well. It majorly depends on various factors, including the patient's hair loss condition, the skill and experience of the surgeon, and many others.
5. Can a hair transplant fail?
Some factors of a hair transplant failure are graft rejection, unrealistic expectations, poor post-operational care, and inexperienced doctor.
6. What is the failure rate of hair transplants?
Hair transplant failure depends on a range of factors such as hair loss condition of an individual, graft rejection issues, improper post-surgery care, inexperienced clinic, and others. These factors can influence a hair transplant failure rate of 10 to 90%.
Take Away
Hair transplant has outgrown since the 1990s from their old school, conventional methods to the robotic and ultra-modern FUE techniques. With stem-cell therapy and much more in the hair transplant segments, hair transplant methodologies like Follicular Unit Transplant (FUT), Follicular Unit Extraction (FUE), and Direct Hair Implantation (DHI) offer natural hair looks and remarkably high success rates.
To get the best hair transplant surgery with best-in-class technology, services, and zero compromises on quality, you must visit us at Medlinks, your destination for hair transplant in Delhi.
Related Blogs