Learn from the Best Clinic in Delhi NCR: MedLinks
Learn from the Best Clinic in Delhi NCR: MedLinks
The hair expresses the personality of the person. While hair loss can be one of the scariest events leading to many psychological problems such as loss of self-confidence and anxiety.
There are several options available to regain or minimize hair loss. One of them is a hair transplant procedure. Today, with its high success rate, hair transplants have become more and more popular. When performed by an expert, professional surgeon, results will look just like your real hair. To give your hair transplant the best chance of success, it is important to choose the right clinic.
Table of Contents
1. Does Hair Transplant work?
2. At what age should I consider a Hair Transplant?
3. Will my hair transplant look natural?
4. Is a hair transplant painful?
5. How to find the best Hair Transplant Surgeon in Delhi NCR?
1. Does Hair Transplant work?
The hair transplant involves transferring the follicles from the donor area and implanting them into affected areas in the scalp. When done by an expert surgeon, more than 90% of transplanted hairs grow healthy and stable. During the period from eight months to one year, the patient will see remarkable results. FUT or 'strip surgery' involves harvesting a small patch of skin which may leave a scar on the scalp. FUE involves transplanting individual hair follicles by using a tiny punch tool. FUE techniques are less invasive, painful, and carry no risk of scarring.
Additionally, other new-age techniques are in the development phases such as Robotic hair transplant wherein an assistant robot helps the doctor during the procedure and; Stem cell Hair Transplant for treating baldness of various types.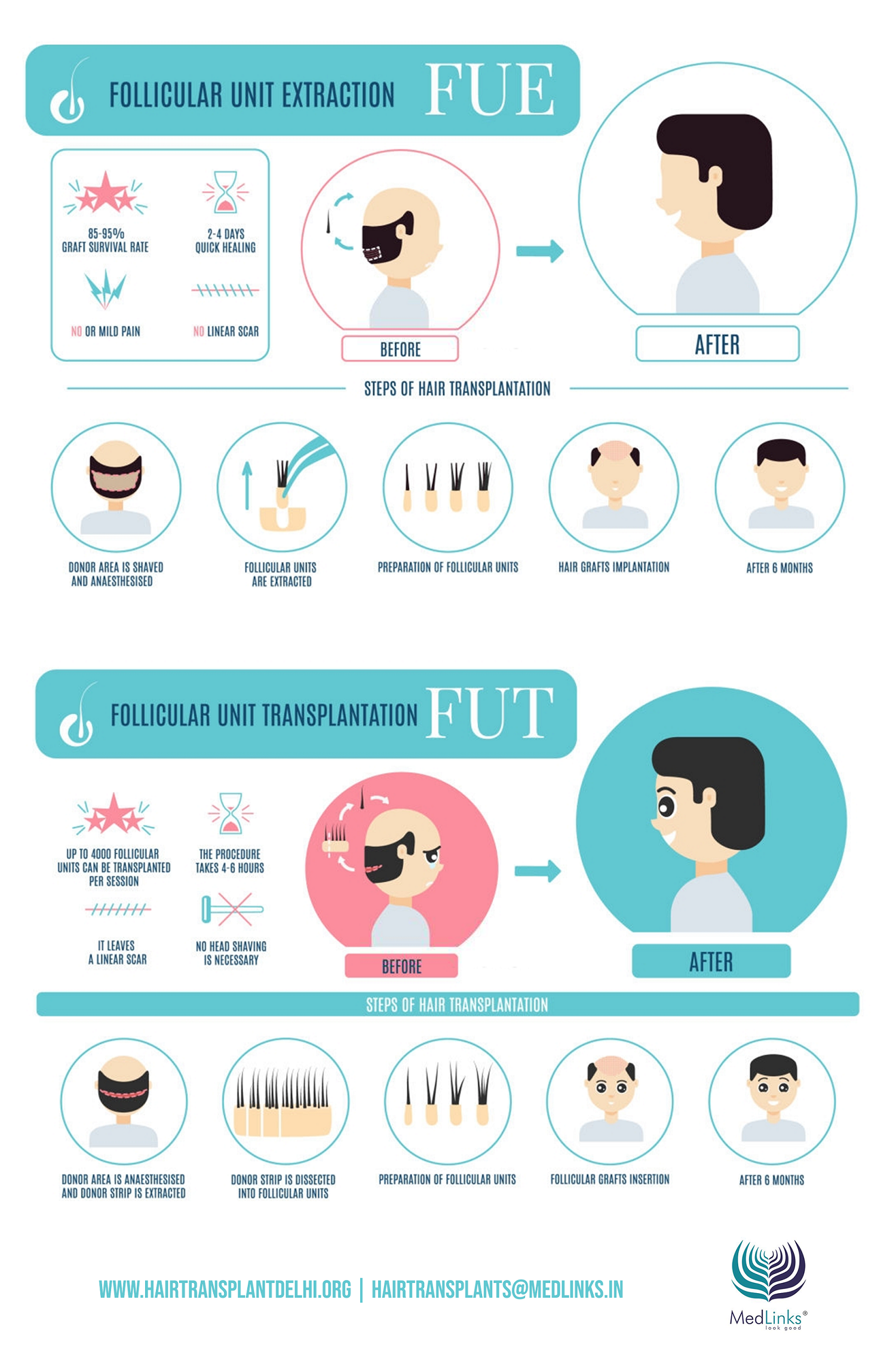 2. At what age should I consider a Hair Transplant?
Hair loss affects men and women as early as in the 20's. It is feasible to perform hair transplants at any age, but most surgeons suggest considering hair transplants at an early stage i.e. mid 20's. This is because of two main reasons:
With age, balding or receding hairline starts increasing. This results in complete or partial baldness by the age of 40 or 50.
Also, the condition is more stressful and disheartening for younger people. For this reason, hair transplant is suggested for young men.
3. Will my hair transplant look natural?
Final results will depend upon skills and techniques adopted by surgeons; this includes position and angle of hair follicle plantation of the hairline, density as well as the graft selection.
At MedLinks, our highly-skilled surgeons provide patients with maximum benefits from the procedure at an optimal cost.
Our aim is to provide patients with the most natural-looking hairline which best matches their personality and to enhance their appearance by striking the right balance between symmetry and irregularity. We are experts at efficiently restoring the frontal hairline of patients and recreating their hairline to its naturally mature position.
4. Is Hair Transplant painful?
Hair transplantation is a highly effective and safe procedure with no downtime.
FUE procedures are generally performed under a local anesthetic and patients rarely feel any pain. After surgery patients may feel a mild sensation on the scalp.
FUT surgery is a bit more painful but, again, discomfort is minimal. Pain can be managed by pain medications.
At MedLinks, we use short-acting and long-acting local anesthetic agents and the use of long-acting local anesthetic along with adrenaline reduces the need for frequent top-ups thereby reducing drug toxicity.
5. How to find the best Hair Transplant Surgeon in Delhi NCR?
Hair transplantation is an extremely sensitive procedure and requires skills. Thus, it is important to choose a reputed clinic with qualified surgeons.
At MedLinks, we use cutting-edge technology resulting in the highest level of service and treatment standards. Located in posh locations of New Delhi and Gurgaon, the centers are well equipped with the latest Lasers, Aesthetic devices, and robots along with sophisticated OTs for cosmetic surgery and Hair Restoration.
We are also into innovations and we have our own research Face 360° which has created a global landmark and backed hair transplant technique PERFECT-i.
Our experts have plenty of experience in their respective fields. We have successfully treated many patients with hair loss problems and we are currently catering to patients from more than 25 countries for their hair restoration needs.
We start with medication and then move towards other options. This approach is not only cost-effective to our patients but also helps us in understanding what the best option for a particular problem is.
If you want to dispose of your hair loss problem, you can book a quick appointment with our experts at MedLinks.

Related Blogs