Is One Hair Transplant Enough for a Lifetime?
Hair is one of the most crucial parts of a person's appearance and aesthetics. So, it isn't surprising that more men and women gravitate towards restorative hair procedures to restore the receding hairline or decreasing hair density. However, there is always one lingering question in everyone's mind – Is the hair transplant treatment permanent?
To answer this question in simple words is not an easy task, mainly because the results are subjective. While some patients experience drastic changes to their hairline and appearance after the first treatment, some have the opposite experience.
Here, we will discuss everything you need to know about the life span of hair transplants and whether a single treatment is enough.
Table of Contents
Feel free to skip ahead if one topic catches your eye:
1. What to Expect After a Hair Transplant Surgery?
As a patient, the most common mistake that people make is expecting immediate results. Like any other cosmetic surgery, even this procedure takes months of healing before you can witness noticeable results.
The recovery process is subjective and depends on the patient's body and the kind of hair transplant procedure they have undergone. Generally, the recovery starts with swelling, pain, and numbness in the scalp that lasts for up to a week. Remember that most side effects or complications are temporary and can be corrected with medications and proper care.
If your surgeon has conducted the transplant using skin grafts, you will experience scabs on the dermal surface of the scalp. Most patients deem themselves fit enough to return to work and their daily activities within a week.
However, following the first phase of recovery and healing, the patient notices the apparent changes to their hair. The transplanted hair falls out within the first month after the surgery (and it is an entirely natural process).
Following that, the transplanted follicles experience gradual hair growth over the next 6-12 months, depending on the viability of the transplanted hair follicles. Expecting 100% hair growth in the transplanted sites is futile because that won't happen in the initial phase.
The changes are apparent only after a few months, so you need to be patient after the procedure is done.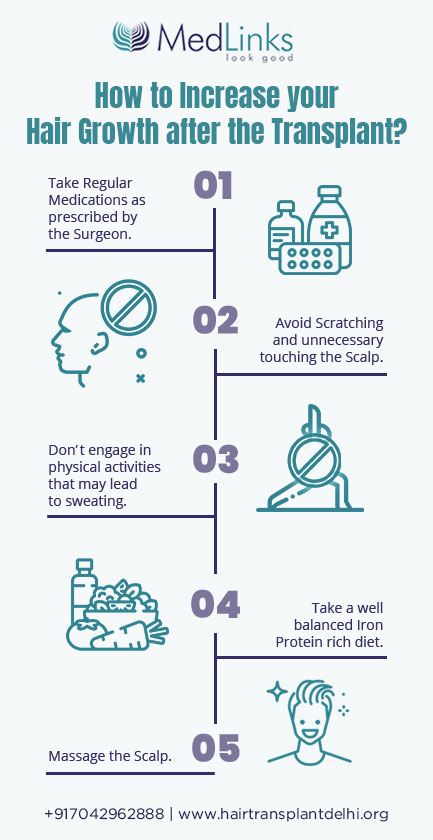 2. Does Hair Transplant Surgery Last Lifetime?
If done by the best hair transplant surgeon in India with the latest techniques and technologies, you can expect the procedure to last through the lifetime. However, several other factors determine the longevity of the results, like the quality and potential of the transplanted follicles.
Generally, a successful hair transplant surgery should last through a lifetime and ensure dense regrowth of the hair in the treated areas. Hair transplant surgeries are considered permanent because the genetic predisposition for hair loss is potent in the hair follicles and not the scalp.
So, when the damaged hair follicles are replaced with the potent ones, the patient is assured of experiencing dense hair regrowth without complications.
However, does it last a lifetime? More or less, yes, it does. But, if a patient isn't happy with the initial results from the first surgery, they might opt for a second hair transplant for density.
3. Why Do Hair Transplants Go Wrong?
Much like how multiple factors contribute to the success of a hair transplant treatment, the same is applicable to the reasons behind the failures. A failed hair transplant can be noticeable with a poorly constructed and unnatural-looking hairline, excessive scarring, clustered hair regrowth, and a potentially "noticeable" change in appearance.
As for the reasons behind failed hair transplants, there are a few factors that are worth considering:
Inexperienced surgeon – The first and the most common reason behind a failed hair transplant is getting the surgery done by an unqualified doctor. Not only should you consult a board-certified cosmetic surgeon, it is crucial that you also focus on the years of experience and testimonials they have under their wing. If you find your surgeon instructing technicians to harvest and transplant the grafts instead of doing it on their own, it is the first red sign.
Not being an ideal candidate – Just because you want to undergo a hair transplant doesn't mean you are a perfect candidate for it. This is something that your surgeon will decide for you. So, getting a thorough assessment before the surgery is crucial to ensure that you are physically fit, and your hair follicles from the donor site are potent enough to charge regrowth in the future.
Lack of aftercare – As a patient, you must follow your surgeon's aftercare instructions without fail. If your surgeon has asked you to avoid carrying heavy weights for the first few months, you need to be mindful of the same. One of the most common reasons behind a failed transplant stems from lack of care, especially tending to the transplant site.
| Also Read: Causes of Hair Transplant Failure and How to Avoid them? |
4. Is it Possible that You Could Need a Second Hair Transplant?
Yes, it is a viable option for a patient to consider undergoing a second hair transplant if they aren't happy with the hair transplant density and appearance from the first surgery. Some patients even consider a second session if their first surgery was a failed one.
In most cases, a single hair transplant reaps satisfactory results; however, some patients have reported not being satisfied with the density or the appearance of the hairline and crown coverage after the first surgery. If that is the case with you, we'd recommend consulting your cosmetic surgeon about the same.
However, there are limitations to getting a second hair transplant. Your surgeon will likely suggest you wait for 10-12 months before considering the second procedure. The reason why it's necessary to wait for that tenure is because the transplanted hair generally takes between 6-12 months to regrow to its full potential.
Always sit down with your cosmetic surgeon to have a detailed discussion about the results and expectations from the second surgery before undergoing it. Also, your surgeon needs to assess whether you are a viable candidate for the surgery depending on the scalp's laxity and the availability of donor hair follicles.
Takeaway
Without a doubt, a single hair transplant treatment (in 90% of the cases) is enough to showcase satisfactory results. It is only in a few exceptional and failed surgeries that a patient might have to consider undergoing a second round of treatment. However, having a thorough conversation with your surgeon is crucial before deciding to pursue this as a possibility.
Touted as the best hair transplant clinic in Delhi, Medlinks is your one-stop destination for everything related to hair transplant and aesthetic surgeries. We are here to provide our patients with the best experience with potent and satisfactory results with minimal pain and discomfort.