How much does it cost to get a hair transplant in India?
Hair transplants are a boon to people having excessive hair loss, and androgenetic alopecia-one of the leading causes of hair loss in men and women. Hair transplants adopt advanced technologies and modalities to provide effective and long-lasting solutions.
Hair transplants are considered a safe and cost-effective treatment compared to other hair restoration alternatives. Performed through different techniques, hair transplants in India involve follicular unit transplantation (FUT) and follicular unit extraction (FUE). The cost of both these techniques is calculated on a per graft basis and can vary between cities, and clinics, depending on variable factors.
Table of Contents
Feel free to skip ahead if one topic catches your eye:
This article dives into different techniques performed at Medlinks, the best hair transplant clinic in Delhi, India, with a view of its cost and factors affecting the cost.
1. What is a Hair transplant?
Hair transplant is a surgical hair restoration procedure where the hair from thick hair growing regions is implanted or transplanted into the balder zones of the scalp. Thus, helping bring back a thick and fuller-hair appearance in men and women experiencing extreme hair loss.
Emotional distress and loss of self-confidence can take a toll on many with severe hair loss concerns. A hair transplant provides a permanent solution for such issues where one can regain confidence and self-esteem.
2. Why is it done?
Hair thinning, miniaturisation, and hair loss can be a temporary effect for many, but those having these issues for a long time experience progressive deterioration of scalp hair and bald spot widening. Here are certain hair loss conditions that can be treated through hair transplants.
Androgenetic alopecia- Pattern baldness that can be seen in both men and women,
Androgenetic Areata- An autoimmune condition where the body's immune cells attack the growing hair follicles,
Hormonal conditions, such as thyroid disorders, Polycystic Ovarian Syndrome (PCOS) in women,
Hair loss due to burns, accidental trauma, and others.
In any of the above conditions, the criteria for the candidate to suffice for a hair transplant is that the candidate must be healthy with no major associated health conditions and have thicker donor areas.
3. What can you expect from different hair transplant techniques adapted at Medlinks?
Hair transplant involves three basic steps of follicular extraction from the donor site- strips or single unit harvesting, preparation of the recipient site, and implantation of the hair strip or individual units into the recipient site.
Hair transplant techniques at Medlinks involving these basic steps include:-
Follicular Unit Transplant (FUT) or Follicular Unit Strip Surgery (FUSS)
Follicular Unit Extraction (FUE)
Perfect-I - Medlinks exclusive hair restoration procedure
Follicular Unit Transplant (FUT) or Follicular Unit Strip Surgery (FUSS)
During a FUT hair transplant, the surgeon harvests strips of scalp skin with hair typically taken from the back of the head. The strip length, not more than 1 to 1.5 centimetre long, is processed or cut into smaller segments according to the recipient region where they are stitched. The entire process of FUT is done using local anaesthesia that numbs the scalp and relieves pain or discomfort during the surgery.
Follicular Unit Extraction (FUE)
During an FUE hair transplant procedure, individual hair follicles are extracted from the donor site. The extracted single units of hair follicles are individually implanted in the recipient site. FUE techniques also involve local anaesthesia, while it can benefit with fewer scars, less discomfort, and faster recovery post-FUE.
FUE
can also be used with robotic assistance and 3-dimensional cameras that can guide through a precise Robotic FUE.
Perfect-I
Medlinks pioneers the refined FUE technique called perfect-I, where intricate drawbacks of FUT and FUE are addressed. During the perfect-I procedure, handling of grafts involves the "feather touch" technique that can significantly minimise hair graft damage. Also, the downtime of the graft implantation is reduced when the grafts are immediately implanted after extraction, which also aids decrease in graft damage possibilities.
Sapphire Hair transplant involves sapphire crystals of aluminium oxide providing perfect cuts and more natural outcomes. Sapphire perfect-I ensures faster recovery and naturally perfect hair-look you always aspired to be in.
Connect with Medlinks, for the most updated, cutting-edge technology, "the perfect-I" that focuses on providing effective and flawless hair restoration solutions.
4. Hair transplant cost in India
Hair transplant cost in India varies from city to city and between clinics. Nonetheless, hair transplant cost in India is calculated on a per-graft basis, where the basic cost is defined for one individual hair graft extraction, handling, and placement. The basic cost of the FUT and robotic FUE procedure in India can vary.
Here is a breakdown of perfect-I costs with FUT and FUE costs at Medlinks.
Hair transplant technique

Approximate Hair Transplant cost (per graft) at Medlinks

FUT or FUT+ Perfect-I

Rs. 70 per graft- Involves planning designing and 100% slit extraction and implantation. By the team of associate doctors

Perfect-I Premium

Rs. 120 per graft- Involves planning designing and 100% extraction by a specialised team of surgeons and implantation.




Also uses "Feather touch" graft handling technology, and precise/ prompt graft placement. Surgery executed by Dr Gaurang Krishna and team.

Sapphire Perfect-I with Ultra High Density and

Sapphire Perfect-I Premium

The basic cost of this high-end technology involving Perfect-I with sapphire blades and microincision technology depends on variable factors. While its premium version comes at 200 per graft.
Note: The above-mentioned costs are subject to change.
Also Read: Hair Transplant Cost in USA
It is also essential to note that the costs increase tangibly with an increase in the number of grafts used during the procedure.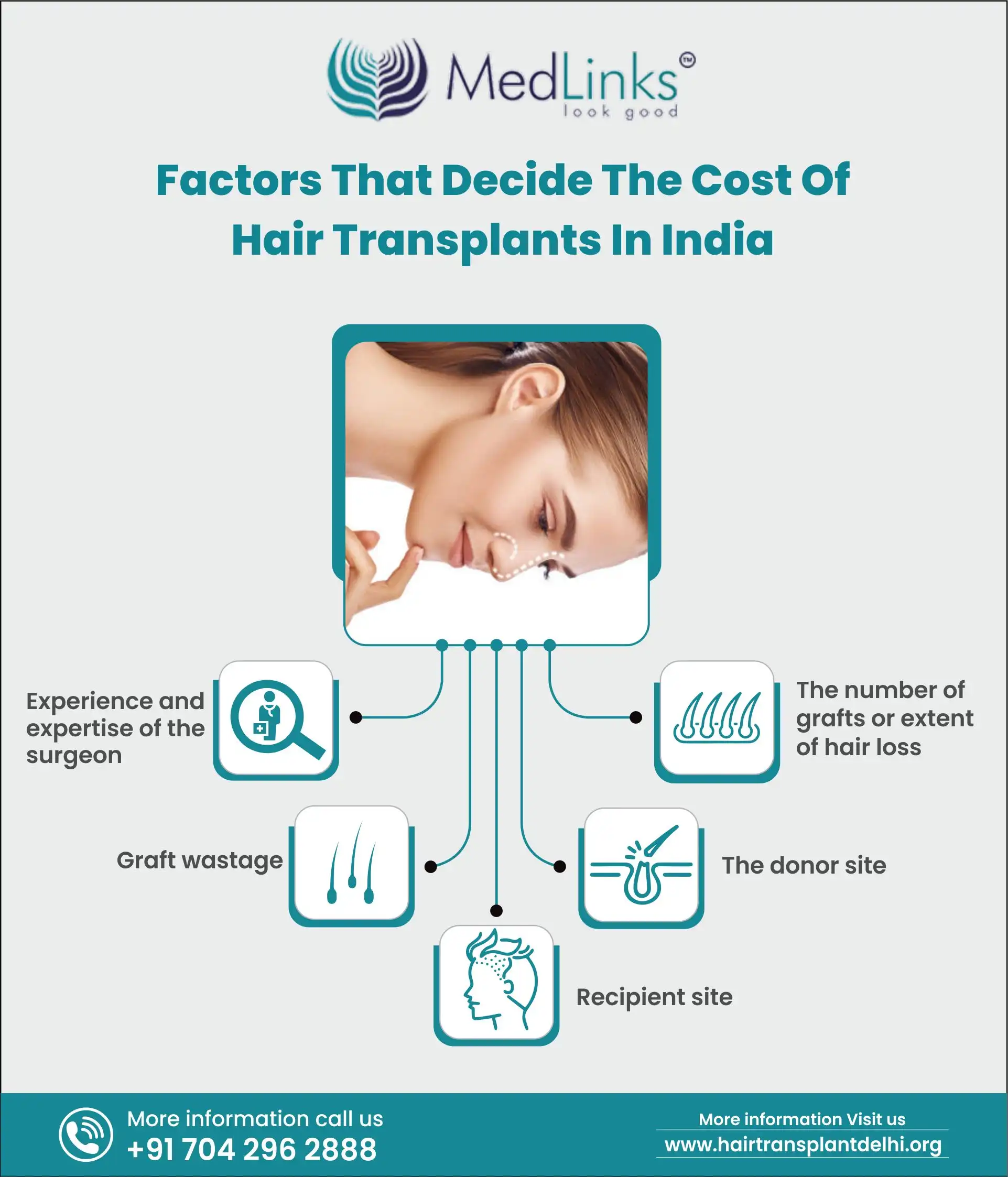 5. Factors that decide the hair transplants cost in India
Various factors influence the cost of hair transplants. Here are some factors which affects hair transplant cost in delhi at Medlinks
The number of grafts or extent of hair loss
If the level of baldness is more, the number of grafts used will also increase along with the costs.
The donor site
Use of donor sites other than the scalp like chest, eyebrows, or beard can cost more.
Recipient site
Recipient regions other than the head- eyebrows, beard, moustache involve delicate handling and placement. So, the cost of hair transplants in these regions can increase.
Graft wastage
More time spent by the extracted graft outside the body can damage the graft with reduced survival and growth possibilities. The grafts must spend less time after extraction.
Experience and expertise of the surgeon
The surgeons and their team also influence the overall cost of hair transplants.
Also Read: Hair Transplant Cost in Dubai
6. Frequently Asked Questions
Hair transplant costs in India are nearly 20 to 25% less compared to other countries. Along with cost-effective treatments, India ensures world-class facilities and experienced and renowned surgeons who provide quality and precise hair transplant treatments through its clinics.
Hair transplants provide a natural, permanent hair regrowth solution, where new hair grows in the balder sections similar to the natural hair. This newly grown hair requires no special maintenance or rework. Hence, hair transplants are regarded as cost-effective.
The hair transplant in India depends on distinct factors, including the level of hair loss or balding. Considering all the factors, almost 85 to 90% of the transplanted hair can regrow after a hair transplant.
7. Take Away
Hair transplant in delhi is safe and proven procedures for restoring thick, natural hair. However, many may be sceptical about the costs. Although the hair transplant cost in India depends on variable factors and varies between techniques, it is usually calculated on a per-graft basis.
Medlinks provides a precise solution for your hair loss concern, as it adapts state-of-the-art technologies to provide best-in-class facilities. Medlinks houses highly experienced and renowned surgeons who provide the most ethical and quality treatment at the best prices.
Related Blogs