How much does a hair transplant cost in USA?
The cosmetic markets, especially in the USA, are overflowing with options for hair loss from over-the-counter hair solutions, medications, and many other alternative treatments. Hair transplant is a revolutionising hair restoration modality for hair loss that provides permanent, long-lasting solutions for men and women suffering acute hair loss issues, including androgenetic alopecia.
Hair transplants in the USA involve fine technology and highly qualified and skilled professionals. The hair transplant cost in USA is demanding yet expensive. Hair transplants are cosmetic procedures and are usually not covered by general medical insurance. And so it can get heavy on pockets for many.
If you are considering a hair transplant in the USA and worried about the cost, this article explores the hair transplant cost in USA. It further discusses how India is becoming a growing market for hair transplants and how people in the USA can choose India for hair transplant treatment.
Table of Contents
Feel free to skip ahead if one topic catches your eye:
1. How much is a hair transplant in USA?
Many clinics in the USA have helped patients overcome their hair loss concerns and realise their dreams of having voluminous, fuller hair. Doctors and cosmetic surgeons in the USA use the finest technologies to ensure desired results and premium hair transplants. However, the cost of hair transplants in USA can be concerning.
The hair transplant costs invariably depend on many factors, including
The city of treatment,
The choice of clinic,
The type of technique involved- Follicular Unit Transplantation (FUT) and Follicular Unit Extraction (FUE),
The skill of the surgeon,
Transplantation site,
The donor site, and others.
Considering all the cost-affecting factors, the average hair transplant cost in USA can typically range from $4,000 to $15,000.
2. What makes India a popular country for hair transplant treatment?
Hair loss problems have been rising worldwide, and there is no surprise for the rising demand for hair transplants in the USA or any other country across the globe.
India has progressively grown in providing world-class hair transplant treatments for patients across the globe. India is a centre for medical tourism and is gaining popularity because it houses the world's best medical professionals and standardised technology at par with other developed countries.
Here are some credit points as to why India is a great travel destination for hair transplants.
Highly qualified hair transplant specialists:
The Indian Medical fraternity is at the forefront of quality, safety, and hygiene. India has world-renowned surgeons with vast experience and skill sets. Indian surgeons use the latest FUE (Follicular Unit Extraction) and FUT (Follicular Unit Transplantation) techniques. And the best hair transplant surgeons at Medlinks are exceptionally qualified and skilled.
Newest hair transplant technique:
India provides the latest and most advanced hair transplant techniques - FUT, FUE, body hair transplant, robotic FUE, that ensure natural hairlines, minimal hair damage, and high-precision outcomes.
Medlinks in Delhi offers top-end hair transplant procedures with cutting-edge technology and technique incorporation.
Holistic care and treatment:
India is popularly known for its medical tourism and hospitality. The best clinics in India treat national and international patients. Hair transplants are personalised treatments that require a comprehensive approach with technology integration. Indian clinics endure high-quality service, personalised treatment, and pre and post-hair transplant care.
Cost Affordability:
India is a great choice for hair transplants. The top clinics in India, including Medlinks, provide high-quality treatments, prioritising safety and patient-centred care at affordable prices. Many clinics assist international patients with medical visas, accommodation, travel, and medical treatment.
Also Read: Hair Transplant Cost in India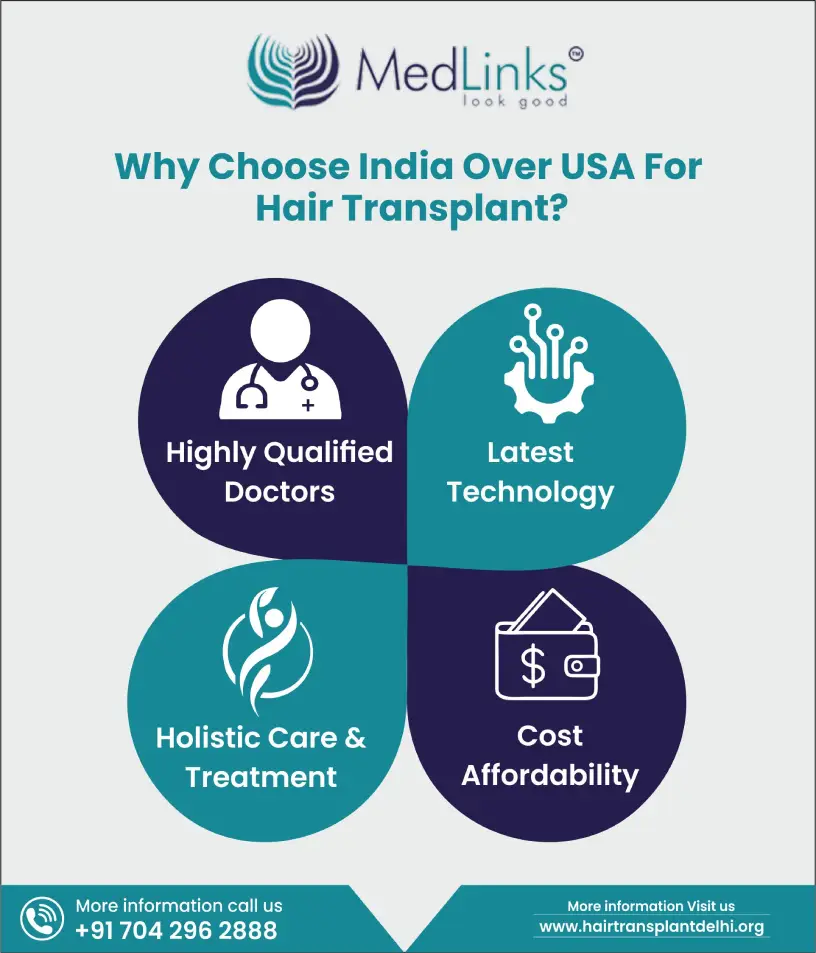 3. Hair transplants at Medlinks, Delhi
In India, Medlinks is well-known for comprehensive hair transplants in Delhi. The high-end technology Medlinks adopts in hair transplantation is "The Perfect-i Technology," which can be performed with FUT and FUE hair transplant techniques to improve hairline outcomes and reduce hair graft damage.
The top-class surgeons and staff at Medlinks are qualified, experienced, and well-trained with the latest in hair transplants. Nonetheless, technological advancements at Medlinks clinics have set high standards of quality and innovation.
Treatments at Medlinks primarily focus on holistic patient care, personalised treatment, and round-the-clock assistance.
But if hair transplant cost in Delhi is bothering you, here is a tabular column with hair transplant pricing at Medlinks and jaw-dropping features.
Hair transplant technique

Approximate cost at Medlinks

Additional features of the technique

FUT or FUT+ Perfect-I

Rs. 70 per graft-

Planning, designing, and 100% slit extraction and implantation by a specialised team of experts.

Perfect-I Premium

Rs. 120 per graft

Along with planning, designing, and 100% extraction by a specialised team of surgeons and implantation, utilises "Feather touch" graft handling technology, with precise and prompt graft placement executed by Dr Gaurang Krishna and team.

Sapphire Perfect-I with Ultra High Density and

Sapphire Perfect-I Premium

200 per graft for the high-end premium technique

Involves ultra-modern, high-end, Perfect-I technology with sapphire blades and microincision technique. The two variables, ultra-high density, and premium differ in prices and technique.
Note: Hair transplant costs in Delhi depend on variable factors. The costs also depend on the number of grafts transplanted, the area of transplant, and the donor site. Medlinks provides the latest in hair transplants at the best prices with assurance of standard quality and safety.
Also Read : Hair Transplant Cost in USA
4. Conclusion
Hair transplant costs in the USA can be worrying or bothering. However, treatments in India are at par with US standards in terms of technology, surgeon's credentials, clinics' infrastructure, patient care, and quality. Indian clinics are ICMR accredited and have the best-in-class facilities.
Medlinks is a premium hair transplant clinic in delhi that provides state-of-the-art technology with the best treatment and care you need for your hair loss concern.
5. Frequently Asked Questions
The hair transplantation cost in the USA or any other country depends on the number of hair follicles required to be transplanted. However, the average cost of a hair transplant in the USA can be anywhere between $4,000 to $15,000.
Keeping all the hair transplant cost-affecting factors, the average cost of a hair transplant in Delhi can range from Rs. 1,00,000 to Rs. 2,00,000, including surgery costs, anaesthesia fees, and post-operative care.
Hair transplant surgeries are painless, safe, and less invasive procedures. However, one can experience a brief period of discomfort, pain, and hair loss post-surgery. The results of a hair transplant are prominently visible only after 6 to 9 months of surgery.
In the USA, people can undergo hair transplantation from a professional who uses the following methods. The hair transplant cost USA may get altered depending on the hair transplantation method. Here are the top three methods used by renowned clinics that offer world-class hair treatment solutions.
#1 Perfect - I Hair Transplant
It's the ultra-modern and refined process of executing the FUE hair transplant. This process encompasses the instant implantation of extracted follicles. Note that it saves a lot of hair. A surgeon can make the right use of the perfect-I hair transplant with sapphire blades as well as microincision techniques as well.
#2 FUE or Follicular Unit Transplant
It's another effective method used in hospitals. Follicular Unit Transplantation involves the process of eliminating a steak of skin from the main source. After this, the hair grafts get separated from it and later on transplanted to the area where hair growth is necessary.
#3 FUT or Follicular Unit Extraction
Commonly regarded as FUE, this particular transplantation method is a contemporary technique. This hair restoration surgery is stitchless and less invasive. It does not involve cutting the scalp skin's chunk. Here, the hair follicles get cherry-picked using circular cuts around the unit.
So, which method are you planning to choose from a professional? Remember, the cost of hair transplant in top cities of USA depends on the method you select.
Related Blogs