What is the hair transplant cost in Dubai, UAE?
Hair transplants are natural hair restoration procedures that permit the implantation of hair grafts from the donor zones to the balding sites. These procedures redefine aesthetic value and create a voluminous hair-filling scalp among individuals with hair thinning and pattern baldness problems- androgenetic alopecia.
Technological advancements in hair transplants also have come a long way, along with its popularity. Nonetheless, the hair transplant procedures now imbibe cutting-edge technology and advanced robotic equipment that bestow dinner results and natural outcomes.
Table of Contents
Feel free to skip ahead if one topic catches your eye:
When most of us look for hair transplant treatment options, our eyes are glued to the cost or pricing of hair transplants. The cost of a hair transplant may be one of the criteria that can be apprehended.
However, this article explores everything you need to understand about hair transplant cost in UAE while diving into reasonable hair transplant options at Medlinks, India.
1. Hair transplant cost in UAE
Dubai, UAE, is a modern city with blooming architecture and technology. It is a home for the finest cosmetic and plastic surgeons. It is a city known for medical and cosmetic treatments, including orthopaedics, plastic surgeries, dermatology, and hair transplants.
Hair transplantation is an effective hair restoration procedure that ensures long-lasting, natural solutions for hair loss and balding concerns. The advanced and well-established clinics in Dubai, UAE, offer the best treatment options with top-notch technology and top surgeons delivering the best results. But hair transplant cost in UAE can be a concern among the people looking for hair transplant in Dubai UAE.
However, when it comes to hair transplant price in Dubai, UAE, they are calculated on a per-graft basis. And per graft hair transplant cost in Dubai can start from $3-$4. For a cumulative hair transplant of 3000 grafts or more, the hair transplant cost in Dubai can go up to $9000 - $ 12000.
2. How is India gaining global value for hair transplant procedures?
Over the years, India has been a centre of the world's attraction for medical tourism. India offers state-of-the-art technology through its well-infrastructured clinics and hospitals. The Indian Government provides ICMR accreditations to clinics to serve better and provide accurate treatment at affordable prices.
If you are in Dubai, UAE, and looking for hair transplant treatment options, it would be wise to get a hair transplant in India. Here are some of the trump pointers pointing out why India has recognition for hair transplant treatment on the world stage.
World-class Surgeons:
India has delivered the best outcomes for hair transplants. AN expert hair transplant surgeon can provide natural hairlines and better aesthetic results. India has globally recognised, board-certified surgeons who have treated many patients around the globe. Apart from high qualifications, the surgeons in India actively participate in Cosmetic and plastic surgery forums and societies while enhancing their skills.
ICMR recognised clinics:
Clinics in India are upgraded and updated with the latest in cosmetic and plastic surgery. Many clinics and hospitals in India have gained a high reputation and years of excellence in treating people with severe and complex hair concerns, including hair restoration treatments.
The Cost factor:
Costs fall under the top-most priority among the many concerns aligned with hair transplants. Like other countries, the costs of hair transplants in India are calculated on a per-graft basis that ranges from Rs 60 to Rs 200 per graft, depending on various cost-influencing factors. India offers globally attractive prices for hair transplants for international patients. One can compare hair transplant cost in Dubai and India.
Also Read: Hair Transplant Cost in India
Aesthetic outcomes:
The most aspiring and desirable concern of hair transplant is the voluminous, natural, and hair-full appearance post-surgery. The aesthetic and natural outcome of a hair transplant is defined by hairline design with the expertise, skill, and precision of the hair transplant expert. One also needs to know that every hair transplant outcome is unique and variable to the hair loss condition and facial structure.
Other additional benefits:
Many clinics in India offer advanced techniques and equipment while ensuring safety and hygienic standards. They also give discounts, accommodation facilities, and other benefits that can help one through an easy, hassle-free hair transplant treatment.
If you are in India, Medlinks is the absolute hair transplant clinic you are looking for. They offer best-in-class hair transplant solutions for national and international patients.
Also Read: Hair Transplant Cost in USA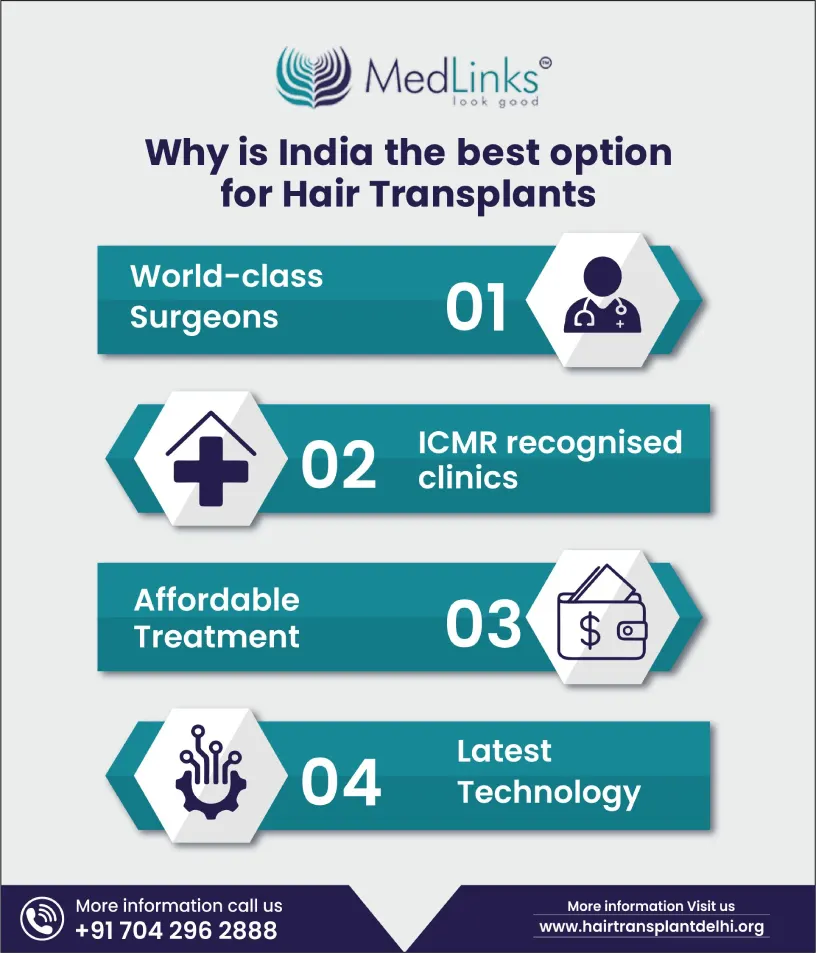 3. Why choose Medlinks as your hair transplant destination?
In India, Medlinks undoubtedly provides a comprehensive hair transplant in Delhi with one of their finest services, "Perfect-i Technology," in hair transplant. Perfect-i infuses FUT and FUE hair transplant techniques to improve hairline outcomes and reduce hair graft damage.
However, if you are worried about the hair treatment cost in Delhi, here is a tabular breakdown of the costs at Medlinks for a better understanding.
Hair transplant technique

Approximate cost at Medlinks

Eye- catching feature of the technique

FUT or FUT+ Perfect-I

Rs. 70 per graft-

Planning, designing, and 100% slit extraction and implantation by a specialised team of experts.

Perfect-I Premium

Rs. 120 per graft

Along with planning, designing, and 100% extraction by a specialised team of surgeons and implantation, utilises "Feather touch" graft handling technology, with precise and prompt graft placement executed by Dr Gaurang Krishna and team.

Sapphire Perfect-I with Ultra High Density and

Sapphire Perfect-I Premium

200 per graft

Involves ultra-modern, high-end, Perfect-I technology with sapphire blades and microincision technique. The two variables, ultra-high density, and premium differ in prices and technique.
Note: This is for clients looking for a luxe experience. Whole procedure executed by Dr Gaurang Krishna.,High end equipment, 5 star lodging, at home/hotel head wash and bandage removal etc.
Medlinks has the best of the surgeons and staff who leave no stones unturned to provide top-class services and treatment while paying attention to the detail of your underlying concern.
Medlinks focuses on giving holistic treatment and care that is well portrayed in their customer review and feedback section with after and before images.
Also Read: Which is Better Hair Spa or Keratin Treatment?
4. Frequently Asked Questions
Hair transplants in India vary between cities and clinics. Innumerable factors affect the costs that, include:
Severity and area of hair loss,
The underlying cause of hair loss,
Expertise and experience of the surgeon,
Clinic's facilities,
Hair transplant technique used, and many others.
Hair in the transplanted region regrows within 6 to 9 months of transplant and is your normal, natural hair. They are a long-lasting and permanent solution to hair restoration.
India is a prominent and globally renowned country for hair transplant surgeries. Its advanced clinics have the latest facilities, highly qualified and experienced doctors, and quality and safe treatment assurance at affordable prices.
Dubai is a progressive city, but currently, it is witnessing an upsurge in hair loss cases. One can blame it on Dubai's bad weather. However, that's not the ultimate reason. Poor diet, stress, and other environmental factors can contribute to hair loss and breakage in Dubai.
Besides, Dubai water consists of chlorine and other chemicals present in the water. It gives the skin and hair a dry and dull look. Someone who has recently shifted to the city will notice hair & scalp issues due to the use of contaminated water. These reasons are evident as to why Dubai people experience more hair loss. The cost of hair transplant in top cities of UAE also depends on the method you choose.
Dubai has some of the most reliable hair transplant clinics in the world. So, if you intend to reduce hair loss and boost growth, now is the right time to opt for a sought-after treatment solution. Here are the methods any recognisable hair transplantation clinic has on offer:
In this modern era, the difference between a good and average clinic depends on hair transplantation methods. The hair transplant cost Dubai depends on the method you choose.
5. Conclusion
Medlinks has treated many national and international patients with intense hair loss conditions and helped them restore hair with natural hairline according to their requirements.
Costs at Medlinks involve the latest technique in hair transplant and a world-class expert who will guide you through smooth and hassle-free hair transplant surgery.
Medlinks take care of every intricate detail of the surgery- the patient's medical visa, travel, accommodation, and medical support. Connect with Medlinks for a comprehensive hair transplant of your severe hair loss condition.
Related Blogs