Hair Loss During Menopause
25 October, 2021
|
Hair Loss
|
Author : Shveta Virmani
When you correlate the side effects of menopause, hot flashes and night sweats are the common issues that people think of. However, hair fall is also an underlying side effect that hits during menopause. As the body adjusts itself to the sudden physical and hormonal changes, the hair follicles become vulnerable and become weaker, leading to hair loss eventually.
Unlike men, hair loss in women, especially during menopause is very subtle. It is primarily witnessed as hair thinning instead of developing bald patches. According to initial studies, the fluctuating levels of estrogen and progesterone in the blood during menopause lead to inevitable hair loss.
In this article, we will highlight every detail there is to know about menopausal hair loss and how you can prevent that to an extent.
Table of Contents
Feel free to skip ahead if one topic catches your eye:
1. How common is hair loss during Menopause?
Hair loss during menopause, and even right before hitting menopause is a lot more common than you'd think. Although the sudden hair loss and hair thinning can be alarming, it doesn't necessarily mean something is medically wrong with the individual.
However, most women do prefer consulting a doctor about the same and getting medically accurate answers. Typically, the specialist will inquire about dietary changes or deficiencies, chronic illnesses, or other external factors like stress for the correct diagnosis.
If you are around the age where menopause is a common trigger, your specialist will suggest it as a possibility.
Although, some doctors do consider other chronic underlying medical conditions during the diagnosis too. These include low iron levels, any kind of thyroid dysfunction, elevated testosterone levels, or even some kind of skin disorder.
Besides these, the doctor will also test for hormonal imbalances in case you are experiencing irregular periods or uncontrolled facial hair growth.
2. Causes of Hair Loss during Menopause
If we had to explain in a single word – HORMONES.
Yes, your hormonal changes in the body could be a trigger for hair loss. This often leads to what doctors term as "female pattern hair loss (FPHL)." The condition is not just common but affects women of varying ages and ethnic backgrounds.
During menopause, the leading hormone estrogen can have fluctuating levels in the bloodstream, different from the normal levels. This directly affects the strength and functions of the hair follicles, leading to unsubstantiated hair loss.
Estrogen supports the hair follicle functions, especially keeping the hair in its growing phase. So, when there is less estrogen in the body, this directly halts the growth and weakens the hair follicles and the hair shaft, leading to hair loss.
The sudden drastic drop in the levels of both estrogen and progesterone makes the hair thinner and weaker. So, even though new hair grows from the follicles, they aren't strong enough to last for longer, causing hair loss.
Besides hormonal changes, even genetic predisposition can play an important role in causing hair loss during the menopause phase. Stress and heightened cortisol levels also feed into the play. So, focus on ways to reduce stress to eventually cope with hair loss.
3. How to Prevent Hair Loss during Menopause?
Suddenly losing a lot of hair with predominant thinning can make one feel self-conscious. However, you need to understand that the bout of hair loss is generally temporary, and your hair will grow back eventually once the hormonal imbalance is tended to.
If you want to prevent perimenopause hair loss altogether, some ways can help:
Practice stress management
The first and likely the most important factor worth noticing is stress. Not many individuals know or understand this, but the heightened cortisol level can directly impact hair loss. The hormonal imbalance during menopause is related to signs of mood swings, anxiety, and even depression in women. This can peak stress levels. Try alternative ways to relieve stress by doing yoga, meditation, and relaxing activities.
Get into exercising
Exercise might not be a consistent choice among many people, but you need to realize that the endorphins released during exercise positively impact one's body. Not only does it manage the hormonal imbalance, but it also has promising benefits intending to other side effects of menopause too. Once you get into an active lifestyle, it will correct the hormonal imbalance, promoting hair growth.
Focus on your diet
What you put into your body reflects on your external features. To combat hair loss, eating a well-balanced diet with nutritional elements is key. Stick to a low-fat diet with more emphasis on fresh fruits and vegetables. Also, supplementing with thinning hair menopause vitamins like Vitamin B6 and Folic acid promotes eventual hair growth.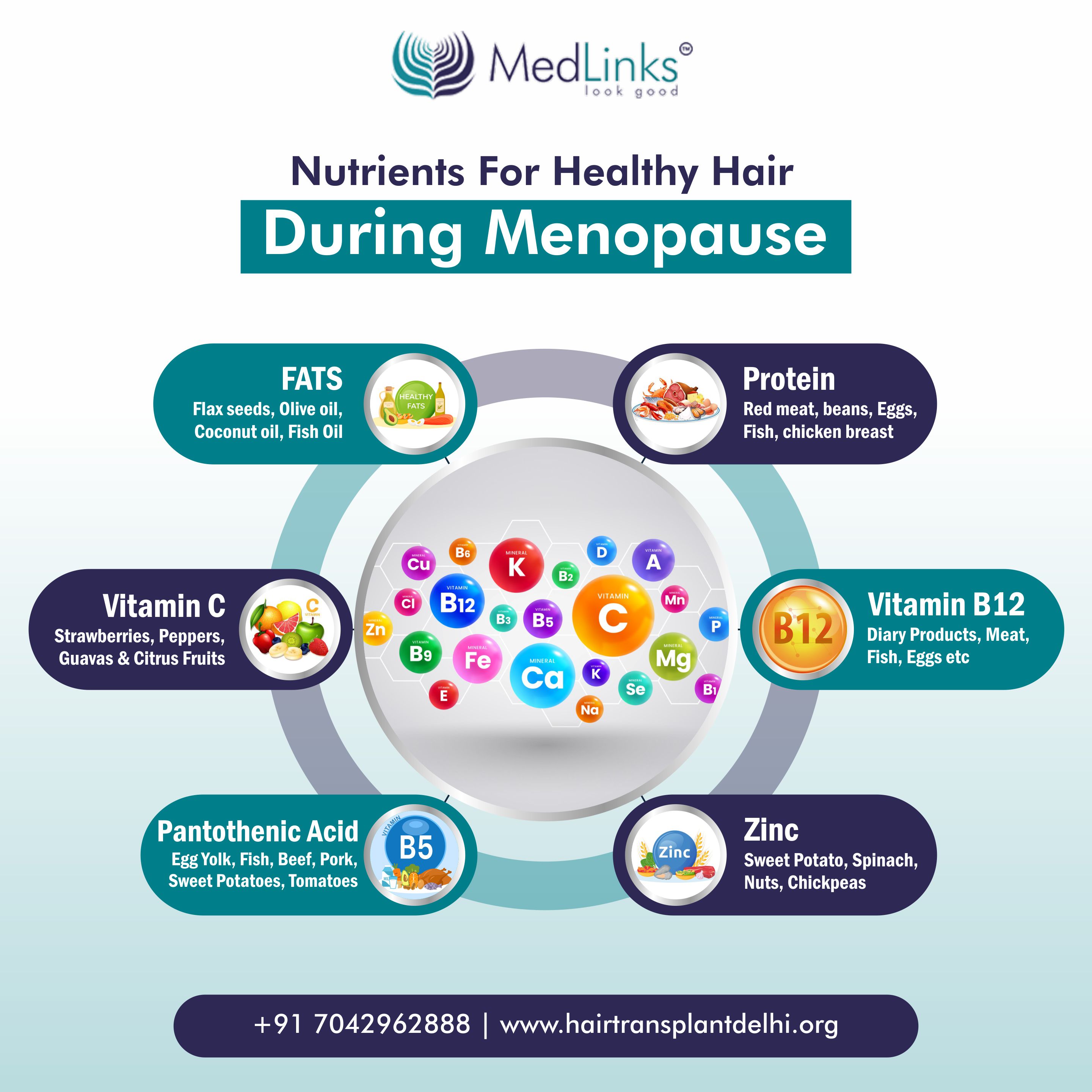 Drink water as needed
Lack of hydration is a key trigger for hair loss. Although it is true that the body's water requirement is subjective and depends on the kind of activity one gets into every day, maintaining proper hydration is key. You need to ensure that you drink enough water to keep your organs functioning properly. Dry skin can weaken the hair follicles, leading to further hair loss. Hydration is key for menopause hair loss prevention.
Discuss with your doctor
At Medlinks, we understand that experiencing sudden hair loss during menopause can be challenging for women. Our experienced doctors can guide patients with the right treatment plan and support they need to reverse the damage and notice promising changes over time. Talking to the right physician can help tend to the condition without imposing permanent damage.
4. Will the Lost Hair Grow Back?
Unless your female pattern hair loss is genetic, the hair loss can be reversed during menopause. Most hair loss issues caused by hormonal imbalance are reversible, which means that you won't have to worry about it never growing back in the future.
You just need to follow the right doctor's prescription and advice. Also, stick to a nourishing diet that tends to stabilize the hormonal imbalance. Taking these small steps can eventually reduce the risks of damage that you are experiencing with hair loss.
Take Away
Experiencing hair loss at any stage is not easy. People feel self-conscious, become reclusive and try to overcompensate for their issues. If you are experiencing menopause and hair loss, please understand that this is an extremely natural process. Most women, at some point in their lives, have experienced this. And, the impacts are reversible with the right treatment.
At Medlinks, our doctors are experienced in helping women deal with such conditions and help them navigate through this in the right way. Our customized treatment plans are addressed to every patient's individual needs.
Related Blogs