Is it a Good Idea to Get a Hair Transplant During the Winter Season?
"Providing the best hair transplant options with the highest standards and quality "~ Medlinks.
Hair loss is one of the most serious issues we face today. Losing 50 to 100 strands is usual and natural for most people. When this number reaches 150 or more, it might be concerning and distressing. Alopecia, or hair loss, can result in significant hair thinning and baldness.
But, you may wonder, what is a long-term solution? The solution is to get hair transplants! Hair transplants have been around for more than 50 years and have evolved with time. Hair restoration procedures are more successful than ever, thanks to newer technologies. Although you can undergo a hair transplant surgery at any time of year, it is a well-known fact that most clients prefer to undergo hair transplant surgery in the winter. November to January often witness an upsurge in hair transplant patients at clinics.
Winter can help with hair transplant recovery in a variety of ways. Let's have a look at why this is so!
Table of Contents
Feel free to skip ahead if one topic catches your eye:
1. Which Season is Good to Get Hair Transplants?
Since then, the success rate has been steadily growing. The success of hair transplant treatments has increased as technology has grown. Hair transplant procedures such as Follicular Unit Extraction and Follicular Unit Transplantation are accessible for the whole year and yield good results.
Before delving into the significance of a season for a hair transplant, it is critical to comprehend what happens during a hair transplant procedure. Donor sites are parts of the scalp that are not affected by hair loss, such as the back of the head. The recipient sites are generally the areas with less hair density. So, hair transplant surgery involves extracting healthy hair follicles from the donor site and transferring them into the recipient sites.
The dermatologist can use either the follicular unit extraction technique where each hair follicle is punched from the skin and subsequently transplanted, or the follicular unit transplantation technique, in which a single strip of skin with hair follicles is excised. Individual hair follicles are then extracted and implanted in the desired location.
While the surgery is beneficial at any time of year, many experts believe winter is especially advantageous. Colder months, such as November through January, have less sunlight, and the heat is not as intense as in the summer. It helps keep heat away from the scalp and away from the follicles. Winters also provide a discrete recovery, and several social factors contribute to winters being a favoured season.
So, if you're considering getting a hair transplant, consider having it done in the winter by the best hair transplant surgeon in India to give yourself a new look for the coming summer months.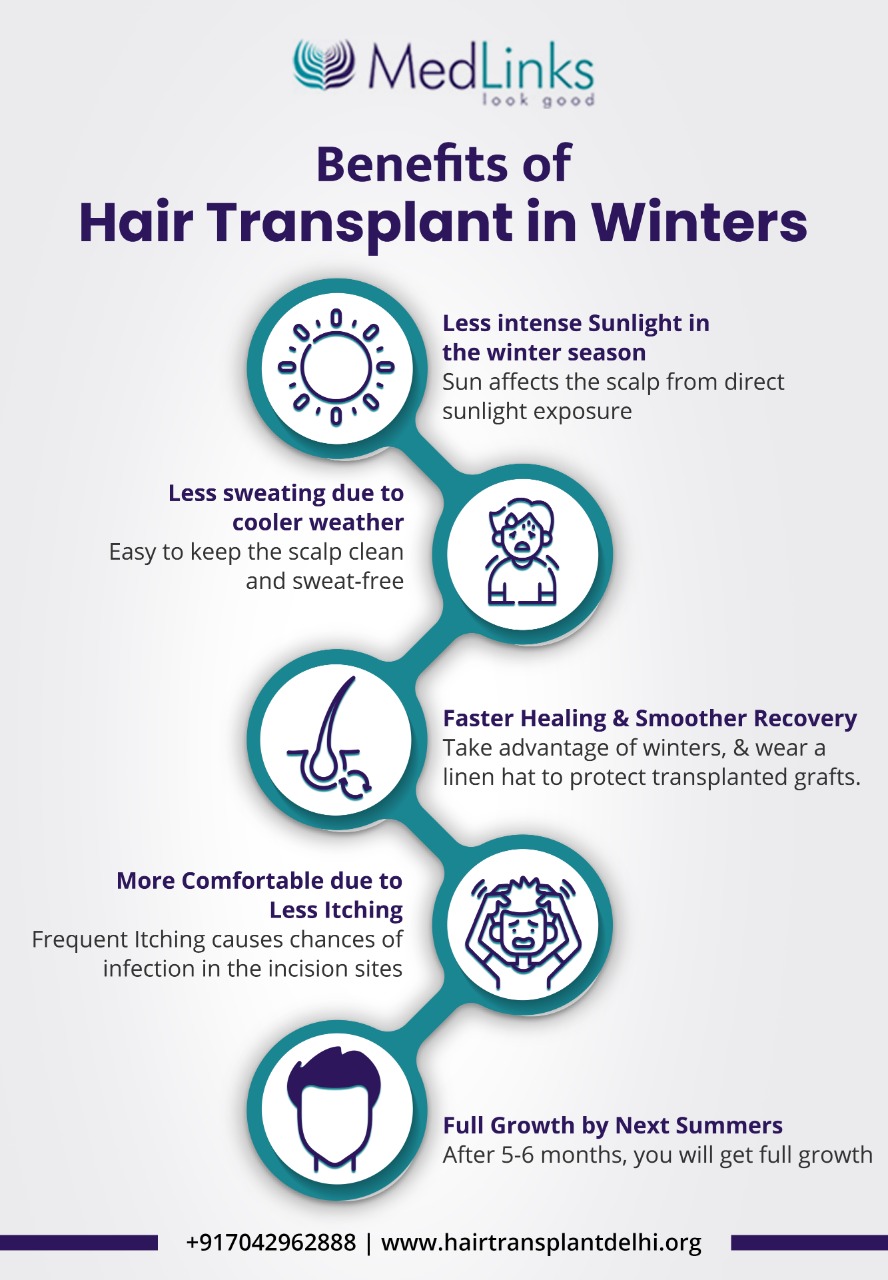 2. Benefits of Hair Transplant in Winters
So, now that we've established that winters have an advantage in terms of recovery. Let's go deeper into the multiple benefits of undergoing a hair transplant during the winter season.
A quiet and discrete recovery: Who doesn't love a good transformation, right? The benefits of a hair transplant can be seen after 6 or 7 months. Patients do not have any hair on their heads during the recovery period. Getting a hair transplant during the holiday season allows you to spend more time indoors. Winters provide the luxury to stay home on holidays while your hair grows back. And after the holidays, you'll be able to flaunt your new look with healthier hair.
A sweat-free scalp: It is typically advised to avoid excessive perspiration immediately following hair transplant surgery. The summer heat is tough to avoid, and sweating is unavoidable. Sweating introduces additional bacteria and increases the probability of infection. Sweating is less common in colder climates. The winter season benefits individuals who primarily work outdoors with less heat and sweating.
Less heat and sun damage: direct sunlight can destroy developing hair follicles and lead to issues such as sunburn and infections. Winters provide cooler temperatures and a smoother recovery.
Hats to the rescue: Winter clothing such as hats and mufflers allow you to cover your head while your hair is still growing. It ensures discretion, and you can go about your daily life without anybody noticing you've had a hair transplant.
Get a hair transplant in this winter season at Medlinks and show off your new style for the upcoming season.
3. Precautions to take After Hair Transplant in winters
Hair transplant surgery necessitates certain precautions after the surgery. Precautions and follow-up care ensure a successful and effective outcome.
Avoid strenuous physical activity such as strength training, gym, swimming, and jogging. Excessive exercise can drain the body's energy and cause excessive sweating, leading to infections.
Avoid consuming alcohol and tobacco. These might have an adverse effect on recovery. It is advised that you should refrain from smoking or drinking after the procedure.
Keep your head elevated when sleeping. It helps to alleviate oedema and aids in recovery.
Avoid irritating the scalp: Although the scalp may itch following a hair transplant procedure, it is critical not to scratch the scalp or the hair.
Long baths should be avoided, as should immersing the head in the water and having extended water exposure. You can keep yourself clean by taking regular showers, but avoid using abrasive towels and a hairdryer afterward.
Avoid dyeing your newly grown hair as dyes and contain harsh chemicals which might harm the new hair growth.
Avoid sweating: refrain from engaging in any sweat-inducing activity. Sweating can lead to infections and other consequences.
Following the post-surgery guidelines can help you notice benefits as soon as possible. By the following summer, you'll be able to confidently walk out with your new hair and a more youthful appearance.
Take Away
MedLinks employs cutting-edge technology, resulting in the best service and treatments that adhere to industry standards.
Medlinks clinic specialises in FUE male hair implants, female hair transplant procedures and numerous other excellent hair restoration treatments. Because of its cost-effective treatments, world-class procedures, and highly experienced specialists, the clinic is regularly alluded to as the best hair transplant clinic in Delhi.
With Medlinks, you get the assurance of a quality treatment!
Make an appointment today to book a consultation this winter!
Related Blogs