Top Hair Transplant Clinics in India
It is a complete myth that only older people witness hair thinning and hair loss. According to researchers, 25% of men start witnessing signs of premature balding and hair loss during their early 20s. But, the condition isn't restricted to just men. Nearly 40% of women also contribute to the overall discourse of hair loss and premature thinning, and hair fall complaints.
Hair transplant is one of the most effective forms of hair restoration that promotes hair regrowth in the balding sites and eradicates the signs of thinning hair on the scalp. If you are set to undergo the procedure, we'd suggest you familiarize yourself with the best hair transplant clinics in India.
We have done the work for you and sorted out a list of the best hair transplant clinics in Delhi and pan India that you can consider.
Follicular Unit Extraction (FUE)
FUE or Follicular Unit Extraction is a popular type of hair transplant procedure that involves individual extraction of hair follicles from the donor site, followed by implantation in the recipient site on the scalp.
There are several qualified and highly acclaimed hair transplant clinics in India that specialize in FUE transplantation. Here is a list of the best ones:
Medlinks
Medlinks is hands down one of the best hair transplant clinics in Delhi, India that you can consider for getting the FUE transplantation done. From having a highly-experienced and specialized team of hair transplant surgeons to using the most advanced techniques, we have established ourselves as a leading option for cosmetic procedures.
We have two well-reputed clinics, in South Delhi and Gurgaon, both known for providing satisfying results to the patients. The clinic has garnered years of experience in Aesthetic Dermatology and Hair Transplants and delivers a range of treatments involving surgical and non-surgical approaches.
Dr Gaurang Krishna one of the leading experts at Medlinks, who has also invented a popular hair transplant technique called PERFECT-i. He has been internationally trained in Hair Transplantation and is a sought after trainer in Robotic and Perfect-i hair Transplants.
Under FUE, our clinic specializes in Perfect-I hair transplant which is a more refined and safer mode of hair restorative surgery. It involves instant implantation of the extracted hair for higher chances of hair regrowth in the future. It is not a very prevalent treatment available in India, however, our team of specialist doctors have adapted to the advancing techniques and made them more accessible to our patients.
AK Clinics
Located in Delhi and Ludhiana, AK Clinics is another well-known hair transplant clinic in India. According to the mission of the organization, their main objective is to bring satisfying and successful cosmetic procedures at affordable costs. It is one of the fastest-growing cosmetic procedure clinics in Delhi and pan India. The clinic specializes in FUE hair transplant, ensuring that every step of the process, from slit making to the transplantation, is done by skilled surgeons.
The clinic was founded in 2008 by Dr. Kapil Dua and Dr. Aman Dua, who are also a part of the teaching faculty at the Dayanand Medical College in Ludhiana. They have treated hundreds of patients struggling with hair loss, balding, and even alopecia.
A unique feature about this clinic that sets it apart from the rest is that they offer free online consultation to the patients to help them overcome their fear of these cosmetic procedures and make an informed decision about the treatment.
Darling Buds
When looking for one of the most renowned hair transplant clinics in India that specializes in FUE hair transplant treatment, Darling Buds is a pioneer in the field. It is accredited as the first clinic in India that transformed its traditional FUT treatment to FUE only clinic.
Led by Dr. Tejinder Bhatti, Darling Buds provides satisfying results to their patients because of his years of professional experience and specialization in FUE hair transplantation. With reinforced state-of-the-art technologies and a team of qualified surgeons, the clinic has been providing the patients with the desired results year after year.
Dr. Bhatti vehemently advocates for FUE treatment as a safer and more reliable hair transplantation treatment. The clinic is equipped with 4th Generation systems and FUE equipment for superior success rates.
Dermaclinix - Dr.Kavish Chouhan & Dr. Amrendra Kumar
Another notable hair transplant clinic in Delhi NCR is Dermaclinix. It is one of the highly-rated hair transplant and skin clinics in India that strives to provide patients with safe and affordable treatment options. The clinic is known for its use of the latest composite hair transplantation techniques for satisfying results.
Dr. Kavish Chouhan is the director, senior consultant dermatologist as well as hair transplant specialist at Dermaclinix. He previously worked as a senior resident at PGIMER and completed his initial residency at AIIMS, Delhi.
Dr. Amrendra Kumar is the founder and managing director at Dermaclinix and is one of the most accredited dermatologists in Delhi. Like Dr. Chouhan, Dr. Kumar has also completed his initial residency from AIIMS, Delhi followed by his senior residency from PGIMER. He has a total of 14 years of experience, with 10 years of specialization experience.
Follicular Unit Transplantation (FUT)
FUT or follicular unit transplantation is another type of popular hair transplant technique where the extraction of the hair follicles is done in strips and groups of 1-4 hair follicles instead of just one single unit. It is alternatively known as the strip procedure.
If you are looking for the best clinic for hair transplant in Delhi and pan India that specializes in FUT, here are a few options.
Dr. Vasa
Known for his own hair transplant training academy in Gujarat, Dr. Sanjeev Vasa is one of the most esteemed hair transplant specialists in India. He is known for his innovative and patented "Feather Touch Technology" which is popular in the field of follicular hair restorative procedures. Dr. Vasa is a pioneer in the field of hair transplantation and restoration with over 23 years of professional experience.
In addition to his surgical experience, Dr. Vasa is also known for designing and developing surgical instruments across the country. This includes strip retaining plate, follicle dissecting platform, needle stopper, and bud holder and dabber.
After acquiring his graduation medical degree from India, Dr. Vasa completed his post-graduation in the U.K and practised there for 9 years, following securing his certification from the Fellowship of the Royal College of Surgeons (FRCS).
http://www.hairtransplanttraining.net/
Enhance Clinics - Dr. Manoj Khanna
If you are looking for a leading FUT hair transplant clinic in Delhi, Enhance Clinics is a popular option. The primary objective of this clinic is to bring unparalleled aesthetic transformations that leave their patients satisfied and feeling their best. Dr. Manoj Khanna is the Chairman and Managing Director at Enhance Clinics.
Dr. Khanna is one of the most popular celebrity hair transplant surgeons with both national and international accreditations. Apart from his initial degrees (MBBS, MS, and MCh) from Kolkata, he has further completed his specializations from the United States. He has successfully completed over 4500 hair transplant surgeries with satisfying results.
He is also known for the development of a unique hair transplantation instrument called the "Kolkata Slit", which aids Follicular Unit Hair Transplantation (FUT). The instrument is currently in the process of getting patented. Click below on the link to know more details.
https://www.enhanceclinics.in/
Dr. A's Clinic
Dr. A's Clinic is a leading hair transplant and restorative clinic that specializes in FUT technique. It is one of the finest clinics in India, offering the latest hair restorative procedures at affordable costs and higher success rates. The clinic is run under the guidance and leadership of Dr. Arvind Poswal. He is known for inventing the stitch-less FUSE technique, that has paved its way for several recent advances in the field of cosmetology.
Dr. Arvind Poswal completed his initial medical education from Armed Forces Medical College, Pune (India). Since then, he has acquired over 20 years of experience in this field, offering skilled and precise treatment options to every patient that has come to their clinic.
At Dr. A's Clinic, the procedures are done by well-trained professionals, who have years of experience to provide restored hair growth without compromising on a natural appearance.
Medlinks
Not just in FUE, our team of experienced dermatologists and cosmetologists are experienced in FUT hair transplantation. The patients hail from over 25 countries across the world. Dr. Gaurang Krishna is a renowned hair transplant surgeon, who is known for inventing new hair transplant techniques. Dr. Krishna has received comprehensive training in hair restoration surgery, dermatosurgery, and cosmetic surgery. He has been in fact a hair transplant expert for several celebrities from different industries.
The clinic is also equipped with the latest cutting-edge technology including cold LED lights, stereo-microscopes, and high-resolution cameras to ensure higher success rates for the patients. We strive to provide our clients with world-class treatment for long-lasting results and not quick fixes. Our aim is to cater 360° solutions to the patients with customized treatment plans.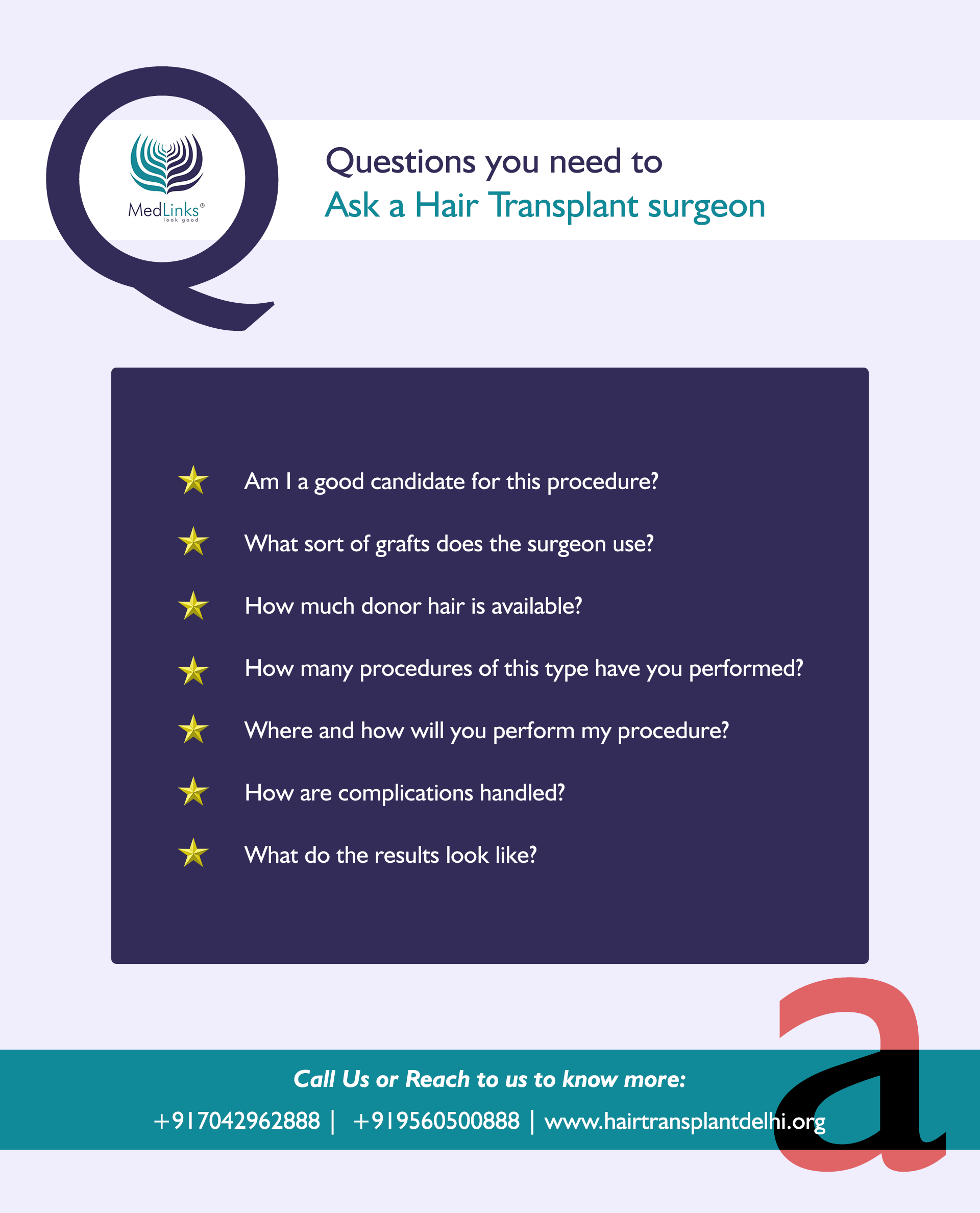 Composite (FUE + FUT)
Aside from individual treatment options of FUE and FUE hair transplants, there are some of the best hair transplant clinics in Delhi that offer a combined treatment at cost-effective packages. For your convenience, the following is the list of clinics that offer both.
Medlinks
Medlinks has a dedicated floor for the best-in-class hair transplant. The experts here first evaluate your condition with minute detailing and then customize a treatment plan. This makes us one of the best hair transplant clinics in Delhi, India.
Being a part of TrichoDerm Medical Group, Medlinks harbour a team of qualified cosmetic surgeons who have worked on both male and female hair loss issues and getting near-perfect results after the procedure. We strive to provide our clients with optimal post-operative care to ensure satisfying results. The team has served more than 633 Indian patients and more than 219 international patients.
Dr. A's Clinic
Dr. A's Clinic is a nationally acclaimed to be a leading hair transplantation clinic offering natural-looking hair transplantation with high success rates.
As per the primary objective of the clinic, the team of experienced cosmetic surgeons ensures that the patients leave with 100% satisfaction and effective hair regrowth after a few months of initial recovery following the composite hair transplantation treatment.
Satya Skin Clinic
With over 15+ years of professional experience, Satya Skin Clinic specializes in composite treatment. They are a critically acclaimed name in the field of hair restoration and skincare. Dr. Shail Gupta is a leading hair transplant surgeon at the clinic, who has performed more than 1500 hair transplant surgeries so far. He is a member of esteemed associations like the American Academy of Aesthetic Medicine, Cosmetic Dermatology Society of India and many others.
The main objective of this clinic is to provide treatment to every patient with optimal discretion and empathy. The clinic is equipped with all the latest equipment and technologies that aid in professional results and higher success rates. They focus on client safety and positive results without any ulterior motives.
Hybrid (Hair transplant + Hair patch)
Hybrid hair transplant is one of the most recent hair restoration techniques that make use of both the traditional FUT and the new FUE procedure to be able to transplant as many grafts as possible. The results are very close to the natural hairline appearance.
Medlinks
Along with FUE, FUT, and composite hair transplantation procedures, Medlinks also has a team of hair transplant surgeons that specialize in hybrid hair transplant procedures. The team of specialized surgeons at Medlinks, one of the best hair transplant clinics in Delhi, work together to first assess the severity of the hair loss in the patient and then suggest the best treatment option for them. With the usage of latest techniques, we have managed to become a leading pioneer and the best hair transplant clinic in Delhi.
When it comes to the overall infrastructure and interiors of the clinic, Medlinks is rated with 5 stars. The team uses UV sterilization techniques to keep everything free from infection. Additionally, the operating rooms are absolutely free of any bacterial or fungal infection.
Take Away
If you had been wondering, "Which is the best hair transplant clinic in India?", we hope this article gives you all the insights and was helpful for you in making an informed decision. Make sure you go through the details of all the best mentioned to sort out the one that works the best for you, both in terms of the cost and your expectations from the procedure.