Shock Loss After Hair Transplant | Medlinks
Hair transplantation indeed helps erase the grief of hair loss, balding, and hair thinning issues. One of the rarest possibilities after a hair restoration surgery is a shock loss. It is seen in nearly 5% of hair restoration cases.
Though shock loss is an aftermath of a hair transplant surgical procedure when the hair around the transplanted zone or the recipient area sheds, it is a temporary phase and more common in regions surrounding the recipient site. The situation can occur suddenly and be a sudden shock or trauma that can happen even in the donor area due to extraction, hence the name shock loss.
It is said that this trauma of losing hair after a hair transplant can be physical, chemical, or both. This article explores what exactly shock loss is, its causes, and more.
Table of Contents
Feel free to skip ahead if one topic catches your eye:
1. What is Shock Hair Loss?
Hair transplant surgeries have been a boon to people who have suffered intense hair loss, and pattern baldness or androgenetic alopecia. The recovery and healing phase of hair transplant involves the shedding of hair surrounding the recipient and donor zones.
This shedding or fall of hair after a hair transplant is temporary and termed as shock loss due to the sudden trauma after the surgery.
The hair surrounding the donor and the recipient sites fall due to the stress and trauma post-surgery. This is a specific yet rare condition that can come as a shock. Though rare or temporary, the shock loss post-surgery can impede self-esteem and hopes of hair growth and revival. One gets to worry more when the hair does not grow even after a temporary shock loss.
2. What Causes Shock Loss After Hair Transplant?
As mentioned earlier, shock loss can be physical, chemical, or both. There are no particular factors to pinpoint for shedding after a hair transplant. However, some of the possible reasons for a shock loss after a hair transplant can be penned down as follows.
Extended use of local anaesthetics during unusually long sittings that run beyond 12 hours in the donor area.
If the body produces more dihydrotestosterone or DHT, it can cause premature shedding of hair.
The hair surrounding the donor and recipient sites temporarily can go into trauma after a hair transplant, causing a hair transplant shock loss which is temporary.
Trauma due to the excision of tissues or poor suturing techniques at the donor site can lead to a shock loss at the donor area of hair transplant.
During a hair transplant surgery, improper magnification of the native hairs does not allow accurate incisions and implantation. This can damage the native hair follicles.
Hair miniaturisation at the shock loss area can leave permanent hair loss in these regions, as miniaturised hair tends to shed permanently.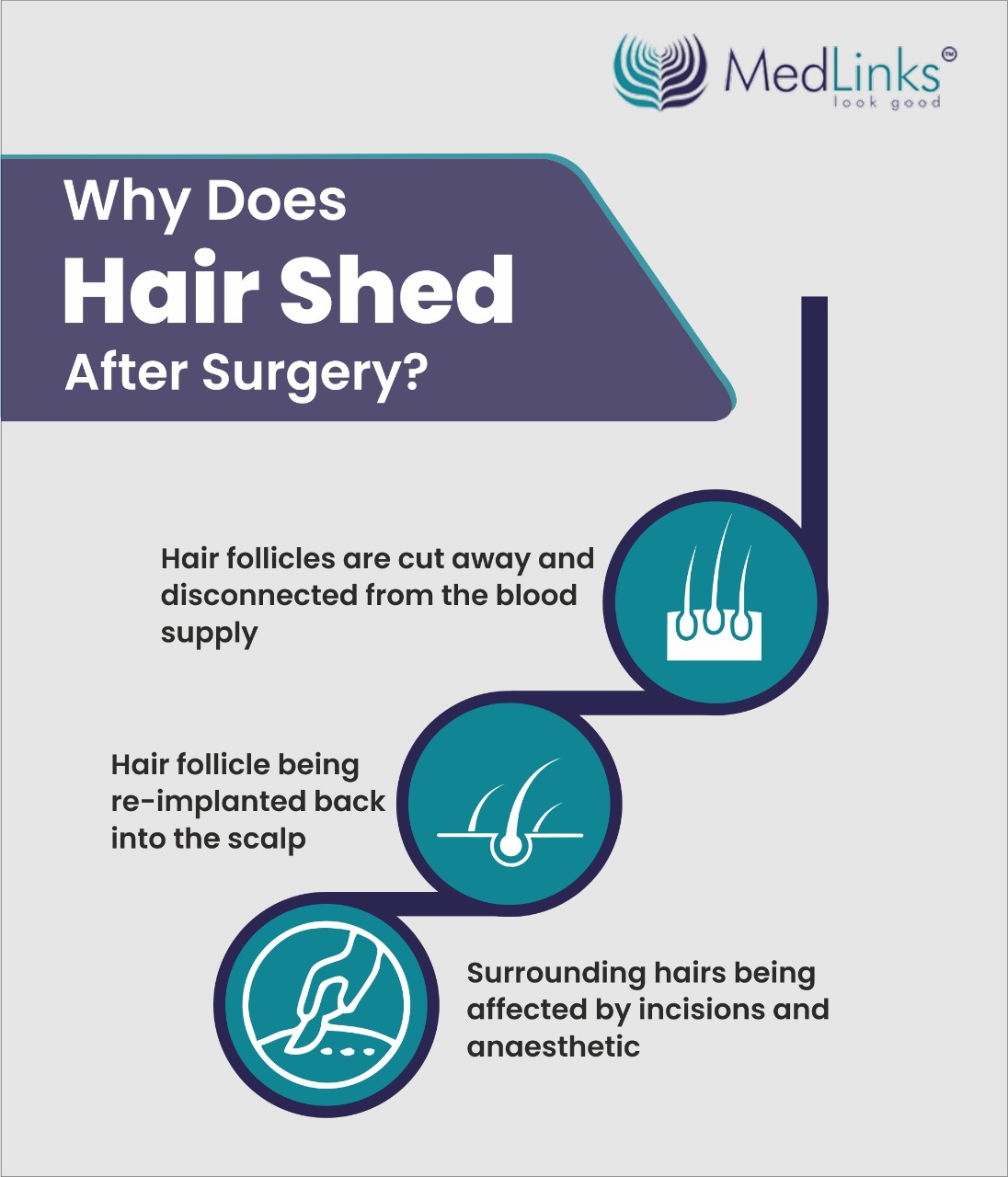 3. Can Shock Loss After Hair Transplant be Permanent?
Loss of hair can be distressing, and hair loss after a hair transplant can contribute to a significant amount of psychological distress. Shock loss after a hair transplant is a rare condition affecting less than 5% of the total hair transplant cases.
People experiencing shock loss post hair transplant tend to lose their native hair. The hair surrounding the bald regions especially are the hair that are on the path of miniaturisation. And if the progression of baldness is aggressive, shock loss can lead to permanent loss of hair.
Is There Anything To Worry About Shock Loss After Hair Transplant?
Shock loss occurs in the sites around the recipient and donor regions of transplant. There is nothing to worry about, when these traumatised sites of hair loss grow new, healthy and natural hair. However, it can be a matter of concern when the loss of hair is permanent with least chances of new hair regrowth in these regions.
It is often said, shock loss cannot be predicted but can be prevented with proper care before and after a hair transplant.
Certain studies show that the use of Minoxidil and Finasteride topical solutions for a month before the surgery and continuing during the recovery period can slow down the hair loss process and propagate hair regrowth. Thus, allowing a quick recovery and hair regrowth process after surgery.
If the shock loss is temporary and there are high chances of hair regrowth, low-level laser therapy (LLLT) can stimulate the cellular activity of the hair follicles while benefiting faster healing and hair regrowth.
Hair supplements and essential vitamins can promote quicker hair restoration and the healing process in the shock loss regions.
The skill and experience of the surgeon also help minimise the possibilities of a shock loss after a hair transplant. It is important to check the surgeon and their team's credentials while selecting a hair transplant clinic or surgeon.
At Medlinks, you are assured of the finest hair transplant in India. Our extensively qualified and trained specialists ensure the best hair transplant without side effects and shock loss risks.
FAQ's
1. How long does it take to recover from shock loss?
Typically shock loss is rare and temporary. Within 9 to 12 months of hair transplant, hair grows back. However, the hair regrowth initially appears patchy and may take 12 to 18 months post-surgery to regain an even hair growth appearance.
2. Can shock loss affect the existing hair?
Trauma or shock loss after a hair transplant cannot destroy the existing hair. However, it can temporarily cause shedding in and around the recipient as well as the donor areas.
3. How can I prevent hair loss after a hair transplant?
There are no defined ways to prevent shock loss after a hair transplant. But certain prescribed medications, the use of medicated topical solutions, and low-level laser therapy (LLLP) can propagate faster hair growth in the shock loss regions.
Take Away
One of the rarely occurring side effects of hair transplants is temporary shock loss, where the areas adjacent to the donor and recipient transplant sites go to a transient traumatic phase. Your doctor will need to inform you about the shock loss possibilities before you go through a hair transplant. At Medlinks, we give the best hair transplant in Delhi with quality, transparent and scientific hair transplant solutions where the possibility of such post-surgery complications is minimal.
Medlinks is proud to present its panel of highly successful and experienced hair transplant surgeons who leave no stones unturned to give you the best. MedLinks uses cutting-edge technology resulting in the highest level of service and treatment standards.
Related Blogs