Is Hair Transplant Permanent? Do They Last Forever? | Medlinks
Hair transplants are one of the most cost-effective procedures compared to various hair restoration procedures available in the markets. Hair transplant surgery involves the extraction of hair grafts sourced from your head and body to be placed in the recipient or balder sections of the scalp.
The first three months post hair transplant, you may find "shedding" of the transplanted hair. But, not to worry much, as a part of your hair growth cycle, the natural hair grows after the shedding phase of the newly transplanted hair.
While the procedure helps restore natural hair regrowth, according to studies, almost 85 to 90% of hair transplants regrow within 9 to 12 months of surgery. This article gives you all the details of the permanent and long-lasting effects of hair transplant surgery.
Table of Contents
Feel free to skip ahead if one topic catches your eye:
1. What is Hair Transplant?
A hair transplant is a permanent hair restoration solution for your hair loss concern. Hair transplants allow natural-looking hair to grow on the transplanted or hair thinning sections of the scalp.
During a hair transplant, the surgeon harvests hair grafts from good thickly growing hair sections and carefully implants them in the recipient region. Since the first hair transplant was performed in Japan, the procedure has seen progressive advancements where now micrografts are used that are microscopically handled.
This helps create natural hairlines and precise placing of grafts in hair thinning regions, improving the durability and stability of hair transplants.
2. Who is a good candidate for a hair transplant?
Men and women having the following conditions can be ideal candidates for a hair transplant.
Androgenetic alopecia (AGA) with good donor sites,
Hair thinning or female pattern baldness,
Male pattern baldness,
Hair loss due to trauma, accident, burns, or scars.
However, the following two criteria must be fulfilled to be considered for a hair transplant.
Have enough healthy hair on the scalp that can be extracted for implantation in the recipient regions.
Can grow hair on the thinning regions of the scalp
Your dermatologist will check the above two criteria through a detailed scalp examination. The dermatologists will also order a blood test to know the exact cause of hair loss. Scalp biopsy is another test done to know the scalp's health.
After the detailed evaluation and investigation, your dermatologist will decide whether or not you are eligible for a hair transplant while discussing the goals and results of a hair transplant.
3. What happens during a hair transplant?
Hair transplant surgery involves local anaesthesia administration that numbs the scalp. The whole procedure may take anywhere between four to eight hours. And, if your transplant region is large, you may need an additional sitting.
In India, there are two types of hair transplant techniques adopted.
Follicular Unit Strip Surgery (FUSS) or Follicular Unit Transplantation (FUT)
Follicular Unit Extraction (FUE)
The principle concept remains the same in both techniques but the methodology, duration, and outcome variables.
The surgeon will take you through the following steps during the hair transplant surgery.
The surgeon extracts the healthy hair from the donor sites. In the case of FUE, the surgeon will trim the healthy hair before extracting individual hair units.
In FUT, the entire strip of skin with thick hair is harvested.
The skin segments in FUT are sealed with the help of sutures. The hair strips in FUT extraction are prepared and cut according to the donor site.
The donor site is simultaneously prepared, and the extracted individual hair or hair segments are placed into the balder regions of the scalp.
After the transplantation, the scalp will be covered with gauze and bandages.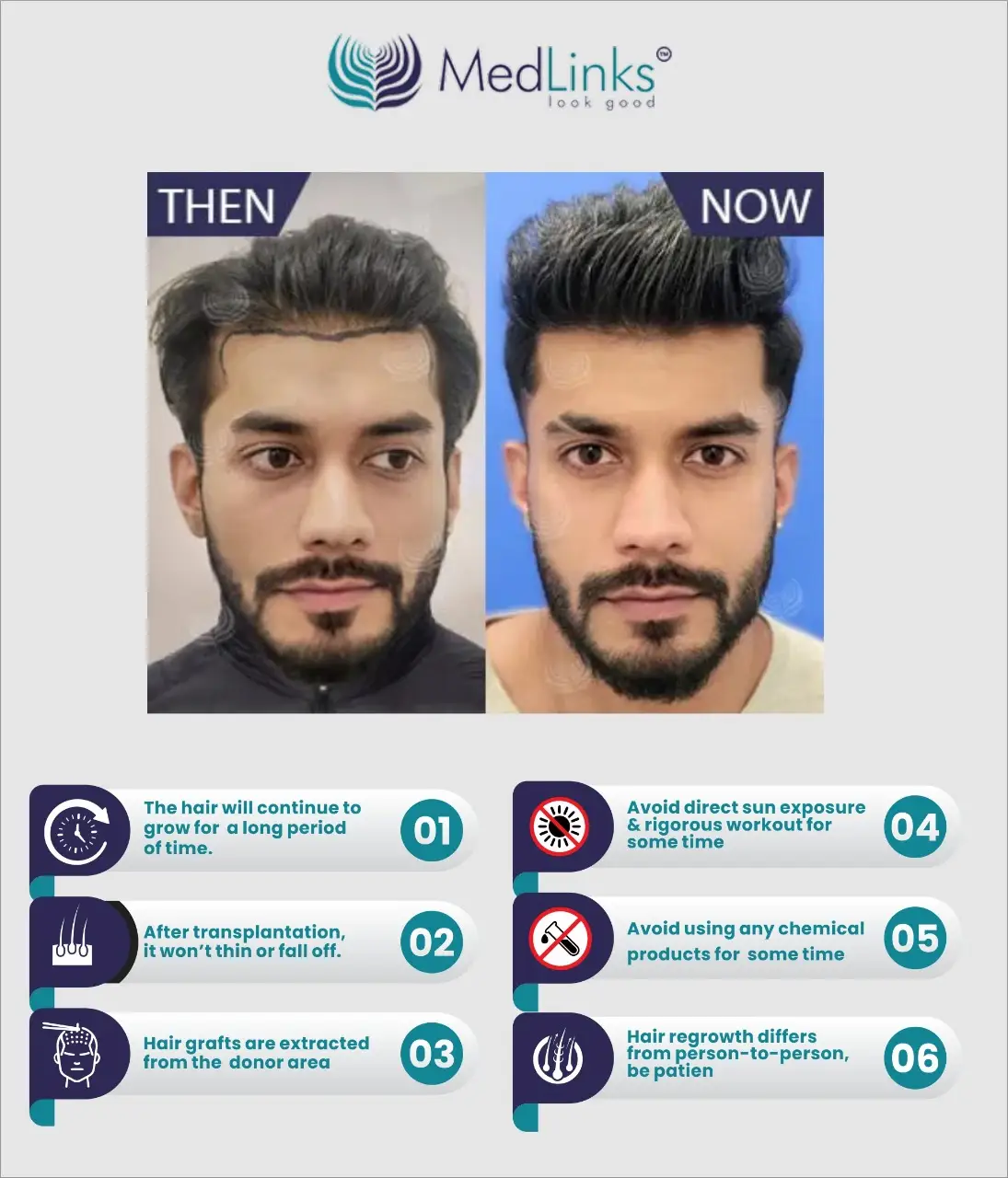 4. What happens after a hair transplant?
After a hair transplant, the scalp will be tender and sensitive. You will likely experience pain, bleeding, and swelling, so you will be prescribed pain medications. You may also be prescribed antibiotics and anti-inflammatory medications. The bandages will be on for a couple of days post-surgery.
However, you can resume your work and daily routine 2 to 5 days after surgery. After 2 to 3 weeks of surgery, the transplanted hair may fall out or shed. This "shedding" is normal and can continue for up to three months.
In both FUT and FUE, new hair growths will likely be seen after six to nine months of surgery. Statistics show that nearly 85 to 90% of the transplanted hair regrow back. You may also be given extra medications like hair growing capsules to help improve hair growth. You will need to follow a post-hair transplant guideline given by your surgeon that can aid in better and quicker recovery. Some of them are mentioned below.
Avoid steroids and cortisone that can increase bleeding possibilities.
Alcohol and smoking is a strict no before and after surgery.
Have adequate sleep and try to sleep over your stomach till the scalp heals completely.
Avoid applying hair spray, gel, or other hair styling products.
Refrain from vigorous physical activities, sports, and exercising.
Do not shampoo your hair for a few days or until instructed.
Do not wear a wig or accessories or style your hair until the doctor tells you.
5. What is the long-term outlook?
Healing from a hair transplant can take a while. However, once all the transplanted region has healed, the follicles producing hair eventually make an appearance, and new hair of similar texture and colour presides to grow. Hair transplanted through micrografting allows for cutting, styling, and dying according to your choice.
Many people question if the hair transplant can hold for a long term or duration. It is necessary to understand that as you age, hair thinning can be a part of your hair growth cycle. But, most of your transplanted hair is retained for the rest of your life.
However, if hair thinning continues like the earlier pattern of hair loss, you will need to discuss it with your dermatologist to prevent a patchy hair appearance.
6. How long do hair transplants stay?
This is one of the most often asked questions by hair transplant patients. In General, hair transplants last for a lifetime. They are designed to be a permanent solution with no or nil rework.
Hair transplants give a better hairline with many new hair growths. The best part of hair transplants is that they help restore natural hair sourced from yourself. In the initial days after transplant, people may observe hair fall. However, this is followed by regrowths.
After a year or more of proper post-operational care, the hair transplants show evident results that live up to one's lifetime.
7. Important things you should know before planning a hair transplant
Before you move ahead with your hair transplant plans, you need to know a few important things about hair transplants.
A hair transplant is a minimally invasive surgical procedure. Among FUT and FUE, FUT is a more invasive procedure with major scars and a longer healing time. And FUE involves minimum tiny dot-like scars with quicker healing comparatively.
Post-surgery healing and regrowth, the transplanted hair is as good as naturally growing hair and can be treated as one with regular hair care and maintenance.
It is critical to understand that every person's condition and needs are different, so hair transplants and its outcome also vary.
Hair transplants involve high-grade technology and can adopt new robotic instruments to give better accurate results.
Hair transplant outcomes depend on a number of factors, including the experience and expertise of the surgeon and team. However, the post-surgery recovery and outcome depend on the after-surgery care and follow-up guidelines.
Most transplanted hair regrows after a year or more of surgery, with fewer possibilities of hair thinning and hair loss in the transplanted zones.
FAQ's
Do hair transplants grow back?
You may experience a fall out of transplanted hair. the first few months after the transplant However, most hair transplants regrow within 12 months of hair transplant.
Is a hair transplant a success?
The patient satisfaction quotient generally decides the success of a hair transplant. And most hair transplants are regarded as successful in restoring the patient to a healthy, natural hairline.
Is a hair transplant painful?
The hair transplant procedure is painless as it is performed under local anaesthesia. However, as the anaesthesia effect subsides, the transplanted and the extracted sites can get painful but are managed through pain-relieving medications.
Is hair transplant safe?
Hair transplants are relatively safe when performed by highly skilled and qualified hair transplant specialists.
Take Away
Hair transplants are an effective treatment option for people having severe hair loss and balding issues. Hair transplants are designed to restore natural, thick hair permanently, as they show long-lasting results with no rework. Medlinks assures the best hair transplant in India with a more sustainable hairline and natural-looking hair restoration. They have state-of-the-art facilities with best-in-class doctors to give the best possible outcome.
Related Blogs