How to cure baldness in male?
In recent years studies have shown that the rise in the number of patients with hair loss problems ironically has achieved a milestone. The condition of hair loss is typically detected more in males as compared to females. The reason males tend to lose more hair could be genetic. The most common hair problem in males is pattern baldness. Baldness in male, also named androgenetic alopecia, is an inherited genetic disorder. According to some research and studies, it is quite evident that at least more than half of the male population with the age of above 50 years are suspected individuals dealing with this disease.
Perhaps, the genetic cause isn't the only factor leading to baldness in male but there are various other factors that are increasing the prevalence of such conditions. Factors such as stress, diet, or any other autoimmune disorder like alopecia areata can result in hair loss in males. Hair loss is indeed an inevitable situation, but fortunately, our team of doctors at Medlinks has invented various treatments to halt or slow down the process.
Table of Contents
Feel free to skip ahead if one topic catches your eye:
Like always, Medlinks have taken a step forward to help individuals with their hair loss problems. Medlinks wants to make sure to be successful in preventing or treating hair loss. So, here are some hair loss treatments which can cure male baldness. Before we jump on to the various treatments, we must understand the pattern of hair loss in men.
1. What is hair loss in men?
We know that losing fifty to a hundred strands of hair each day is normal. And this unnoticeable hair loss is compensated by the growth of new hair in place of the lost hair. Hair loss is only considered a problem when the hair falls out in excessive numbers and starts causing baldness due to the inhibition of new hair growth.
The pattern of hair loss variably leans on its etiology. Individuals may begin to notice hair thinning or even bald patches. The hair loss problem can affect not only the scalp but the entire body of an individual. Moreover, most of the guys facing pattern baldness result from a genetic inheritance from the parents to their offspring. Other factors comprise certain drugs, excessive vitamin A, or insufficient protein.
Research has shown that around 85% of the male population suffers from major hair thinning problems by the age of 50. However, males at the young age of 21 or more can also encounter the problem of hair thinning. Numerous myths have left some voids that need to be filled by making individuals aware of their hair condition and also to be aware of everything else.
Carrying a head cap won't cause baldness, nor moving fingers across your hair. Combing, brushing, twisting, or styling your hair would not cause the problem of hair loss. The only thing you have to take care of is to be gentle with your hair to avoid the breakage of hair strands.
2. Causes Of Baldness In Male
#1. SMOKING
Smoking is the cause of many health diseases, including hair loss. Smoking can make male pattern baldness even worse. So if you are facing a problem of constant and pattern baldness, smoking could be the reason for it.
#2. USE OF CHEMICAL HAIR PRODUCTS
Using tons of advertised hair products for your hair is too sham. You might suffer from severe hair loss problems, resulting in pattern baldness.
#3. HORMONAL CHANGES
Due to changes in lifestyle and sleep management, a hormonal imbalance could lead to hair loss problems.
#4. MEDICAL CONDITIONS
Variable conditions can result in permanent or temporary hair loss due to pregnancy, thyroid problems, immune-mediated disorders, and hair-pulling disorders named as trichotillomania.
#5. RADIATION THERAPY
The Harmful radiation exerted by radiographic machines can result in hair loss problems.
#6. STRESS
Almost every second person is now experiencing hair loss and thinning problems caused by physical or emotional shock.
#7. MEDICATIONS
Certain drugs can lead to hair loss problems due to their various side effects. For example, drugs commonly used in treating cancer, arthritis, depression, cardiac problems, and hypertension.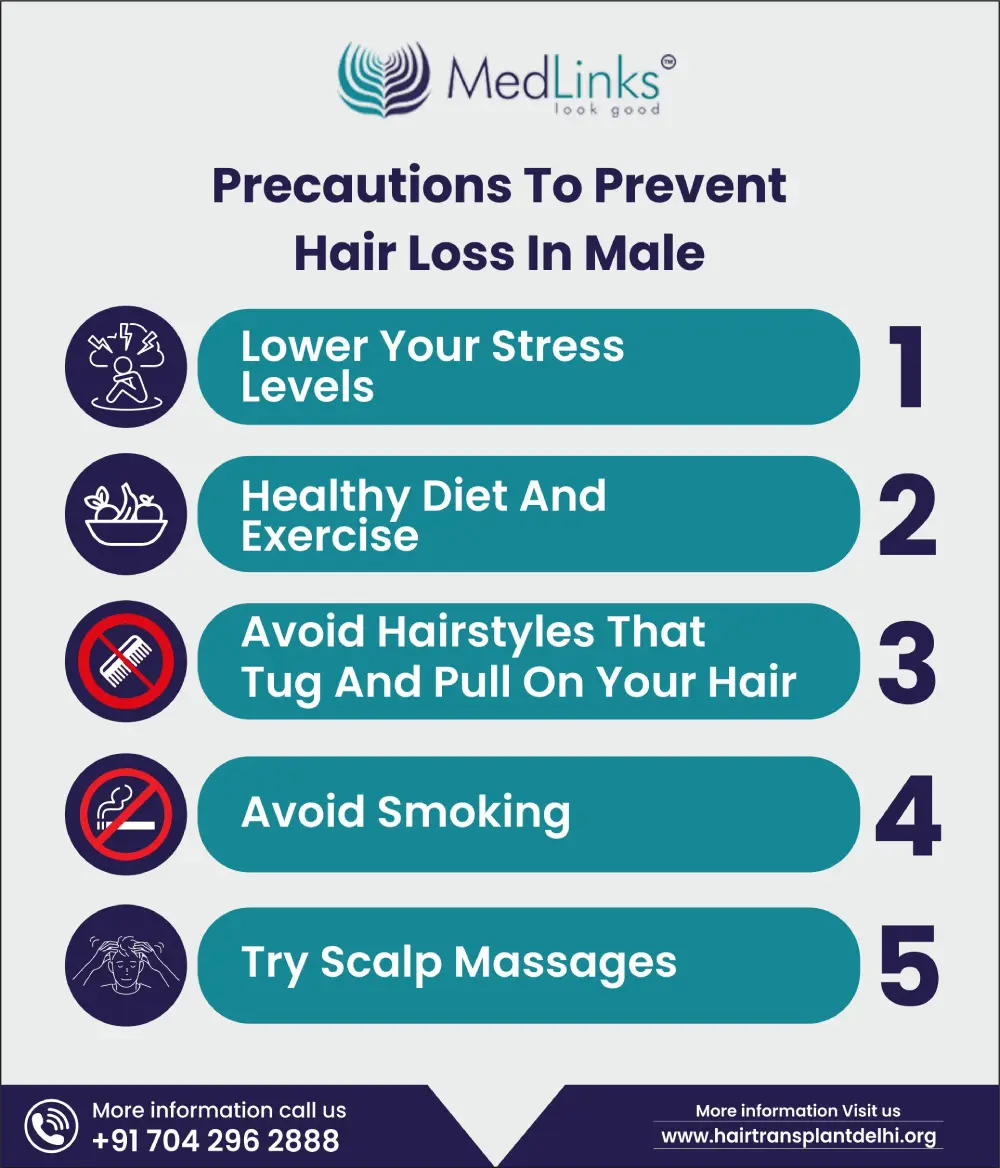 3. Medlinks suggests the 6 best treatments for hair loss
Hair Loss Medication: Minoxidil
There is no cure for male pattern hair loss, but some medications can slow it down. Minoxidil is an FDA-approved over-the-counter treatment that is applied to the scalp. It slows down the rate of loss and helps some men to grow new hair. But as soon as you stop using it, the hair loss will return.
Hair Loss Medication: Finasteride
This prescription pill slows down your body's DHT(Dihydrotestosterone) assembly line. Some results show that men have been able to grow new hair while utilizing it. Many experts think it works better than minoxidil. Pregnant women shouldn't touch the drug -- it can cause congenital disabilities in baby boys. Like minoxidil, it works only while you're using it.
Laser Combs
Laser combs are a newer form of hair loss treatment. Proponents claim that these devices encourage hair growth by using concentrated light to stimulate hair follicles. This treatment has mixed results and may work better when combined with other forms of treatment.
Studies have surveyed the impacts of low-level laser therapy in 32 men and women suffering from androgenetic alopecia. Researchers have found that manipulating laser combs in a hybrid with minoxidil and finasteride drugs can help encourage hair growth.
Wigs and hairpieces
In rare cases, hair loss can be permanent or even long-term. Some individuals are afraid of medical treatments; they may prefer a non-medical strategy for treating hair loss. The alternative to any other hair treatment, wigs, and hairpieces delivers a way to repress hair loss. The last few years have been a great time for these alternatives. Also, it comes with hundreds of benefits too.
Surgery
The ultimate permanent solution to your hair loss is hair transplant surgery in delhi. This treatment has proven results on bald people who now have satisfactory and desired results. The procedure of this treatment consists of removing hair follicles from the neck and back region of your head and then maintaining all the safety measures. The removed hair follicles are implanted on the scalp. The surgery is performed with a minimally invasive method to control the bleeding and other complications.
4. Takeaway
A human is not defined by his hair or appearance. Humans are defined by their work and ability. We all have so much to offer this world that losing hope just because of hair loss is not justified. Some things aren't in your control to stop them but you do consist the ability to take care of the stuff that is under your control. Sometimes it's okay to seek help and support from surroundings. That's why we are here. Medlinks will provide you with all the necessary and desired treatments to cure your hair loss. With a team of top doctors, Medlinks has an excellent facility and affordable treatments. So choose confidence. Choose Medlinks.
Related Blogs