How to Avoid Hair Damage from Blow Dryers, Flat Irons ,and Curling Irons?
28 September, 2021
|
Hair Loss
|
Author : Shveta Virmani
Our hair is subjected to a lot of damage and irreparable impacts throughout our lifetime, especially involving chemical and heat damage. If you have wavy or unmanageable hair and you use blow dryers and flat irons, the chances are that the temporary styling can eventually lead to permanent damage over time.
Every person on this planet is looking for ways to avoid hair damage while styling it the way they want. Heat styling can be fun and a quicker way to get the desired look, but you can't deny that it strips the natural hair oils and damages the hair follicles and shaft.
This article will discuss some of the best ways to avoid hair damage from heat styling tools, including blow dryers, flat irons, and curling irons.
Table of Contents
Feel free to skip ahead if one topic catches your eye:
1. How do Hair Styling Tools Work on Your Hair?
It doesn't matter which kind of heat-induced hair styling tool you are using; you must know how they work. Typically, every product like these works by changing the structure and chemistry of your hair.
The heat from the blow dryers, flat irons, and even the curling irons tends to break the hydrogen bonds in the hair located around the cortex.
During straightening, the hydrogen bonds in the hair shaft and around the cortex are broken down. However, the opposite happens when you are curling your hair because these hydrogen bonds are further strengthened.
The reason why most of the heated hair styling is temporary is that the hydrogen bonds typically reform when it is exposed to moisture. If an individual wants permanent straightening or perm in their hair, the stylists use a chemical including thioglycolic acid.
2. What Happens When You Use Styling Tools Daily?
Wondering how to keep your hair healthy? Well, this is where you need to stop curling and straightening your hair like there's no tomorrow. Persistent and continuous styling with heat products is what ends up causing the main issues.
Daily exposure to heat from different styling tools will damage your hair in innumerable ways, including:
Cause the hair to become a lot more brittle, dry and damaged over time
Make the hair a lot rough and frizzy in terms of texture
Besides affecting the quality of your hair, heat styling is also one of the leading causes of hair loss over time.
So, while straightening or curling your hair can make your hair look voluminous for the moment, it will strip your hair from the roots over time, something that no one wants to experience in their life.
Also, hair styling tools, mainly heat-induced ones, affect hair growth over time since they inadvertently affect the keratin levels in the hair. This eventually leads to altered hair growth over time.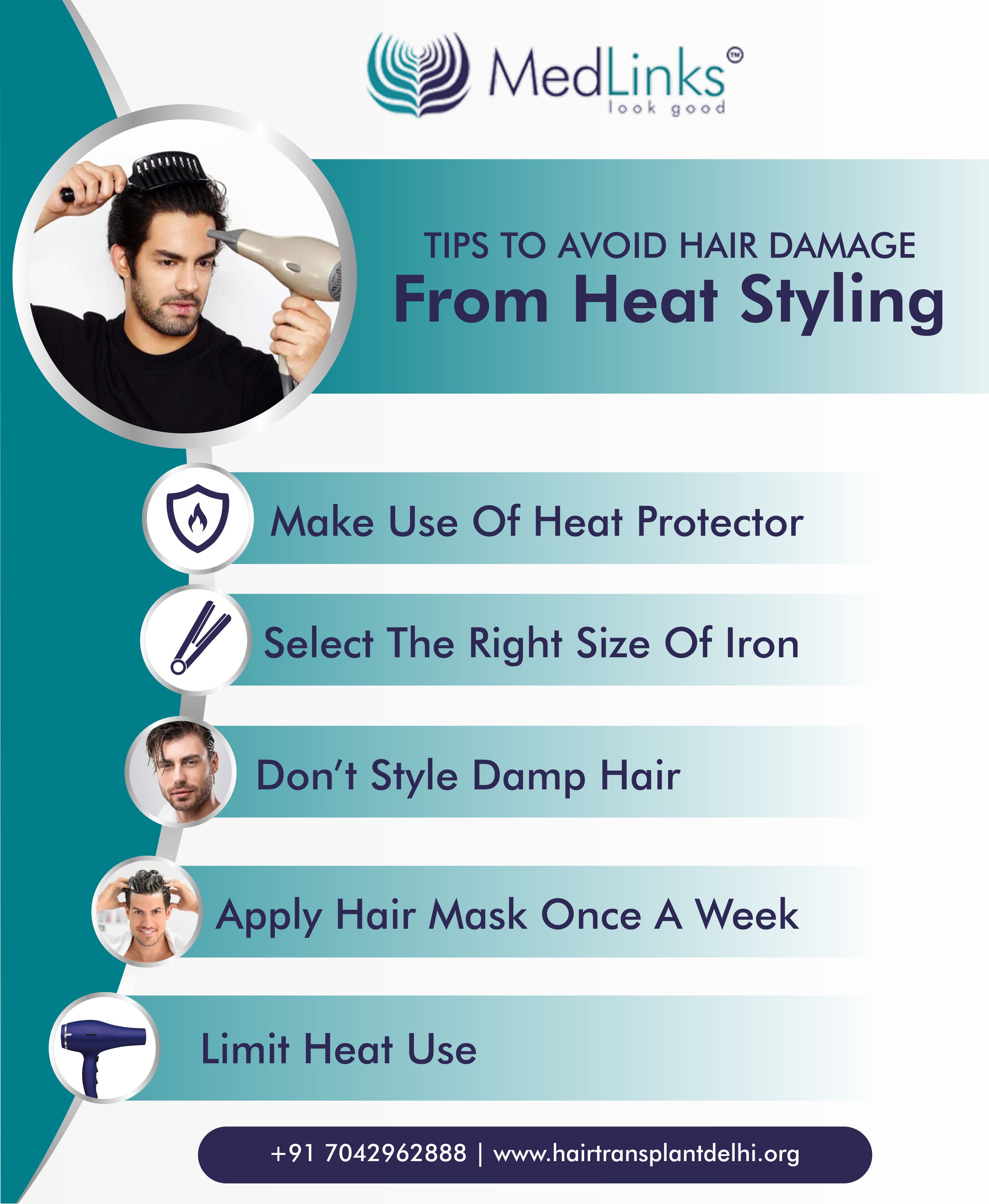 3. How to Avoid Hair Damage from Heat Styling?
If you are looking into ways for preventing hair damage, one of the best ways of doing that is by toning down on your styling. Typically, the last thing you want to do is overdo the use of curling and flat irons in your hair because it strips the hair of its natural protein sources and oils, leaving the hair feeling rough and frizzy.
If you want to reduce hair damage, here are some factors you need to check on.
Pick out the right product
When you are out there trying to use hair styling products, focus on quality over everything else. If the quality of the product isn't optimal, you will end up regretting buying it. Inexpensive flat irons and curlers can give you the desired styling results but repeated swipes of the same will leave behind permanent damage to the hair.
Some of the "cheaper" quality curlers and flat irons can even end up burning your hair. So, when buying any kind of hair styling product, do your research.
Avoid overdoing it
This is another factor you need to be mindful of if you don't want to stay with permanent hair damage. Although, understandably, you use these styling tools to make yourself look a certain way and more "presentable," but you need to realize that it doesn't help you in the long run.
If you have to use a styling tool, stick to using just one type of heated hair styling tool once a day. This should be enough to prevent damage beyond repair.
Use a heat protectant
Another factor worth considering when it comes to how to prevent hair damage, we'd recommend using the proper heat protectant. From hair sprays to hair gels, a range of high-quality protectants prevents causing damage to the hair in the long run.
Use these hair protectants before styling your hair to ensure they don't permanently damage the hair follicles and the shaft in the long run.
4. Tips to Keep your Hair Healthy
So, how do you keep your hair healthy? This is a million-dollar question that everyone is looking for answers for.
Besides the crucial tips that we have mentioned above, there are a few other tips that you should be mindful of.
Switch to a good-quality and highly moisturizing shampoo that will replenish the lost proteins and other nutrients that the heat has likely stripped off your hair. There is a range of nourishing shampoos with fewer chemicals that you can make the most use out of.
Focus on your hair's health by leaving it alone once in a while. Sometimes, you need your body to take its natural healing course without pushing it to the edge. So, if none of the products are helping, leave your hair alone for a few days to help it mend itself.
If you are wondering how to prevent split ends, trimming is your safest choice. Get a slight trim instead of letting your hair grow without cutting the ends every 3-6 months. This helps reduce the risks of damage and split ends irrevocably.
Hair masks are also an excellent way to replenish the lost nutrients and hydration in the hair shaft and follicles. Not only does it nourish the hair's appearance, it strengthens the hair from the core too.
Ensure that you oil your hair twice a week because heat styling strips the natural oils from the hair.
Everyone's hair quality and type of hair are subjective. So, a tip that might work for one person might not work for the other. Always make sure that you focus on doing what's suitable for your hair and what suits your hair type better.
Take Away
If you love styling your hair frequently, you can focus on doing it the right way and using the right products that won't leave behind permanent damage.
Medlinks hair transplant center in delhi offers a host of treatment options to help reverse the heat damage left behind in your hair. If you are struggling with any kinds of side effects from heat styling, they are here to help with just that (and more).
Related Blogs