Hair Transplant-Procedure, What to expect-Cost and More
Hair Transplant-Procedure, What to expect-Cost and More
Undoubtedly, baldness tends to affect your appearance and also lower your confidence that ultimately affects your personal and professional lives. Now comes the good news - you can reclaim your youth and feel younger & and more attractive by opting for a hair transplant. This not only means a full head of hair but also an improved overall quality of life and a significant boost in the level of self-esteem and self-acceptance.
Table of Contents
Feel free to skip ahead if one topic catches your eye:
1. What is Hair Transplant?
A hair transplant can be defined as the relocation of DHT-Resistant or Donor Dominant hair follicles. This medical procedure is used for treating various degrees and forms of permanent alopecia in both men and women.
2. Different types of Hair Transplantation Procedure
Follicular unit extraction (FUE): During this procedure, individual follicular units are extracted from the donor area of the patient, one at a time. Like FUT, the process of FUE involves the harvesting of hair follicles from the donor site (usually at the back of the head) and moving them to create a natural-looking, fuller hairline at the recipient site (usually the front side of the head). During the FUE process, a strip of tissue from the back of the head is NOT taken as in the case of FUT. Instead, individual hair follicles are collected directly from the scalp and they are then inserted via small incisions made on the recipient site. This procedure is usually characterised by lower levels of post-procedure discomfort and reduced downtime.

Follicular unit transplantation (FUT): This procedure involves the transplantation of follicles in naturally-occurring hair groups. In this hair transplantation method, the surgeon typically takes a strip of skin with hair follicles from areas where the hair is less prone to balding and naturally fuller (the donor site) and apply it on the recipient site (where hair fall is prominent). From the donor site, small tissue groups containing hair follicles are differentiated and prepared for hair transplantation. Individual, tiny holes are made on the recipient site and the prepared grafts are then placed onto the recipient site individually.

Perfect - I Hair Transplant: Characterised by ZERO crush damage, this form of inverse implantation "feather touch" technique of graft implantation typically results in better and faster results in comparison to conventional FUE hair transplant or Strip Hair Transplant. One of the biggest advantages of this form of hair transplantation is no visible scar after transplantation and minimal graft death providing 100% results.
Dr. Gaurang Krishna is a highly qualified best hair transplant surgeon at MedLinks who has developed an innovative 'Perfect-i Hair Transplant technique'. He has been awarded as the Best Hair Transplant Surgeon by PrimeTime Media in 2013 Delhi NCR.
All these hair transplant techniques are effective and unique on their own, and they can achieve different results in different cases.
3. Benefits of Hair Transplant Surgery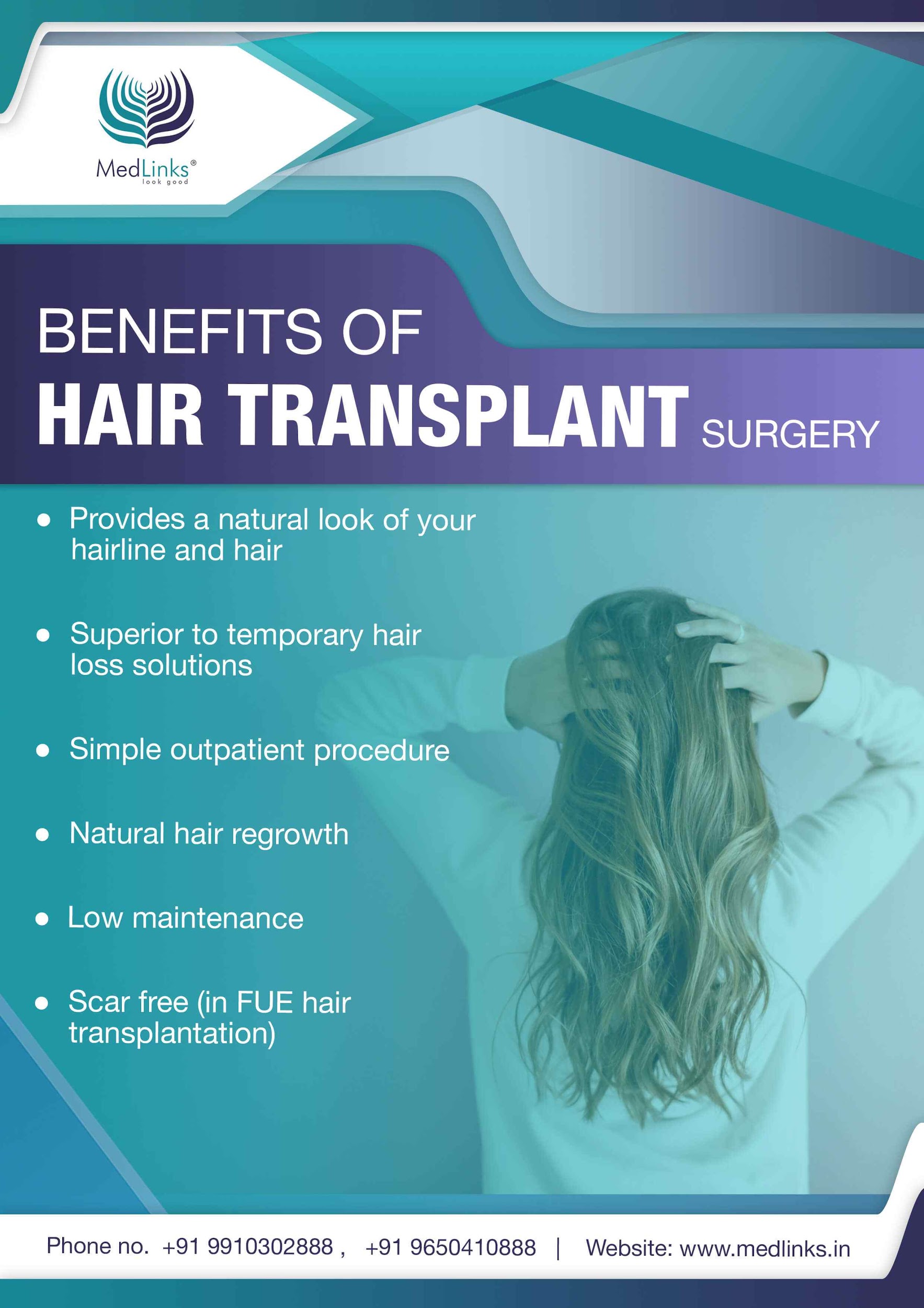 Provides a natural look of your hairline and hair
Superior to temporary hair loss solutions
Simple outpatient procedure
Natural hair regrowth
Low maintenance
Scar free (in FUE hair transplantation)
4. What to expect after hair transplant surgery?
Absolutely natural hair
Transplanted hair grows in length and density like natural hair
Hair can be styled in any fashion
It is important for people opting for hair transplantation to completely follow the postprocedure instructions of their surgeon. The surgeon may advise the patient to avoid strenuous exercise and activity for several weeks. They may also suggest waiting for a few days before washing their hair. By adhering to these simple and easy-to-follow instructions, the patient can significantly increase their chances of a successful hair transplant.
5. What is the cost of hair transplant in Delhi NCR?
The estimated cost of a hair transplant in Delhi NCR is usually around Rs. 50-90k, depending on the hair transplantation technique and the number of grafts.
The final cost of hair transplant in Delhi NCR depends on the reputation and success rate of the clinic, the panel of experienced surgeons, the guarantee of treatment results, and more.
The success rate of a hair transplant surgery depends on many factors, including but not limited to the thickness of the individual's donor hair and the experience and skills of the surgeon.
At Medlinks, you can expect the best treatment at affordable prices. Medlinks brings decades of cumulative experience in FUE and FUT hair transplantation techniques, including our advanced Perfect - I Hair Transplantation technique. Our expert team of doctors and surgeons perform safe hair transplants that look completely natural where the newly-implanted hairs are healthy, alive, and strong. Our refined hair transplantation procedures allow for the new transplants to thrive after surgery and be virtually undetectable.
6. Are there any side-effects of a hair transplant?
In rare cases, hair transplantation can lead to mild side effects that subside on their own. This may include pimples, tenderness, and temporary itching. In case you experience any side effects, you should immediately contact your surgeon.
Take Away
If you are considering hair transplant surgery, we recommend you reach out to us. Many people who are keen to opt for hair transplantation surgery travel to our hair transplant clinic in Delhi NCR because of our incredible hair transplant surgery results and impeccable reputation. We also welcome international clients as we believe that selecting the right hair transplant clinic should set precedence over convenience.
Reach out to us to know more about Medlinks and our revolutionary hair transplantation techniques.
Related Blogs