Hair Transplant India vs. USA – An Overview For 2023
Extreme stress, unhealthy lifestyle, poor diet, polluted air, and genetic reasons contribute significantly to the hair loss problem. In the last decade, the number of young men and women with hair shedding, hair thinning, baldness, receding hairline, and other hair fall-related issues has increased. Therefore, most of them opt for a hair transplant in India at leading clinics.
A hair transplant is the most effective and long-lasting solution to hair loss, which is now a widespread problem globally. Young adults lose self-esteem and confidence and experience more stress because of hair fall issues these days. There isn't a better alternative to hair transplants for an individual who wishes to get a fuller head of hair. Medical advancements have made hair restoration super feasible.
Keep reading this article to explore the differences between hair transplant surgery in India and the USA. In addition, learn about the crucial factors to be taken into account before undergoing a hair replacement operation. Let's begin with the current scenario of hair transplantation in the USA before shedding light on India's growing popularity as a reliable destination for hair transplants.
How is the USA for Hair Restoration Treatments?
The best way to get back natural-looking, stronger, thicker, and shinier hair is a hair transplant surgery, which is non-invasive. It is a sought-after cosmetic surgery that does not make patients experience discomfort or severe side effects.
The hair transplantation process requires a hair transplant surgeon to extract healthier hair roots from the donor area and transplant them into the hairless areas. However, a substantial amount of money would be spent if one decides to undergo ahair transplant in USAat the most leading clinics. Thus, not many people can opt for hair transplants, except for individuals from affluent societies.
This particular hair restoration technique has become popular worldwide because of globalisation. Hence, its cost has been significantly increasing for the last few years in Western nations, including the USA. When it comes to Indian hair transplant clinics and centres, providing hair replacement services to patients at a much more affordable price is their priority.
Undoubtedly, hair transplants in American clinics are a very expensive affair. Moreover, a team of inexperienced implanters, technicians, and novice surgeons often conduct hair transplant surgeries. In India, highly experienced and proficient hair transplant surgeons carry out hair restoration treatment in such a way that patients get the desired result - a fuller head of hair.
Here's why the USA is not a feasible option for hair transplantation.
A Patient Needs to Spend a Huge Amount of Money
In order to undergo a hair replacement operation in the USA, a patient who is not financially strong cannot help but pay a lump sum amount.
Many clinics force patients to pay extra surcharges after the surgery, and unfortunately, patients remain unaware of the hidden charge from the beginning. The cost of receiving the required hair transplant service varies greatly from one clinic to another, ranging from USD 5,000 to USD 20,000.
Novice Practitioner Supervises and Conducts the Surgery
You will come across multiple hair restoration service providers in the USA. However, most of these hair transplant centres do not boast a team of surgeons and assistant doctors with the requisite aesthetic sense and substantial experience. Mainly novice practitioners supervise and conduct hair transplants.
It is of paramount importance for a patient to undergo a hair transplant surgery only when an expert surgeon with profound knowledge performs it. Avoiding this crucial factor will lead to inappropriate results, and high risk to experience major side effects.
It Takes a Long Time to Schedule the Process
You should know that getting the dates for the hair transplant in USA takes longer. Most clinics have a busy schedule, and many patients rush to undergo surgery as quickly as possible. However, trainers, novice practitioners as well as surgeons have other priorities, such as attending seminars and workshop sessions.
Therefore, you need to wait for weeks or maybe months to book your date and schedule the process. You will have to keep dealing with the hassle if you intend to opt for hair transplants in the USA and not anywhere else. Most people with hair loss problems prioritise their hair condition, which is why they travel to India instead of undergoing surgery in the USA.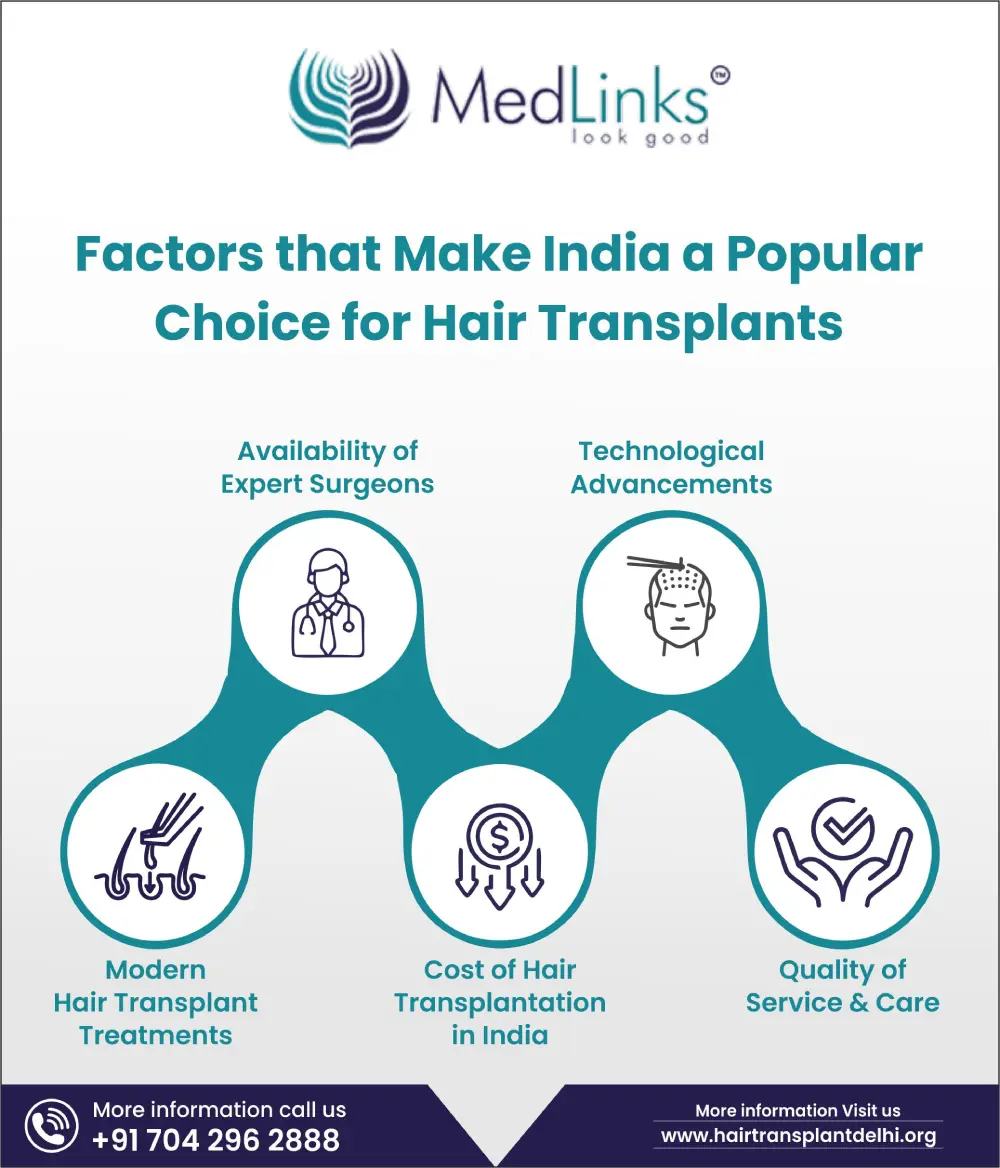 Factors that Make India a Popular Choice for Hair Transplants
India is way ahead of other nations when it comes to providing medical care services. Leading hospitals, nursing homes, clinics, and centres have qualified, proficient, experienced surgeons. In addition, state-of-the-art facilities, advanced equipment and affordable healthcare services contribute to making India a medical tourist-friendly country.
Many foreigners with hair-related issues prefer to undergo hair transplant in India because of the highest standard of service, affordability, success rate, and hospitality. Indian hair transplant surgeons are renowned globally for their excellent aesthetic and surgical sense. It indicates that the possibility of the desired result is more for everyone who opts for hair transplants.
Here's what compels foreign patients to consider India an ideal destination for hair restoration treatments.
Availability of Expert Surgeons
Qualified surgeons with years of experience in performing hair transplant surgeries are in huge demand in this country. Their qualifications, knowledge, and access to premium-grade relevant practices make them stand out.
They have to deal with diverse patients on a regular basis and help them get over their hair loss problems effectively. Interestingly, the overall process somehow enriches their experience and makes them more confident.
Modern Hair Transplant Treatments
At MedLinks, we offer the most refined FUE hair transplant treatment called Perfect-I. This hair transplant treatment involves instant implantation of the extracted follicles; thus, it saves time and also brings better outcomes. Some studies have shown a 20% loss in the volume of extracted hair follicles every hour spent outside the body. Experts believe that the golden period is 6 hours; after this, the hair follicles die. As perfect-I is offered extra care and quick implantation thus, it usually offers 15-20% better and 25% faster than the conventional FUT or FUE.
Cost of Hair Transplantation in India
| | | |
| --- | --- | --- |
| Hair Transplant Technique | Approximate Cost At Medlinks | Additional Features Of The Technique |
| FUT or FUT + Perfect-I | Rs. 70 per graft | Planning, designing, and 100% slit extraction and implantation by a specialised team of experts |
| Perfect-I Premium | Rs. 120 per graft | Along with the planning, designing, and 100% extraction by a specialised team of surgeons and implantation, utilises "Feature Touch" graft handling technology, with precise and prompt graft placement executed by Dr Gaurang Krishna and Team |
| Sapphire perfect-I with Ultra High Density and Sapphire perfect-I Premium | 200 per graft for the high-end premium technique | Involves ultra-modern, high-end, perfect-I technology with sapphire blades and microincision technique. Two variables, ultra-high density, and premium differ in prices and techniques. |
FUT means Follicular Unit Transplantation. Surgeons remove follicular strips from the donor areas. Then, they prepare and implant individual hair grafts on the recipient regions or bald spots.
Expert hair transplant surgeons opt for BHT or the body hair transplant method when the donor area on the scalp does not have enough hair. They extract hair from different body parts, including arms, shoulders, legs, chest, or back and replant the donor air in the hairless areas.
All leading hair transplant clinics in India offer the aforementioned hair restoration services at a reasonable price. The maximum number of patients of different nationalities, religions, races, skin and hair types highly speak of the painless treatment they experience at Indian clinics.
Quality of Service and Care
A team of compassionate, qualified, and expert doctors conducts hair transplants at all esteemed clinics in India. Aside from increased chances of the desired results, the exceptional hospitality and care compel foreigners to visit India for hair restoration treatments.
Every patient receives post-surgical care and service so they do not experience severe side effects. The team of doctors plans the hair transplant process tailored to each patient's requirements.
Affordable Pricing
In comparison to the cost of a hair transplant in USA or Western Europe, it is four to five times cheaper in India. In many developed nations, it is beyond most patients' control when no insurance coverage for hair transplant treatments exists. Therefore, they travel to India to undergo a hair restoration operation at a much lower price.
A hair transplant operation in the USA for 5000 grafts costs between USD 10,000 to USD 15,000. The price differs from one clinic to the other. In India, the per graft cost ranges from 70 INR to 200 INR, at a MedLinks.
Frequently Asked Questions about Hair Transplants in India
1. What can a patient not do post-hair transplant surgery?
A patient must avoid smoking, drinking, swimming, running, and other strenuous activities for a few weeks or a month after a hair transplant surgery.
2. What is the achievement rate of hair transplantation in India?
When it comes to hair transplantation in India, the success rate is 98%.
3. What is the longevity of transplanted hair?
After transplantation, the natural-looking hair will keep growing without thinning or shedding on the previous bald spots for a lifetime if a patient adheres to a healthy lifestyle.
4. What to avoid before a hair transplant operation?
It is essential to refrain from smoking and drinking alcohol or energy drinks and fat-rich foods at least 3-4 days prior to the surgery.
Hopefully, now it is clear which country between India and the USA is better for hair transplants. Rely on Medlinks, the most trusted hair transplant clinic in Delhi, India, to undergo the right treatment so as to overcome hair fall problems and get a fuller head of hair. Qualified and experienced surgeons at this leading clinic can help you undergo a pain-free hair transplant surgery.
Related Blogs