How To Choose The Best Hair Transplant Center?
In the last few years, the popularity of hair transplant has seen significant changes. Social media, television, traditional print media, and radio have profoundly promoted guaranteed and risk-free hair transplantation procedures.
There is no denying the fact that there have been countless technological advancements in the field of hair transplantation. From semi-automated to suction-assisted follicular extraction, and from robotic-assisted surgery to advanced FUE hair transplant procedures such as Perfect-I, have seen considerable growth.
However, you must choose a reputed hair transplantation clinic as the success of all the surgical instruments and procedures is user-dependent. This means that there is a potential risk of permanent damage if they are handled and performed by poorly-trained, unskilled practitioners.
Table of Contents
Feel free to skip ahead if one topic catches your eye:
1. Board Certifications of hair transplantation clinic
Performing state-of-the-art hair transplantation surgeries requires a collective effort. For instance, the surgeon, while performing follicular unit transplant harvesting technique (FUT) removes the donor tissue from the back of the scalp of the patient. This is done by using a scalpel and then sutures the area closed. Then, the team of technicians dissects grafts of individual follicular units. Then, these grafts are placed by technicians under the supervision of the surgeon. It is because of these and more collective efforts that thousands of grafts can be placed in a single day.
You must choose a reputed hair transplantation clinic that takes pride in having a team of experienced, successful, and resourceful surgeons and support staff. The clinic and surgeon must have the required affiliations and credentials that validate their experience and expertise in performing hair restoration surgeries. This is simply because board certifications and the experience of the surgeon will give you the peace of mind that they have passed rigorous certification processes, uphold the code of ethics, and are regulated by an unbiased and reputed certification body.
2. Academic profile of the surgeon
You must perform comprehensive research related to the educational qualifications and experience of the hair surgeon. For this, you can visit their website or portfolio and know about their specialties. One of the most important things to focus on is the diversity of different types of hair restoration procedures performed by the surgeon. The success rate of the hair transplant surgeries performed by the surgeon should also be an essential consideration for you.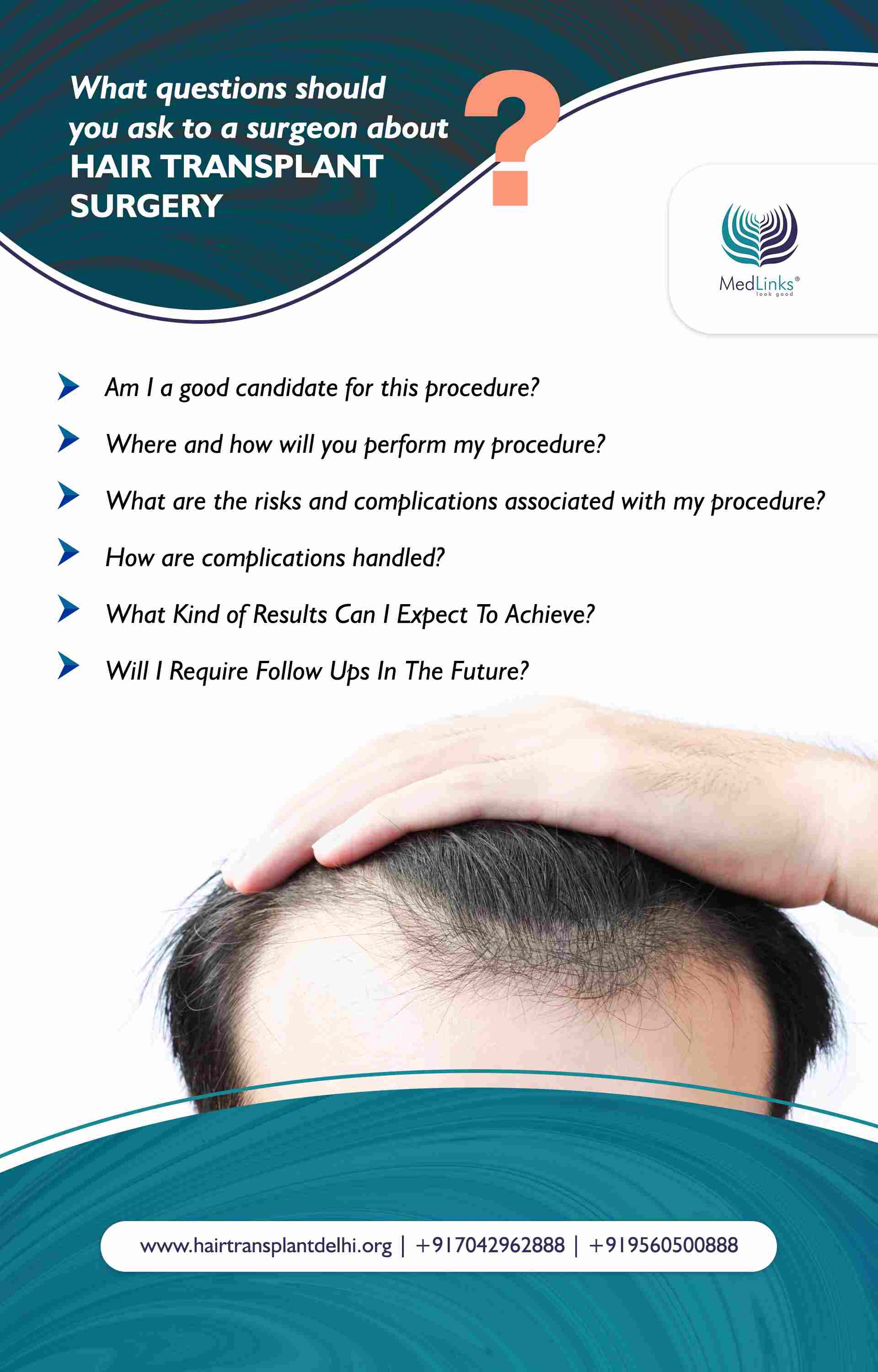 3. Hair Transplant Methods Used
Follicular Unit Extraction (FUE) has been the procedure of choice for millions of patients across the globe for years as it is usually less invasive. The fact that this hair restoration procedure doesn't involve linear scarring or stitches is another reason why it is appreciated more by people. Moreover, it involves less pain and discomfort and promotes faster recovery.
The best thing is that you can now avail yourself of an innovative and highly effective hair transplant method known as Perfect-I that is offered by MedLinks. This advanced, ultra-modern method for executing FUE hair transplant for instant implantation of the extracted follicles helps surgeons save a lot of hair during the entire grafting and transplantation process.
In this method, the inverse "feather touch" graft implantation technique is used. In clear terms, the grafts while being implanted are held from the head hair in Perfect-I, unlike a traditional FUE procedure where the grafts of the hair are held at the root. In short, there is no crash damage. It is because of these reasons that the FUE hair transplant results are 25 percent faster and 15-20 percent better than conventional FUE or FUT. Also, tissue damage is reduced considerably through ultra-sharp punches, and the use of the pre-slit technique ensures proper angle, orientation, and density while helping the surgeon easily avoid pop-up of grafts during the entire hair implantation process.
During this precise and relatively painless procedure, hair follicles are obtained by the surgeon from the backside of the scalp, beard, or any other body part. After this, the follicles are implanted strategically on the bald areas through the Feather Touch Implant Technique. For this, the surgeon collects hair follicular units one-by-one from the donor area as in a conventional FUE procedure through automated instruments and machinery. Thereafter, the surgeon immediately implants hair follicles to the bald regions within 3-5 minutes.
4. Before and After photographs of previous patients
The easiest way to find out the expertise and success rate of the hair transplantation clinic is to have a close look at the before and after photographs of previous patients. This will give you invaluable insights on what you can expect and how the hair transplant procedure will benefit you in the short and long term.
It will even give you a glimpse of the hair restoration results, the artistic skills, and the expertise of the surgeon and his or her team. You can even have a word with the surgeon to find out which hair restoration procedure was used and how many sessions were held for those patients to achieve the desired results.
5. Clinic's Infrastructure
The hair transplantation clinic should ideally have access to the latest, innovative, and state-of-the-art infrastructure. It must have a team of experienced medical practitioners and support staff to handle all types of simple and complex cases as well as emergencies. The clinic must have an in-house or outsourced laboratory and a diagnostic center so that you can easily access all tests and diagnostic reports.
6. Hair Transplant Setup
The hair transplantation clinic to be selected by you must have a sound setup with experienced hair transplant and implant physicians. It must have a realistic, long-term, and innovative operational plan in place and should encourage state-of-the-art technologies and safety procedures. The hospital should have the latest equipment such as Hair Transplant Slit Instruments, Graft constant temperature machine (GCTM), Graft Chilling Machine, Vertex chairs, anaesthesia devices, needle implanter, forester curve forceps, Angular implanting forceps, injection pain reducing devices, and capsular forceps to name a few.
For this, you may pay a personal visit as part of the consultation process to personally authenticate the availability of resources. By doing this, you can be assured of the fact that everything is in the right place.
7. Surgeon and their team coordination
A good hair transplant surgeon and his or her team must have aesthetic expertise and skills for placing the hair grafts according to the profile, gender, and age of the patient. To create a perfect and natural-like hairline design and then implanting the grafts require extraordinary skills that can only be possessed by a surgeon of repute. The team must have exemplary coordination so that the entire hair restoration procedure is safe and hassle-free for you.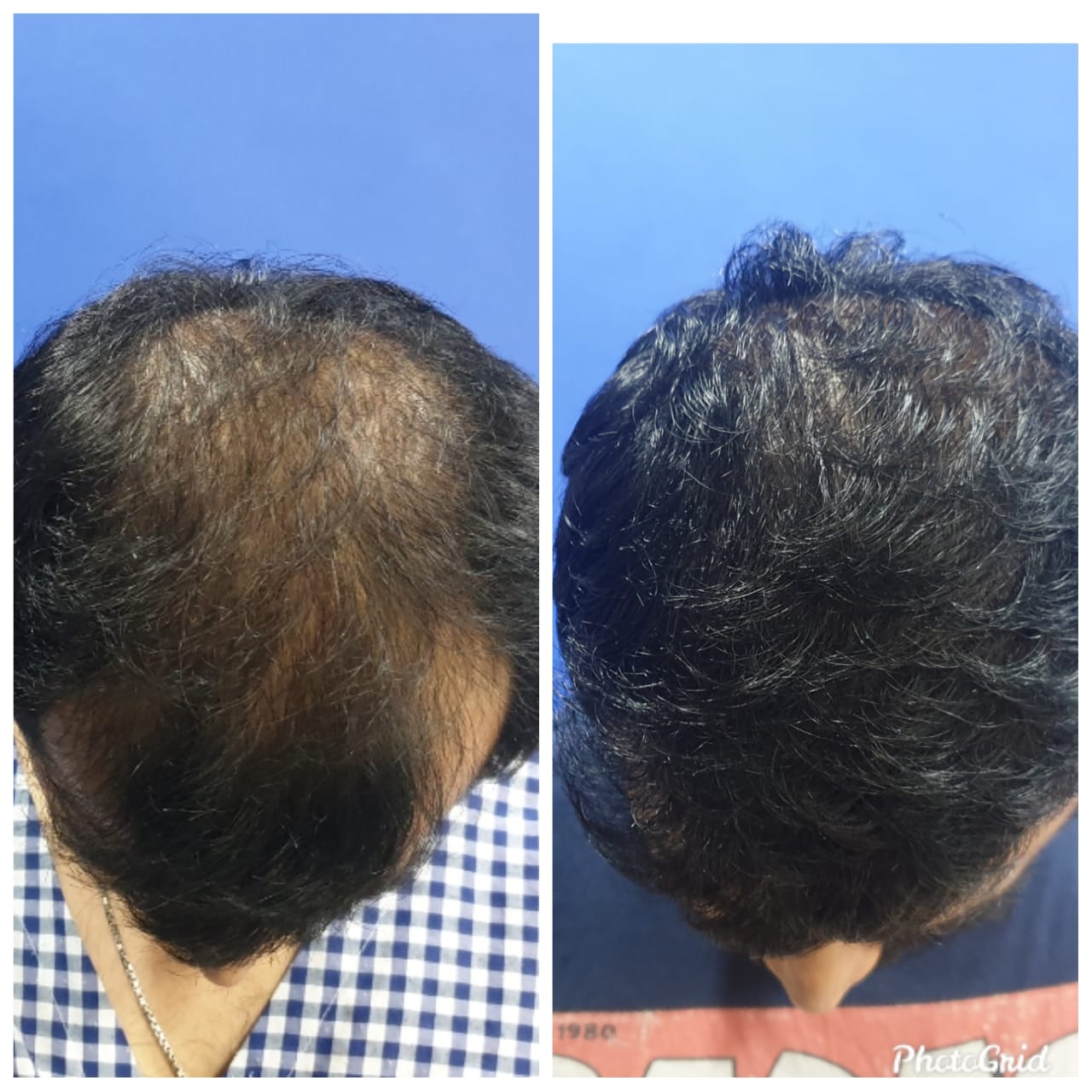 8. Hygiene and COVID safety
The hair transplantation clinic must keep you safe and healthy in today's challenging and uncertain times of the COVID-19 crisis. It must have a business continuity plan (BCP) in place. It should have designated treatment facilities with critical care capabilities including temporary treatment facilities and procedures like personal protective equipment (PPE), appropriate infrastructure, and respiratory hygiene measures. The clinic must emphasize regular cleaning followed by disinfection, well-ventilated isolation rooms, waste management, and environmental cleaning in place. Everyday screening of the staff and the patients is also imperative.
9. Post Operative care
Once the hair transplant surgery is completed, you'll be moved to the recovery room for a few hours. During this time, the clinic's support staff will monitor your breathing, pulse, blood pressure, and temperature. As part of the post-care procedures, you will receive specific tips and precautions to ensure that you have a smooth, quick, and hassle-free recovery.
You will also be asked to watch out for potential health complications, take medications as prescribed, and do Post Operative care. You may reach out to the surgeon or the support team if your recovery is not as expected or if you are facing any complications. Remember, your recovery can be fastened with a little planning and proactive care.
10. Do they offer any Insurance Coverage?
You need to find out beforehand whether your insurance coverage covers the hair restoration procedure. If not, you must access information on the availability of any medical packages or discounts, and if there is a possibility that you can make payments on equated monthly installments (EMIs) or through a flexible payment plan. This will ensure that you don't end up burning your pocket when opting for a hair transplant surgery.
11. Search for Online Reviews
In today's age and time, you can search for every single piece of truth and fact through the internet. There will be nothing better than talking to a previously-operated patient, but that may not always be a possibility because of the patient-doctor confidentiality aspect. However, some people still share their reviews, feedback, testimonials, and complaints regarding hair transplantation clinics and surgeons on the internet.
You need to check and verify the authenticity of the claims made by the hair transplantation clinic and the surgeon before even booking a consultation. This is highly important as hair transplant surgery is an extremely technical and sensitive procedure, and therefore you should follow a high sense of care and diligence.
Takeaway
Undoubtedly, hair is one of the most critical aspects of our personalities. However, in today's times, stressful work schedules and lifestyle changes have left many of us at the crossroads between our wealth and health. Thankfully, you can avail a hair transplant surgery these days. Innovative procedures such as Follicular Unit Extraction (FUE) and Perfect-I FUE can be a blessing for people who want to get a natural-looking hairline that has the same look and texture as of existing hair. The best thing is that these procedures are performed under anaesthesia, so you don't feel any pain or discomfort during the surgical procedure.
At MedLinks, we have teams of experienced and innovative hair transplant surgeons. We offer comprehensive hair loss and hair regrowth solutions so that you can access the most advanced hair treatment procedures at nominal pricing. At MedLinks, you will get the best hair transplant treatment and postoperative care with the latest techniques (Perfect-I) at affordable costs.
Reach out to the best hair transplant clinic in India. Choose the best hair transplantation surgeon and clinic by contacting MedLinks now!
Related Blogs