When Is The Best Time Of The Year To Have a Hair Transplant?
We all are very much aware of the importance of healthy and beautiful hair. And of course with the fact that such hair looks good on everybody. There is a saying in Indian culture that hair is the beautiful symbol of any lady, but with time not only females but males are now also aware of their hair condition. This time has raised awareness about hair conditions in males and females equally. But without neglecting the evidential point that the life of hair is largely determined genetically. However, circumstances like stress, a busy lifestyle, unfavourable environmental conditions, poor health, and diet can also lead to early hair loss in some.
Table of Contents
Feel free to skip ahead if one topic catches your eye:
Hair loss and growth are simultaneous biological processes, but only when the hair loss is restored naturally within the year of the first hair loss. If the hair is not restored by itself within this time limit, such loss is believed to be never restored. Hence, experts assume that the roots of such hair are now dead. Once this condition occurs, the only ultimate key to this problem is hair transplantation at Medlinks.
Are you too mystified about the best time for a hair transplant procedure? There is no need to be worried, as Medlinks provides you with the best advice.
1. The Right Time To Get Hair Transplant?
Is Hair Transplantation Better In Winter Or Summer? With our finest team of surgeons, Medlinks suggest that winter is a better time to get yourself treated by the hair transplant process. This is a widespread doubt consulted by multiple people curious to get a hair care treatment because of their alopecia issue. Still, the truth is that hair transplants can be planned at any time. The major problem of hair transplants is with the patient's social being, not the time or the season.
Let's presume that if a patient undergoes hair transplant surgery during the summer, the patient is advised to avoid direct or indirect contact with the sun and also avoid swimming for the initial ten days after the hair transplant procedure. Whereas, if a person gets a transplant during winter, we advise the patient not to carry any type of headgear like a hat or cap for the starting few days to protect themselves from the cold.
The timing or season is not as important to decide whether the patient gets a hair transplant surgery or not. Contrarily, the favourable time for a hair transplant surgery is when the patient perceives that they are willing for the treatment and can deal with their stress and job schedule completely.
Further, this article mainly consists of some contradictions and discussion about which season is best to get a hair transplant.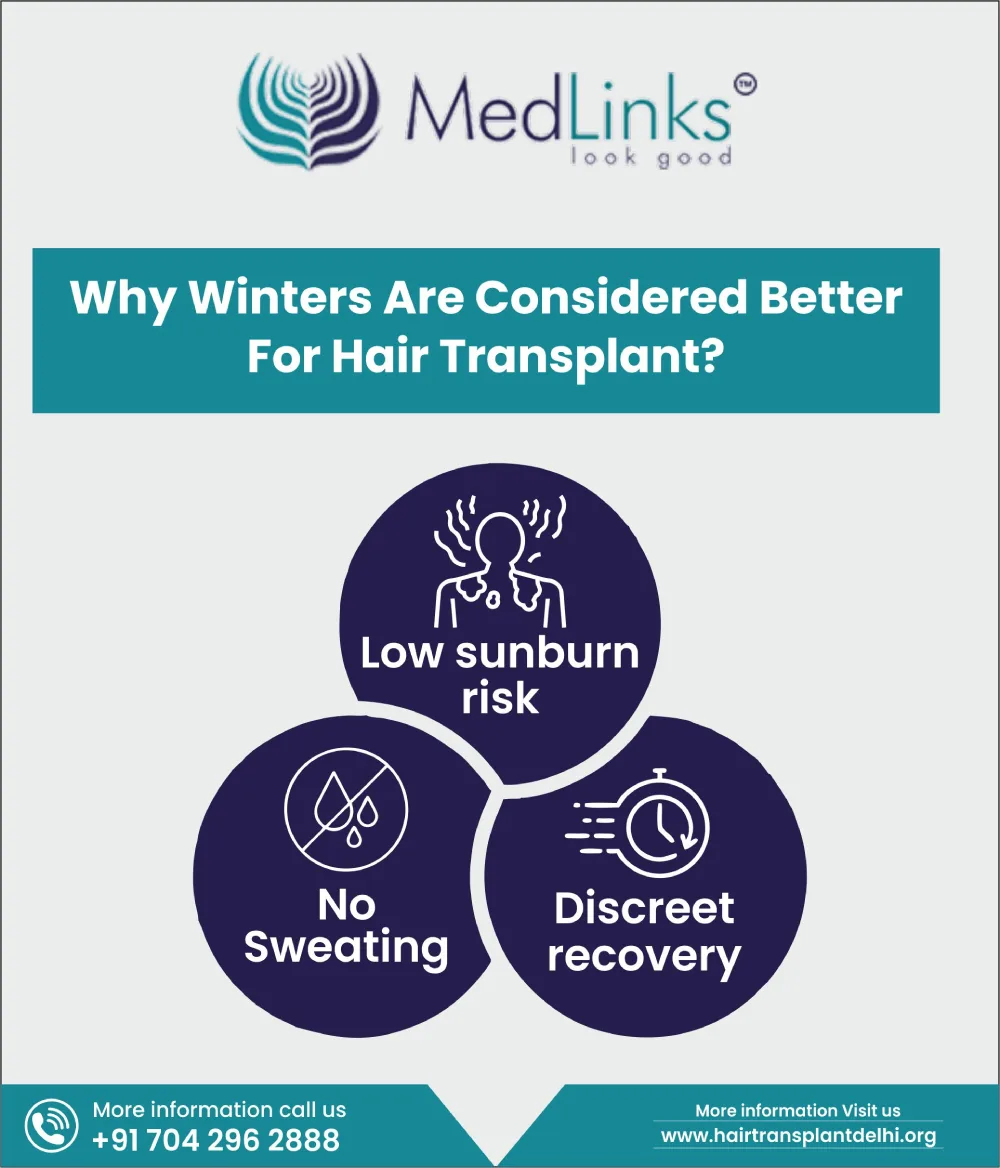 2. At what time should the patient undergo the hair transplant procedure?
It is quite complicated to state that there is no specific "best" time to get a hair transplant surgery done because there is no actual distinction about when the treatment should be conducted. It is feasible to perform hair transplants at any time of the year, be it winter or summer, morning or evening. Time and season are not the prominent limiting facets of this hair transplant process.
Opting for a specific or favourable time and season for a hair transplant does not influence the surgery's success. The thing that needs to be kept in mind is the process can take more than eight hours, so to reduce the discomfort, the surgery is performed in two sessions.
People should not confuse themselves by any myth or miscommunication that temperature changes can affect the results of hair transplants.
3. Why do some people believe spring/summer is better for hair transplant surgery?
According to many surveys, it's been seen that when people opt for hair transplant surgery, they generally prefer the time of spring or summer. Opting hair transplant for the Summer season is also common due to the period of vacations when the maximum population takes a halt from daily work and routine.
There are several justifications why summer may look like an excellent duration for hair transplant surgery, but what are the experts proclaiming about this issue?
4. Pros And Cons Of Getting Hair Transplant Surgery Done In Summer And Winter
Experts say that there is nothing incorrect about having hair transplant surgery during summer. However, it is not a good time to proceed with such treatments. Uncluttering the confusion, yes, there are no chances of hair transplant failure, Yet, several practices require to be deemed when rehabilitating the hair follicles.
During summer, the most common complication one can face is the delayed healing process of the scalp after the treatment due to excessive sweat during this season. To avoid such complications due to bacteria in sweat, the patient is advised to clean their scalp more often and avoid practices that cause sweat.
In addition, the patient is instructed to avoid exposure to the harmful rays of the sun, which can hinder the scalp healing process. Hence, summer can be a seasonal choice to undergo hair transplant surgery, but still, patients need to follow the instructions instructed by the doctors.
So experts say that winter is the best time to proceed with hair transplant surgery as of the cooler climate and comparatively less sweat, the scalp would heal more rapidly. Moreover, a few lifestyle changes can make the procedure more effortless.
Patients are advised to avoid sun exposure, swim, and wear a hat even in winter to boost scalp healing more efficiently.
Hundreds of questions and doubts will be raised during the entire process of your hair transplant treatment, but the last decision will be entirely yours. As well as depends on how punctual you are with your schedule.
5. Conclusion
The Hair transplant in Delhi is a stable and authentic method for rebuilding thick, biological hair.
Medlinks delivers a detailed treatment for your hair loss problem as it adjusts state-of-the-art technologies to provide best-in-class facilities. Medlinks owns the most experienced and well-established surgeons for the procedures of hair transplants who provide the best treatment.
Related Blogs