HAIR TRANSPLANT AFTERCARE | USA
In India, many people suffer from hair loss problems which makes them feel embarrassed and under-confident. To overcome such hair loss troubles, doctors came up with hair transplant surgery. A hair transplant procedure is counted as a subtle and critical process which should be performed by professional doctors.
Table of Contents
Feel free to skip ahead if one topic catches your eye:
Such transplants could only give the desired results if the post-operative care is performed better. The initial few days and weeks right after the surgery are crucial for healing and recovery. Any misconception and failure in after-care will not be able to provide the desired outcome.
Considering such integral aftercare, we have provided thorough instructions and guidance, which is all you need to have for aftercare.
1. Hair Transplant Recovery Time
After getting your hair transplant done by us, we will provide you with a permit to the full post-operative hair transplant aftercare policy and professional advice whenever you ll require any kind of help.
From the first postoperative phase, it could take 2 to 3 months for your new follicles to precede, adapt, and inherently grow new hair fully.
The new hair growth in you might be ragged and unequal initially. But at a later stage, you'll experience good and youthful hair growth on your head, and the results will be the same as you desire and deserve.
It was noticed that Most of the patients achieve their complete biological hair growth within 10 months of the hair transplant procedure.
Also, the professionals have made it understood that every patient might have a different healing time and process.
In some rare cases, the hair growth takes too long to grow; in such cases, the patient begins to think that the procedure isn't that effective, but that is not true, as every patient has a different healing time and process.
However, suppose you still have any queries or problems. In that case, you can visit us anytime as we fulfil our words given to our patients and the promise of postoperative aftercare for hair transplants.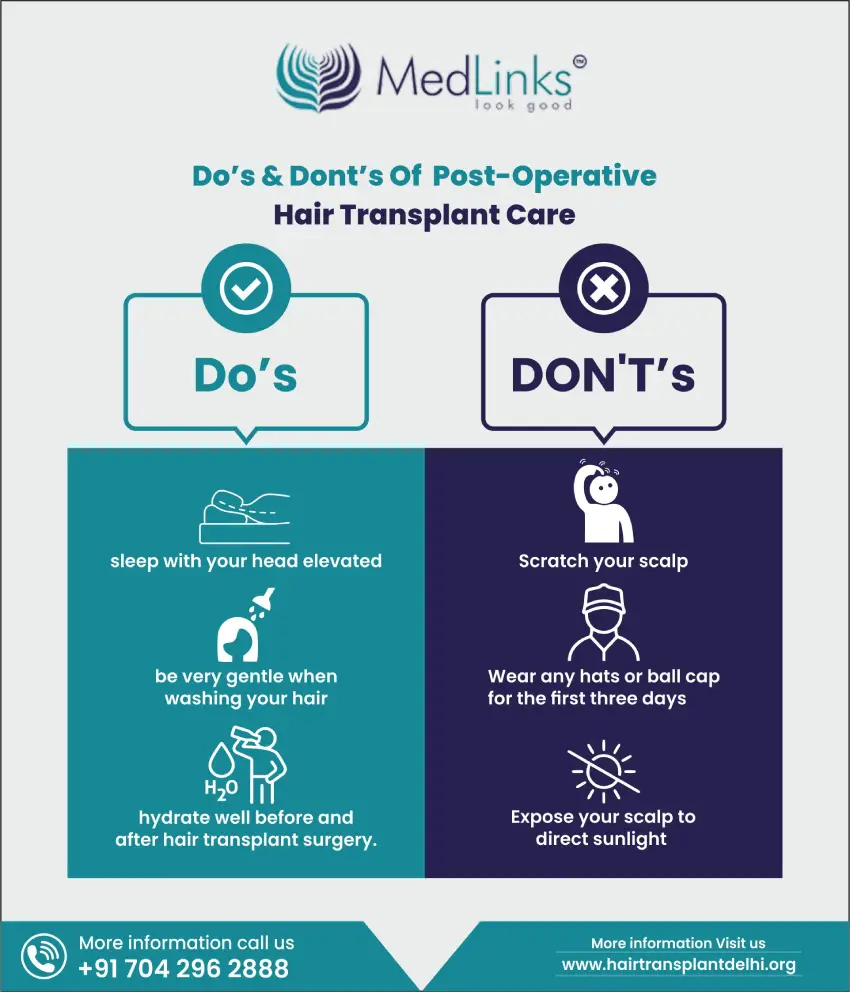 2. Duration and post-operative hair transplant care
Initial 1-4 days
During the post-healing duration of the hair transplant procedure, You must obey the aftercare measures that your respective hair transplant expert has told you.
When the patient is initially discharged after-hair the transplant, we provide the patient with a post-operative hair care bag containing all the essential needs of a patient who might need it in between this time duration, even comprising a sprinkled bottle of saline.
The patient is instructed to spray their scalp with the provided hair spray on a daily basis, which will boost the speed of the healing of the hair follicle, protecting the patient against any infection to the incisions and preventing scabbing.
Guidance for the spattering area underwent transplantation
The patient is advised of the following tips. Use their left hand to spray on the left side and their right hand to spray the right.
Or, for a better and more convenient procedure, the patient can ask their family members or any friend to do a spray on the scalp.
Apart from this, the patient is suggested to rest properly after completing a 12-hour spray procedure.
Patients are suggested to avoid the consumption of alcohol and smoking and prevent high-impact exercise, swimming and more to reduce the risk of post-operative procedures.
It is also important for a patient to keep their scalp well-hydrated during this duration with periodic saline sprays.
If the patient is suggested to use the comb only if needed, they must use a wet comb to avoid bleeding and orientation.
5-10 days
Patients can gently wash their heads after completion of the initial 5 days.
Enough healing of the scalp is achieved till day 5, but it is suggested not to use any shampoo to wash your scalp.
Heavy exercises are being avoided as it is necessary to ensure that all the hair follicles have healed completely.
10-14 days
Typically you can name this phase as returning to your basic hair care routine.
In this phase, the scalp of the patient who experienced a hair transplant will appear pink.
The new hair will fall off like before you got the hair transplant. This stage shows that all your hair follicles have healed properly.
This step will make your hair follicles richer and healthier and grow new hair.
The patient is now advised to wash their hair like usual, but it will have a mild cleaning property and should not be abrasive.
Patients are also recommended to contact us if they have any doubts about using any component of the shampoo and also to avoid allergic and sensitive products.
The patient can resume exercising after discussing it with the respective professional.
3 -12 months
The patient is recommended for follow-up appointments.
After your hair follicles are healed, allow natural growth of your hair.
Then the patient has to make appointments for checks. The checkups need to be done at the 3-month and 6 months to see the progress.
It is important to evaluate the progress of growth as different bodies heal at their rate to notice if there's any unusual happening.
The initial biological hair regrowth will proceed in 2-3 months after the hair transplant has been done.
At around 5-7 months, the bulk of hair follicles starts to grow at a good rate.
After 10 months, your hair will start to grow naturally at a good growth rate and will achieve complete biological regrowth.
At 12 months, the final check-up is done after the treatment then the patient will come upon for one final hair transplant post-operative care check-up. This check-up will include checking the hairline and growth to examine the broad result.
3. Conclusion
We provide you with the best hair transplant treatment in delhi, at an affordable rate and with good aftercare promise. Get yourself treated now and make your appearance confident and good.
Related Blogs