How to find a good hair transplant surgeon?
When an individual is suffering from severe hair loss, baldness, and other hair-related issues and decides to get a treatment done, searching for the best hair transplant surgeon is a tough job. What qualities and layout you decide over which you'll choose your hair transplant surgeon is the beginning. Moreover, complete research on the surgeon's experience is essential to the search. So you must be in the exploration for the best hair transplant surgeon in Delhi. Are you wondering how to find a good hair transplant surgeon?
Yes! Then you are in the perfect room. We acquire the best hair transplant surgeons in Delhi. Medlinks deliver trust and the best results.
Table of Contents
Feel free to skip ahead if one topic catches your eye:
Medlinks owns a team of worldwide recognised hair transplant surgeons. Who not only offers the best hair transplant therapy but also delivers a guarantee of the desired outcomes to the patients. The surgeons at Medlinks are trained internationally and acquired an experience over 2500 to 7500 successful hair transplants in delhi, which includes celebrities like cricketer Virender Sehwag and Bollywood actor Gulshan Grover.
1. Factor That Helps You Selecting The Best Hair Transplant Surgeon
How experienced is the doctor? who is going to perform the hair transplant surgery should be the next interest of an individual. Not every person who is a doctor is well experienced or trained to perform a delicate surgery like hair transplantation. The recent advancement in hair transplant surgery techniques isn't a jiffy work to perform. Our doctors internationally certified self-invented PERFECT-i technique is quite remarkable and can only be executed by trained doctors.
Doctors at Medlinks are well experienced, have performed thousands of successful surgeries, and are keeping themselves updated with the current developments of hair transplant surgery techniques.
The hair transplant doctor should possess the aesthetic skill to seat the hair grafts as per the patient's profile, age, and, most importantly, gender. It is believed that more than half of hair transplant surgery is an art skill to be performed. Hair transplant surgery needs the stages for organizing the desired hairline, and for infiltrating the graft on a bald part requires remarkable artistic mastery that hair transplant specialists can only perform to attain the best-desired outcomes from hair transplant surgery.
The Teamwork
The hair transplant surgery isn't a jiffy thing to perform. What's necessary to make this surgery better is helping hands. Since childhood, we have heard that two heads are always better than one. The exact motive is essential to imply here.
Also, a team headed by an experienced doctor with a team of youthful surgeons would be a great assortment. As per the Indian saying, knowledge and skills are always transferred down to the successive generation. So the patient can attain the best results and benefit from the skills. Moreover, working with young doctors will help to create a friendly, positive environment around the patient, and this combination will lead to the best outcomes.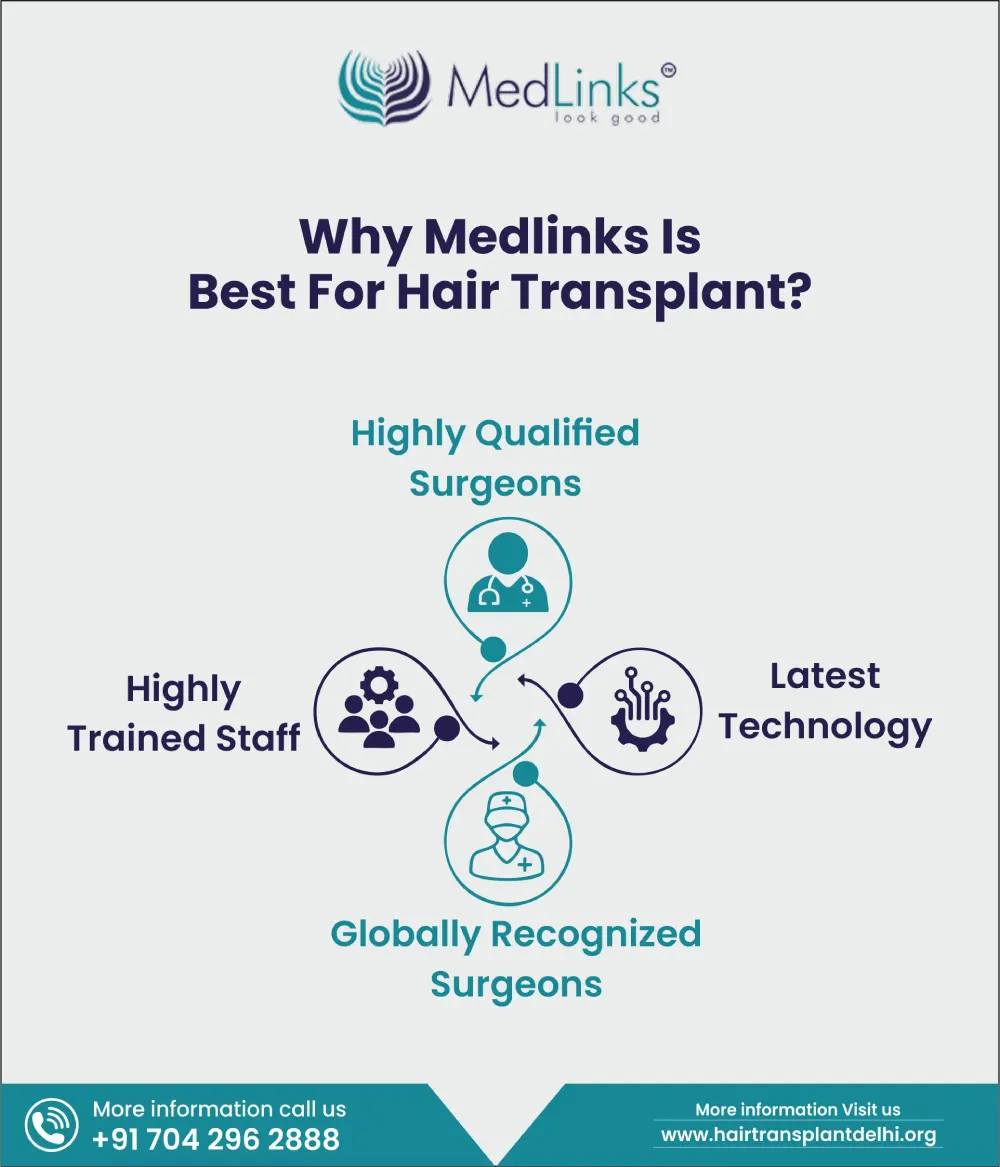 2. Why Medlinks Is Best For Hair Transplant?
Dr Krishna is a globally recognised and highly qualified hair transplant surgeon who is well known for inventing one of the most successful hair transplant techniques, PERFECT-i, and performing surgical practices and aesthetic dermatology. Dr Krishna has expertise in treating various patients with hair and skin problems.
Dr Krishna has attained comprehensive training in performing hair restoration surgery, skin surgeries, and cosmetic surgeries through nationally and internationally experienced and recognised dermatologists and plastic surgeons. Dr Krishna focuses on providing maximum treatments and patients' desired satisfaction with the least side effects and risks. He got trained internationally in robotic and Perfect-i hair transplant surgery.
Qualificationsand Expertise
Dr Krishna has vast experience and is known as one of the most popular specialists in hair transplant surgery, vitiligo, laser, and skin cancer surgery. He attains experience in the CO2 laser technique, ND YAG laser technique, and Diode laser. Dr Krishna has conducted more than a thousand victorious hair transplant surgeries with his self-invented procedure PERFECT-i. This technique has improved the per-hour graft insertion and has decreased graft rejection to a noticeable extent. Dr Krishna has not bound himself in these limited boundaries but has done over 1000 vitiligo skin surgeries, and cosmetic treatments such as fillers, botulinum toxin injections, acne scar, and radiofrequency.
Awards
Dr Krishna has been awarded national and international awards for his brilliant work and successful surgeries. His achievements include the following:
Best hair transplant surgeon awarded by Prime Time media in 2013 Delhi NCR.
Scholarship awardee for the world congress of dermatology in 2011
IADVL-GSK national quiz winner
The best postgraduate in AIIMS in 2010.
Achievements
Scholar at the University of San Francisco, California USA
International Doctor for dermatology Brazil.
Associated Memberships
Member of the American hair loss association
Member of the International Alliance of hair restoration surgeons
Member of consumer organization
Published Papers
Dr Krishna's work has been accepted and published in
International archives of dermatology
National journals (IJDVL)
Certifications
A certified doctor is what you'll expect from us. The certification of the doctor who's performing the surgery is everybody's prime concern. Understandably, you won't feel safe and comfortable getting yourself treated by any uncertified and untrained person unaware of basic surgical protocols. An individual should be sensible enough to determine and evaluate the doctor and to make sure to evaluate your condition by him, meeting him. You must be aware of people who are fooling others.
3. Takeaway
The hair transplant procedure in Delhi is a stable and authentic programmed hearing of desired, thick and natural hair. The hair transplant price is not the same for every technique. The cost of hair transplant surgery widely depends on the technique being used by the surgeons. Typically the cost is calculated based on per graft used.
Medlinks promises to provide accurate procedures and results for an individual's hair loss issue. Medlinks adjusts itself with Avant technologies to provide best-in-class outcomes. We, Medlinks own the most trained and sophisticated along with well-established hair transplant surgeons for the treatment of hair loss. who guarantees to deliver the best treatment.
Related Blogs